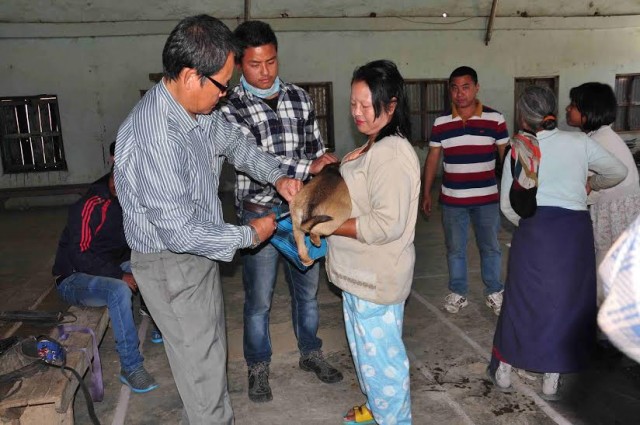 The ongoing anti-rabies vaccination drive at Churachandpur district following the recent outbreak has received huge response from the public. As on
January 20, Veterinary Hospital Churachandpur recorded 4,113 dogs administered with the anti-rabies vaccine.
The drive organised by government of Manipur commenced from 31 December 2014 at Churachandpur Vet Hospital, Saikot village, Singhat and other nearby villages.
It was assisted by Manipur Dog Lovers Club (MDLC) , People for Animals (PFA),  and Hollen Dog Training Centre.
Ronel Seram, Secretary of MDLC, said mass killing of dogs is not the solution to control rabies outbreak. Precautions, timely vaccination and awareness about the disease are the sound solutions.
Citing on the event, L Biswajeet Metei, managing trustee of PFA said, "We were very happy with the response from the people. The dog owners had to stand in long queues for their turn but they were very cooperative. Some women brought their dogs wrapped in clothes like babies too."
PFA members have also warned against dog traders, who sell dog for meat. Such people if found can be booked under Prevention of Cruelty to Animal Act and Food Safety and Standard Act, they said. They have also urged the state police to check such heinous crime against animal trading.
Following are the 24×7 Helpline numbers to reach out to Veterinary hospital Churachandpur for any queries:+919436279268/+919863184109/+918974719987.
More such drives are being planned in the rest of the district too. Interested people can contact organisers at MDLC office, Hotel Excellency ground floor.
Email:manipurdogloversclub@gmail.com
Or call at +918414813181/ +918794026429
Facebook: https://www.facebook.com/pages/Manipur-Dog-Lovers-Club/126331080909541