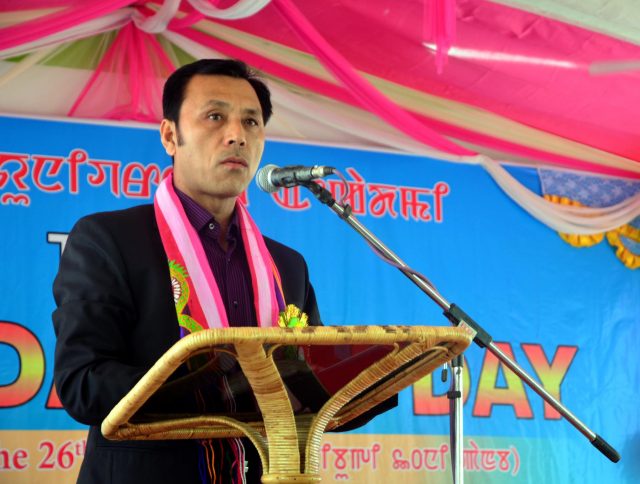 Imphal, 26th April, 2017 (DIPR): Emphasizing to bring out the fullest of the students by utilizing the best of the available resources, Education, Labour & Employment Minister Th. Radheshyam said children must be brought up with positive thoughts and ideas as they are like mud/blank papers that could be mould/drew in whatever/whichever way one wants. Thus, to imbibe with positive thoughts it is a must to make them an optimist so that they can be encouraged going after their goals in their life without any reluctance. He was speaking as a Chief Guest on the 6th Foundation Day of the Smart Universal Academy, Sekmaijin Khunou, Kakching.
When the school can make the weak students better and not discard them because of their weakness, then only the schools are considered to be a good school, the Minister added. Thus, stressing on the need to understand the students by both the parents and teacher, the Minister said there could be good relation only through interaction.
He further said education, is not just to get a job, but a means to make them capable of facing any challenges in their life successfully. Poverty or being rich he added should not be an excuse for any failure or success because what is important for success is the determination. To nourish the children for better future and the present, the Minister said parents should not be very demanding but caring with love, affection and support to lead them towards the right path.
In the celebration Dr. Yumnam Radheshyam Singh, MLA Hiyanglam A/C & also Chairman, (MANIDCO & MANITRON), Sapam Kunjakishwor (Keba) vice-president NEIDP and retired officers of education were also present. (DIPR)