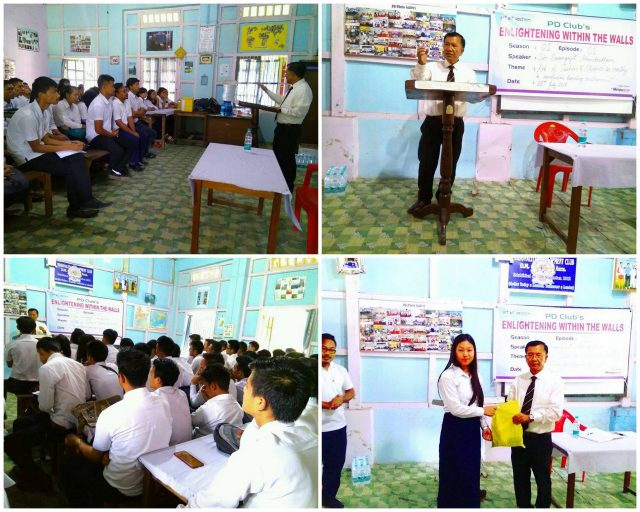 July 22, 2016: The first episode of "Enlightening within the Walls" was held at D. M. College of Arts, organized by Personality Development Club of the College. Sarangajit Khundrakpam, the principal of the college spoke on the topic " ROLE OF TEACHERS AND STUDENTS IN CREATING A CONDUCIVE LEARNING ENVIRONMENT". Speaking into the matter, he said that Gender and cultural differences are of the main phenomena existing in our present society. This background can even be traced back to our sacred grounds such as schools and colleges. The emphasis of adopting schools and colleges uniforms is a must to attain an equilibrium socially, culturally, economically and on various other aspects..
Teachers do play an important role in such a cause. Teachers have to be equipped with multi-cutural and multi-ferous aspects. He/she has to be a tolerant person considering the different aspects. Teachers should create an environment fun enough to motivate students' minds eager to learn something new.
He also says, "Students should be encouraged to do better even in their flaws so as to improve the young spirits to soar higher as well as the student must have the courage to express their weaknesses as such they are interdependent to each other in bringing a conducive learning environment".
He further said that in this changing world we live in, tolerance and acceptance of the third gender is a necessary cause. And like fire this belief of a curse is not but a social evil it cannot be neglected unless it is bought out in the light and being accepted the world would still be a dark place where technology fast paced the human minds. And in this college all genders are accepted and treated equally. Dhanamanjuri College of Arts is one such platform where tolerance and acceptance are the key ingredients.
Pukhrambam Monica
Gen.Secy
PD CLUB , DM COLLEGE OF ARTS
For More Details,Please Follow : https://www.facebook.com/pdclubdm/