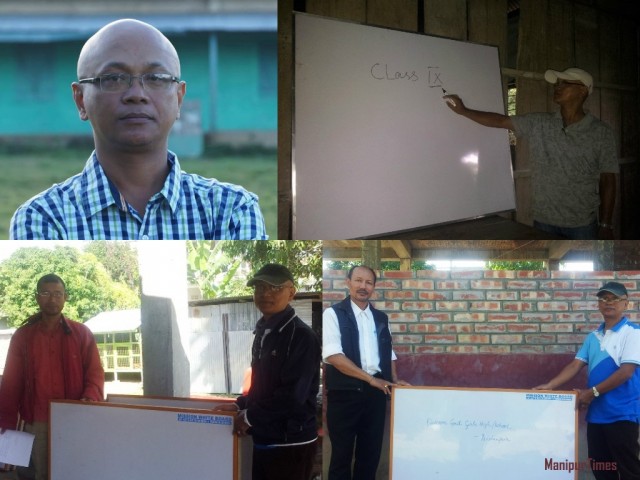 "Lets go to school and teach a lesson" a group in social networking facebook taken up an initiative to replace existing blackboards by whiteboards as a part of developing infrastructure of Government school without waiting for the initiative from government side. The mission is sponsored by group members of the group as well as friends. As a teacher we inhaled lots of chalk dust daily which may cost asthma in long run. And by changing backboard to whiteboard, the look of classroom becomes better. So, admin of the group, Gautam Nongmaithem has started up the mission by posting on the facebook group as " Planning to replace existing blackboard by whiteboard in low cost and inviting anybody who would love to help us". Actually, if we will have to buy such whiteboard from market it will cost around Rs 3000 per board, but if we affix white sunmica on the existing blackboard with some modification, it will cost around Rs 1250 per board. Thus the work started from his own school, Haoreibi Junior High School and Haoreibi Aided High School, Imphal West, changing all 10 blackboards into whiteboards. For this a graduate teacher Rk Mahesh voluntarily donated Rs 1000, Mr Koijam Modhusodon (advocate) donated RS 3000 , James Elangbam (doctor), 2000. Gautam contributed rest of the amount.
To do such work in other school is not possible to go to each school, as there need manual work. Hence, his next step was to construct new whiteboards through carpenter at low cost  and distribute to some schools. And it would cost around Rs 1500 per board.
In the 2nd step, he have planned to distribute whiteboards to 5 schools on the basis of teachers's performance and students strength. As a result, 14 whiteboards for 5 schools are made and distributed to 5 schools namely.
Khundrakpam primary school, Imphal East : 2 whiteboards
Oinam govt. girls high school, Bishenpur: 2 whiteboards
New Keithelmanbi U/P school , Senapat: whiteboards
Samushang Shantipur P/s , Wangoi: 3 whiteboards
Sagolband Popular U/P School, Imphal west : 3 whiteboards
Gautam extended his thanks to the generous contributors namely RK Mahesh (Rs 3000 for 2 whiteboards), Bhabesh Sharma 1000, Elow Maheo (teacher) 500, Manipur Times (Rs 7500 for whiteboards) and Sapam Samananda (Rs 4500 for 3 whiteboards). This time again, Gautam has to expend his personal money to meet the total expenses.
With this he concludes 1st phase of "Mission Whiteboard". If there is more sponsorship, he will start 2nd phase next year and wish to spread the mission in nook and corner of Manipur.
Social networking has been very helpful. Through this platform Gautam have been helping many poor Government school students since 2011 campaigning and communicating in the group "Lets go to school and teach a lesson"
When he was working at Tangkham Primary school at Imphal east, his poor students was helped by his facebook friends. They sponsored school sign board, benches and desks, computer set even pullover of kids. They even came to renovate schools. And recently, class 9 & 10 students of KC high school were donated text books of about 13,000. And toilet and urinal of the said school were constructed by YEWA (Youth and Education Welfare Association. As a teacher in government primary school he finds many shortages in government schools. Gautam's desire and wishes to bring some small changes in the government school continues.
More photos