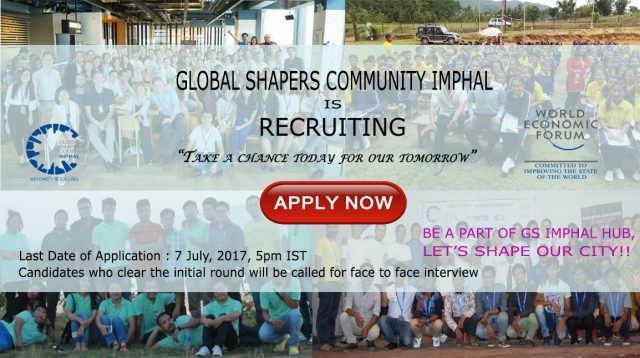 Global Shapers- Imphal Hub
has extendied the deadline for application to become a member of Global Shapers Community: Imphal Hub.
The new deadline for application is 15 July 2017 (20:00 IST)
Global Shapers Imphal is looking for young dynamic graduates who are smart, dedicated and passionate to serve the society. All interested youths fulfilling the following criteria may apply to become a Global Shaper at Imphal Hub.
Minimum selection Criteria:-
1. Graduate and between the age of 20 to 30 years of age.
2 Live or work in Imphal, who will be able to devote time and commitment in the Hub's activities.
3 Team player/leader and demonstrated unique perspective, experience and skills to the team.
4 Desirous of making a positive impact in our society and can articulate about making a difference and achieving it.
If you have the foresight in making contribution for a better society tomorrow- siege this opportunity.
To apply, click here – https://goo.gl/forms/6ocSH5jg7wjHfZRp1
To know more about us, Follow us at-
Facebook – https://www.facebook.com/globalshapersimphal/
Twitter – @GSImphal
Sd/
Elizabeth Okram
Curator
Global Shapers Community: Imphal Hub
An initiative of the World Economic Forum