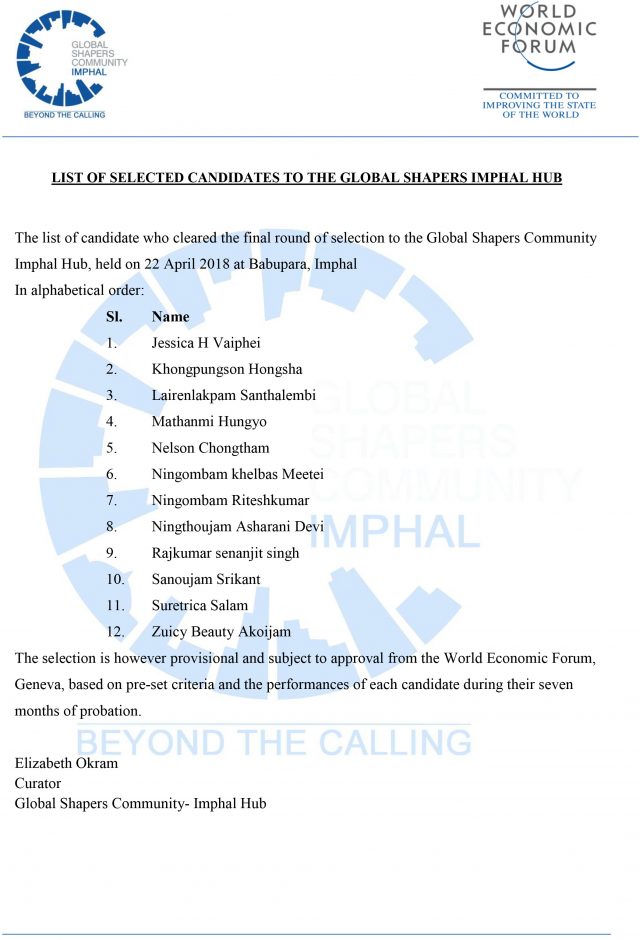 24-04-2018,Imphal : LIST OF SELECTED CANDIDATES TO THE GLOBAL SHAPERS IMPHAL HUB
The list of candidate who cleared the final round of selection to the Global Shapers Community
Imphal Hub, held on 22 April 2018 at Babupara, Imphal
In alphabetical order:
Sl. Name
1. Jessica H Vaiphei
2. Khongpungson Hongsha
3. Lairenlakpam Santhalembi
4. Mathanmi Hungyo
5. Nelson Chongtham
6. Ningombam khelbas Meetei
7. Ningombam Riteshkumar
8. Ningthoujam Asharani Devi
9. Rajkumar senanjit singh
10. Sanoujam Srikant
11. Suretrica Salam
12. Zuicy Beauty Akoijam
The selection is however provisional and subject to approval from the World Economic Forum,
Geneva, based on pre-set criteria and the performances of each candidate during their seven
months of probation.
Elizabeth Okram
Curator
Global Shapers Community- Imphal Hub