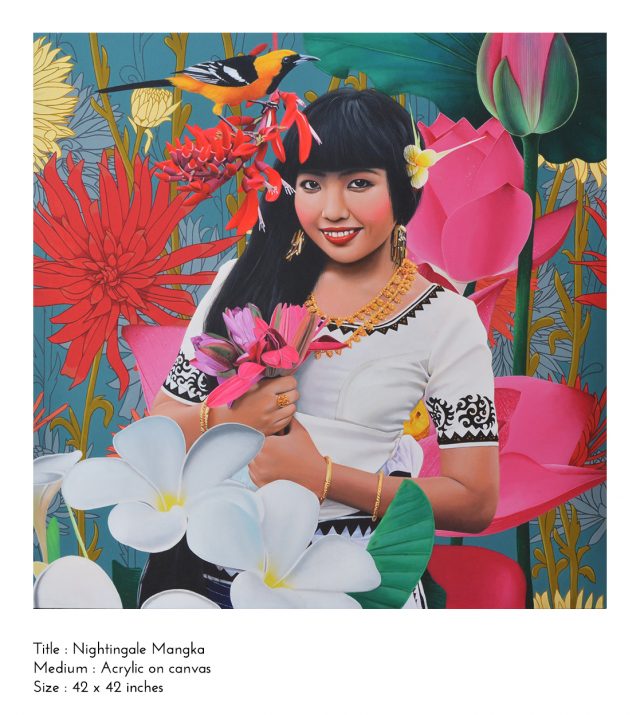 27th June: New Delhi: Next month, from 4th to 10th July, one of India's premier cultural institutions, the India International Centre, brings you the must-see solo painting exhibition – 'Homecoming' – by the award-winning artist from Manipur and graduate from New Delhi's College of Art, Oinam Dilip.
The solo exhibition will showcase over 15 works by Mr. Oinam from recent years – which recount the artist's honest internalisation of experiences that are rooted in his identity and the culture of North East India.
Having toyed with the abstract and the real in his early work, and having been influenced by a metropolitan city for many years, Mr. Oinam's previous works were predominantly controlled by the sensibilities of the contemporary South Asian art scenario. With slight variations in execution, he engaged with the spheres of solitude, grim sentimentalism, forbidding darkness, contradiction of exuberance, and spectacular figurative works.
But now, with 'Homecoming', the artist traverses the philosophical domains that fuelled his hunger and eagerness for experimentation in his earlier work.
Mr. Oinam, who is currently based in New Delhi, explains: "I began to feel that there is a need to freely experiment with the cultural and anthropological vibrancy of North East India through my own eyes as I was born and raised in that region. Hence, the current works are inspired by identity-based iconic images, the environment, and tangible cultural objects".
Mr. Oinam has also taken the liberty to differentiate juxtapositions in an attempt to create sensible visual tensions. At times, these attempts arouse questions on associative and representative cultural symbolism. However, his approach to culture is vastly different from the idea of a culturescape as normatively understood in aesthetics. Along the way, he has acknowledged the necessity of displaying variegated hues in a free play of the real and the abstract.
'Homecoming' will be opened to the public from 4th July to 10th July 2018 at Art Gallery, IIC Annexe, Lodhi Estate, New Delhi-3. The gallery opens daily from 11 am to 7 pm including weekends and public holidays.
For any queries, please mail me at dilipcanvas@gmail.com or call at +91 9891621027