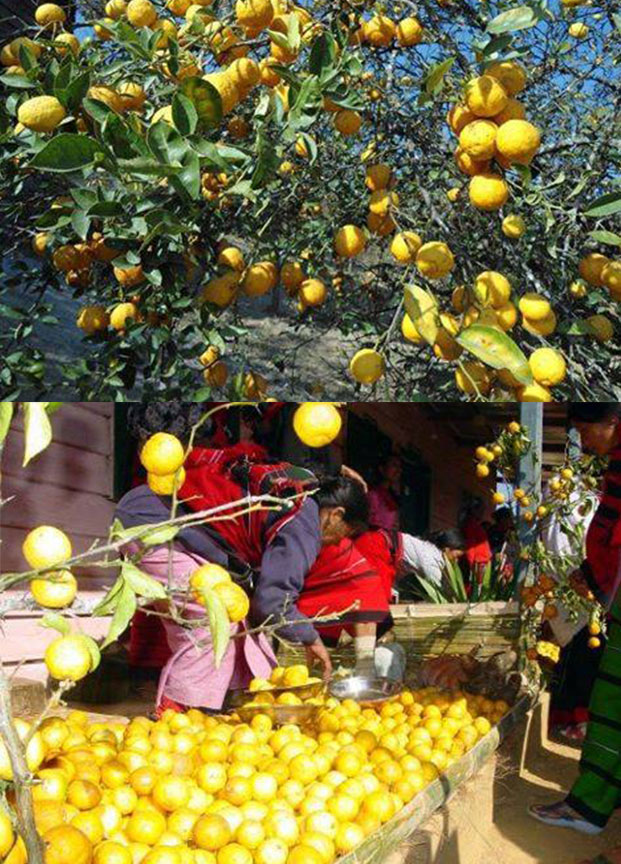 After Manipur handloom products – shaphee lanphee, wangkhei phee and Moirang pheejin, Kachai Lemon of Ukhrul is now among the nine organic and exotic agricultural products from Northeast India which have been accor ded geographical indication (GI) registration tag recently.
The Chennai-headquartered GI office registered nine products from the Northeast including Kachai Lemon of Manipur on March 30.
Popularly known as Kachai Champra (Lemon) is widely grown in the Kachai Village in Manipur's Ukhrul District which is about 16 km towards north from Ukhrul district headquarters. Unlike the other lemon varieties grown in other part , Kachai Lemon is considered to be unique as it contains 51 percent ascorbic acid, the highest so far available in the realm of Citrus fruits while other Lemon varieties have only 20 to 30 percent of ascorbic acid . The juice content is 36-56 ml per fruit. The fruit bearing plants of Kachai Lemon look like flowering trees during harvesting time, simply beautiful, colorful and attractive to everyone.
No doubt, each household of Kachai village has no less than 50 to 100 Lemon trees on their private owned land. The village used to produce around 500 to 560 kgs of lemon per year, thus earning a good income, apart from the income generated through paddy cultivation. Kachai lemon generally starts bearing fruits from November and continues till April. The rich potential of the district can be harvested fruitfully if the required technology and credit support are extended to this village.
In order to popularize and increase production similar to orange festival of Tamenglong, Kachai Lemon Festival was introduced by Manipur Small Farmers' Agri-Business Consortium jointly with Indian Council Agriculture Research Centre ICAR Centre Manipur since 2005 at Kachai Village.
Since then it has become a regular feature of Kachai Festival. However, although production and area expansion of the crop have tremendously increased unfortunately because of transport bottleneck coupled with non-availability of credit support farmers fails get remunerative price for their produces as no processing Unit could be set up in the Village till now
Other Geographical Indication (GI) accorded products from the north east India are Assam Karbi Anglong Ginger, Assam Tezpur Litchi, Meghalaya Khasi Mandarin, Sikkim Large Cardamom, Mizoram Bird Eye Chilly, Tripura Queen Pineapple. Arunachal Orange and Nagaland Tree Tomato.
Union Government owned North Eastern Regional Agricultural Marketing Corporation Limited (NERAMAC) had played important role in getting GI registry. North Eastern Council (NEC) provided the financial support to this initiative. GI tag will help to protect these exclusive special local crops and pave way for better branding and marketing of these products both in domestic and international Market.
Geographical Indication GI) is an insignia on products having a unique geographical origin and evolution over centuries. It is a mark of authenticity and ensures that registered authorised users (or at least those residing inside the geographic territory) are allowed to use the popular product name. In India GI registration is governed by the Geographical Indications of goods (Registration and Protection) Act, 1999.
Darjeeling tea was the first product in India accorded with GI tag.