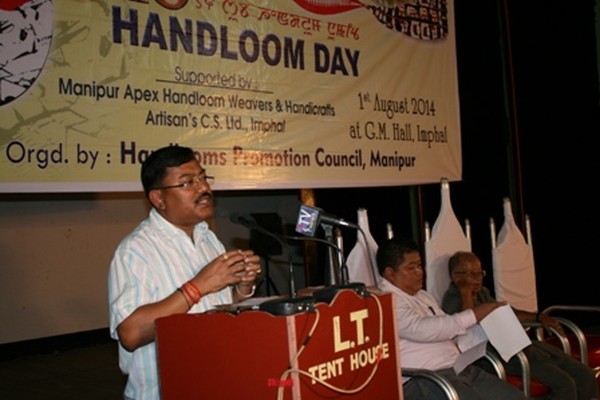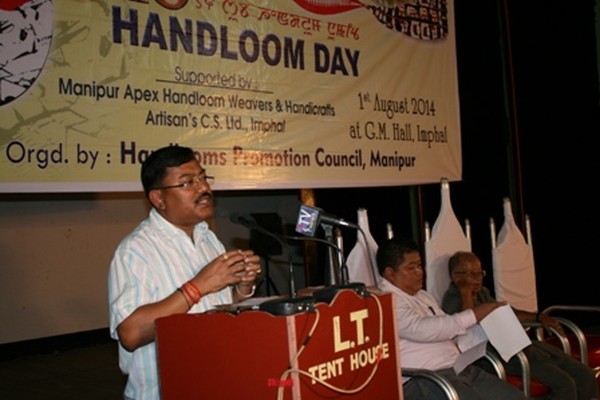 Imphal, August 1: Urging the people to cultivate work culture so as to promote handloom Industry in the state, Manipur's Industries Minister Govindas Konthoujam said that  government is working on hard to open up  a separate handloom directorate shortly  by 2014-15 fiscal.
Speaking to the 15th national handloom day event organised by handloom promotion council, Manipur under the aegis of Manipur Apex handloom weavers' co-operative society ltd held at FM hall, Minister Govindas said that Mnaipur is globally acknowledged  for its unique handloom products apart from sports and culture. Right from 1965 to 2011, the state has produced 22 national awardees, three Silp Guru awardees and one San Kabir award. These awardees would be felicitated in a grand function to be organised by the government.
Stating that receiving of GI registration certificates for three Manipuri handloom fabrics – Moirangphee, Wangkhei Phee and Saphee Lanphee is a proud juncture of the state with no one can copy such handloom fabrics without state government's consent, he said that government is all set to apply for GI registration for another two Manipuri handloom fabrics – Khamen Chatpa, Phanek Mapan Naiba. Some Assamese has copied the motifs of Phanek Mapan naiba and even started importing to Manipur, added the Minister.
The function was also attended by Commerce and Industries Director, B. John Tlangtinkhuma, IAS and H. Rajendra Retd. Assistant Director Weavers service centre, Ministry of Textiles.