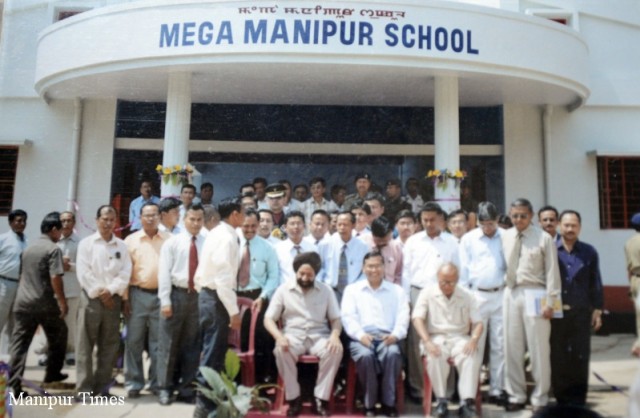 "Thirteen years ago, concerned parents of children studying in Manipur, got together and began a consultation process. They felt that their children were not getting the kind of education they needed and that schools in Manipur both in the government and private sectors were unable to impart good education. The group also felt that there is a huge financial drain the state was incurring as parents were sending their wards out of the state. It took into consideration the kind of climate and human resources Manipur was endowed with and felt the states was suited from all angles to be turned into an educational hub of the North eastern states"
Rupachandra Yumnam, renowned journalist and who is also the founding chairman of Mega Manipur School shares this journey and the aims and objectives of the establishment of the school in an exclusive interview with Manipur Times.
"We were mindful of the prevailing conflict situation; however what we had planned was a not- for -profit organisation with the objective of uplifting the quality of delivery of education in Manipur. We were convinced everyone from state and non-state actors would support our endeavour, if they truly were working for the interest of the people of this land. What began as a gathering of few concern parents slowly grew into a full fledged society and in 2002 after series of consultation and brain- storming sessions the Mega Manipur Society was formed to give shape to a dream that was based on collective effort of citizens of Manipur. Under the patronage of the society, Mega School was set up. The revenues received from running the school is not divided among the members of the society. It is used for maintaining the school, payment of the staffs and so on. Even for expenditure on refreshment like tea and snacks during the meeting of the society, not even a single rupee of the school fund is touched", says Rupachandra Yumnam.
Each member in Mega Manipur Society contributed Rs. 15,000 to materialise the dream of setting up today's Mega Manipur School, the only school run by parents and guardians. The uniqueness of this school is that students attend a school run by their parents. Membership of the society is open to all the parents who wish to send their children to this school. Anybody can be a member by contributing a sum of Rs. 20,000 to the society.
"Our dream was to give Manipur and ourselves a school that would aspire to be of international standard, where teaching and learning process was flexible enough to accommodate the latest findings and practices of pedagogy from across the globe. Our belief was that parents, teachers and students of this state can come together and create an educational environment at par with the best in the country. It is a dynamic process which never stops but keeps on adding good values as it sheds dead weights and archaic practices", observed Rupachandra.
"What we see here today at the foothill of Nongmaiching hill beside the Yaralpat Lake famous for Kombirei flower just 7.8 km from Imphal along Tinsid road is beginning of that dream", says the visionary and founder.
The foundation stones for the school, finally christened as the Mega Manipur School was laid by Chief Minister O. Ibobi on 24 th May 2004 on a plot of land 22 acres in size allotted by the Government ( At present 25 acres ). And thus the dream began to take shape. And in just two years time the basic infrastructure was up and the school finally began session on 26th March 2006 with the inauguration of the first section of the school building by the Governor of Manipur SS Sidhu.
Since then there has been no looking back and today Mega Manipur School has been affiliated under the Central Board of School Education and every seats have been filled. Mega Manipur School is an English medium CBSE school with Montessori system of teaching. Each class has 40 students students each with the teacher- student Ratio of 20:1, which means one supervisor teacher for every 20 students. What is unique about the school is that there are home visits by supervisor teacher. Regular workshops and seminars are held to improve teachers' skill. Emphasis is laid on all round development of students and extracurricular activities including attending Assembly sessions, interacting with professionals and achievers and field visits form an integral part of the school curriculum. The society has introduced Eco clubs, HIV awareness programmes, Red cross clubs etc. for the students. The school premises has facilities for different sports and games including table tennis, sepaktakraw, basket ball, football, golf, Archery and horse riding is on the agenda.  All classes are equipped with digital classroom IKEN Eco classroom in collaboration with Mexus Education, Mumbai. Facilities of computer education, Library, Medical care, Transport are also made available in the school.
Photo Credit: Mega Manipur School
Because of dedicated team of people who selflessly gave their time and commitment, all these came about. They came from all walks of life- Actors, Artistes, Advocates, Architects, Businessmen, Doctors, Engineers, Entrepreneurs, Film makers, Farmers, Government servants, Housewives, Judges, Journalists, Legislatures, Law enforcers, Professors, Teachers, Veterinarians and many more.
From putting together a society to scouting for suitable site to collecting funds going door to door, members of the society gave their 100 percent to make the dream into reality. Along the way, a receptive government, locals of the top area, three clubs in particular gave unstinted support in acquisition of the land.
Rupachandra says, "Despite what has been achieved so far, the collective feeling is that we have just taken the first step towards the future. The journey has just begun. Our final aim is that there are several other Mega Manipur schools in Manipur to cater to every child born. For we believe every child deserves to be educated in a right manner for the society to be peaceful and progressive."
Presently the school has a student strength of about 800 under the guidance of 47 teaching staffs. The school opens from class pre-primary to class X standard.Upgradationupto class XI standard is under process. Dr RK Nimai Commissioner Arts and Culture, Government of Manipur who is also the secretary of Governor of Manipur is the present Chairman of the Mega Manipur society having about 700 members while Dr RK Khagendrajit is the manager. L. Radharani Devi is looking after the school as the principal.