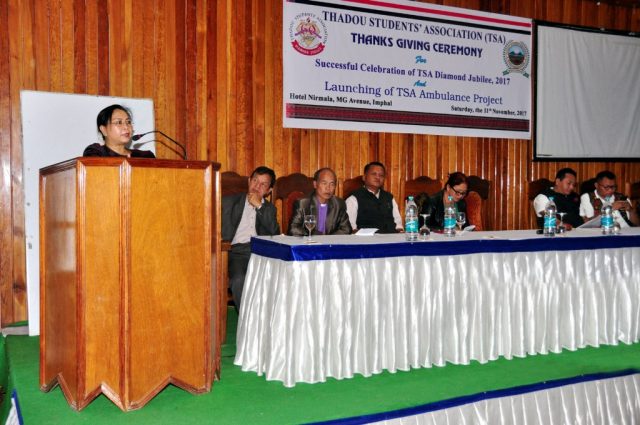 Imphal, November 11, 2017 (DIPR): Social Welfare and Cooperation Minister Smt. Nemcha Kipgen launched the Thadou Students' Association (TSA) Ambulance Project during the Thanks Giving Ceremony (Successful celebration of TSA Diamond Jubilee) held today at Hotel Nirmala, Imphal.
Minister Nemcha lauded the Thadou Students' Association for their untiring and selfless efforts for the welfare of the Thadou community as well as for all the different communities residing in the state. "TSA is one such organisation who stood for righteousness, educational development and unity," Nemcha asserted. This noble project initiated by the TSA will definitely provide comprehensive medical services to achieve better health care for the poor and needy people, she stated.
Addressing the gatherings, Nemcha expressed that she is really proud to represent the Thadou Community. Representing one of the largest tribal communities in the state, she urged the students to give 100 percent in whatever they set their mind and work for self development and then for the development of the community and the state.
On this occasion, Social Welfare Minister highlighted the role played by the media and stated that Media is the mirror of the society. Without media, all of us would be deprived of the latest news and events. She lauded the media fraternity for risking their lives for the sake of disseminating information for all.
Adressing the media, Michael Haokip, Secretary General, TSA exclaimed that this ambulance project will be functional before the Christmas and this will be a Christmas gift to all. In the initial stage, one ambulance will be station in Imphal and the project will then be taken up in all the other districts too. He is hopeful that this service will save many lives and will bring happiness to all.
As part of the Thanksgiving ceremony, Miss Kut 2017, Esther Nengpilhing Haokip was also felicitated by the Thadou Students' Association with gifts and memento. Taking this opportunity, Esther Nengpilhing Haokip donated traditional shawls to TSA as a token of appreciation for their noble ambulance project.
Shri SL Kaikhosei, EM, ADC Sadar Hills, Shri Yanglet Haokip, Advisor, TSA-GHQ and Core Committee Member, Rev (Retd.) Satkhothang Singson, Dr. Lalkholen Singson, Speaker Thadou Inpi, GHQ, Smt Chinsawnching Kilong, President Thadou Women's Association, GHQ and Shri TK Siema, Vice President (Adm), Thadou Inpi, GHQ were also the dignitaries who graced this solemn occasion. (DIPR)