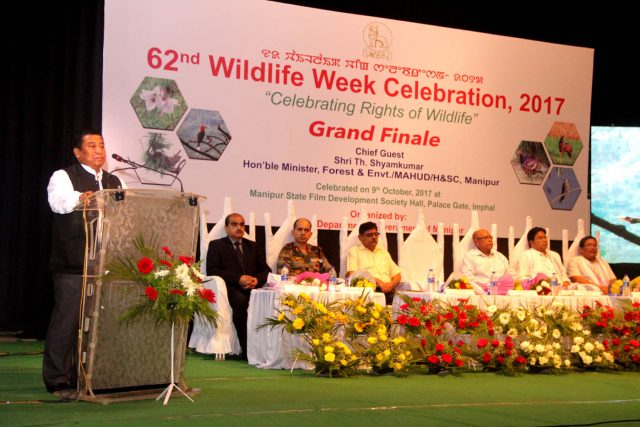 62ND WILDLIFE WEEK CELEBRATION CONCLUDES
IMPHAL, OCTOBRER 9, 2017 (DIPR): Forests and Environment Minister Shri Thounaojam Shyamkumar today appealed to all, especially the young generations, to pass on the message to save the wildlife at the grassroots level. He said that, a world without wildlife would inevitably lose its ability to sustain all forms of life due to the complex balance of nature and the inter-dependency of species on one another.
He was speaking as the Chief Guest at the Grande Finale of the 62nd Wildlife Week Celebration, 2017 at the Manipur State Film Development Society (MSFDS) auditorium, Palace Gate, Imphal East which was organised by Forest Department from October 2 to October 9 under the theme "Celebrating Rights of Wildlife".
Addressing the gathering, Minister Th. Shyamkumar also suggested to the department to organise annually the State-level function of the Wildlife Week at different locations, especially at the hill districts to create extensive awareness. He also expressed happiness as various individuals and organisations are coming forward to conserve the wildlife.
In his presidential speech, Shri Shambhu Singh, IAS, Additional Chief Secretary (Forests and Environment), praised the untiring efforts of the officials of the Forest Department for bringing a psychological change, particularly in the hills, in conserving the wildlife.
Recalling his days as a young District Collector in Tamenglong District in the early 1990's, Shambhu Singh said the earlier practices of hunting wild birds are now prohibited in Tamenglong District. Such initiatives are also taken by various districts to conserve flora and fauna, he added.
Shri K. Angami, PCCF & HoFF, Shri Anurag Bajpai, Chief Conservator of Forests, Shri L. Baite, OSD (Forests and Environment), Shri K. Thambou Singh, Retired Additional PCCF, Colonel OS Rawat, CO 11 Assam Rifles, officials of Directorate of Wildlife, officials of State Police and other departments, village chiefs from Ukhrul and Churachandpur, students from Imphal and Bishnupur along with their parents also attended the function.
Prizes were distributed to the winners of slogan writing and wildlife photography competition. Prizes were also distributed to organisations and individuals for their valuable contributions in conserving the wildlife. A book entitled 'An Inventory of Animals of Manipur' co-authored by Dr Kh Samungnou and Dr Gyaneshwori Devi was also released at the function. A short film – 'Rides of Wildlife' was screened and collection of photographs on wildlife was also exhibited as part of the function.  (DIPR)