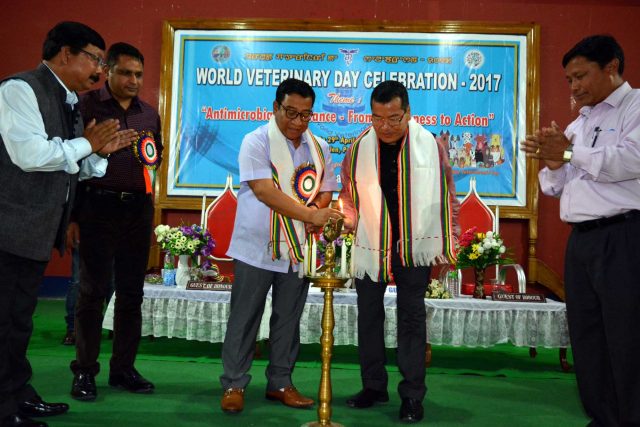 Imphal, April 29, 2017 (DIPR): As observed in India and around the globe, Manipur also observed `The World Veterinary Day- 2017` on the theme,"Antimicrobial Registance- From Awareness to Action" at the Auditorium of Lamyanba Shanglen, Palace Gate, Imphal today. The observation was organised by Manipur State Veterinary Council.
The observation was attended by Minister(MAHUD/Town Planning/Forests & Environment/Horticulture & Soil Conservation) Shri Th. Shyamkumar, Minister,(Agri/Vety.& A.H) Shri V.Hangkhanlian, Principal Secy.(Vety & A.H) Shri L. Lakher,IAS and Director,(Vety.& A.H) Dr. H. Chaoba Singh, as Chief Guest, President and Guests of Honour respectively.
Speaking on the occasion as Chief Guest, Minister, Shri Th. Shyamkumar stressed the need of proper guidance for those who reared animals and take proper tips and help from veterinary doctors and experts to avoid diseases. To give cooperation to the Veterinary Department for fulfilling of plans and policies and to bring increase of livestock for better economy of the people is highly essential, he added.
Veterinary & Animal Husbandary Minister, Shri V. Hangkhanlian said that giving kind and proper treatment to animals who could not speak is a great devotion as service given to human being. Without veterinary doctors and experts prescription and advice, no injection of anti-biotic to be done. He asked the Veterinary Department to prepare developmental plans and policies, forwarded to high level committee for discussion and taking decision. Tame animals, also take care of their health, the minister asserted.
Additional Director (Public Health) Dr. Kh. Sasheekumar Mangang, Principal Scientist, ICAR-NEH Region, Meghalaya Dr. I. Shakuntala Devi, spoke on the theme as resource persons.
Besides other dignitaries, around three hundred Veterinary Officers from all the district of Manipur participated in the function. (DIPR)