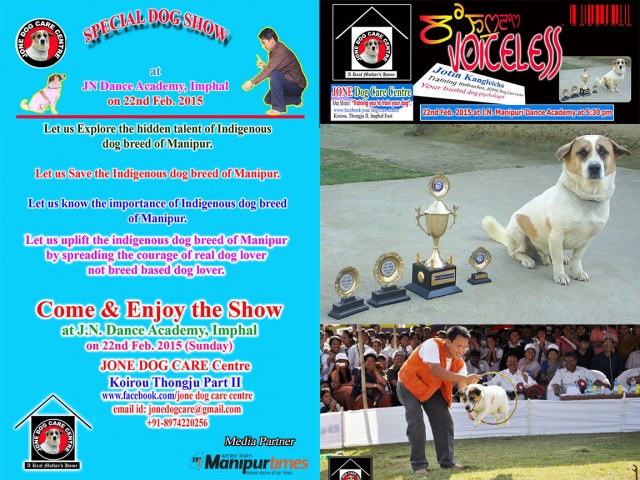 With the objective of nurturing and exploring the hidden talent of Indigenous Dog Breed in Manipur, JONE DOG Care Centre, Koirou Thongju part II is organising a Special dog show on February 22, 2015 at J.N Manipur Dance Academy, Imphal starting from 5 pm. The event organised in collaboration with Pravhabati fitness Centre, Wangkhei and Manipur Times as Media Partner aims to showcase the talents of only indigenous dog breed for the first time in Manipur. Pliz come one and all to witness the Show. It will be fun!!!
JONE DOG Care Centre, a budding Dog Training Centre has been persistently working in the field of preserving and training local dogs at the training Centre located at Koirou Thongju Part II. Under the initiative of Dog Trainer Nongmeikapam Jotin, the centre was established in 1999. John Dog Care Centre was named after Jotin's wise and faithful Dog called 'John' which died in an accident. Nongmeikapam Jotin, locally known as 'Huei Jotin' in his locality has so far trained more than 50 local dogs. He trains the dogs according to owners' wish. Dog owners use to line up at his centre for training their pet dogs to follow different commands like house guard, walking with dog, companionship and so on. He trains them every morning from 5 am to 7 am.
During the Special Dog Talent Show, John Dog Care Centre is all set to mesmerize the Audience with the special and unique talent show to be presented by his trained dog called LAIKA, a local dog Breed of partly Tangkhul Huei and partly Meitei Huei. Most people think that a Manipuri local dog breeds cannot not compete with the foreign dog breeds in respect of their talent. As such, local dogs are generally ignored and killed for meat purpose thereby leading the indigenous dog breed to languish. Attractive talent show from LAIKA during the event will prove the hidden talent of indigenous dog.
At least, 50 nos. of Dog Training Manual + 50 DVD cassette (bundle pack) have also been arranged for the visitors at the Dog Show to be held at JN Manipuri Dance Academy. Please Help by buying 1 bundle pack to promote the indigenous dog breed of Manipur as JONE DOG care centre is making another Documentary TOMTHIN Vol. 2 entitled "Dog-Men best friend". The Centre needs support you all.
For dog lovers, Jotin's dog training centre at Thongju is a point of attraction, where dog owners visit his training centre daily. Jotin, sometimes, gives training to a dog by way of domiciliary visit according to demand of the dog owner.
Earlier, John Dog Care Centre had showcased the talent of a local dog breed called 'Jone'. The indigenous dog 'Jone' could grab the opportunity to prove that the talent in the indigenous dogs is no less than that of the other foreign breeds for the first time during the Dog Show organized by Kennel Club of Manipur in 2004 at Pologround. In the show, his dog could bag twin awards "Best Companion" and "Best of the Breed". The then Governor of Manipur, Arvind Dave appreciated his dog for his unique talent and skill. The same awards could be achieved by his dog in the second dog show too. Jone who could bring laurels for his master during his young and energetic days is now 15 years old and weak. He is still alive. What indigenous dogs make the difference is that the life span of foreign breeds is 7 to 8 years while indigenous dogs can live up to 15 years because local dogs adapt better to the local climatic and environmental conditions.