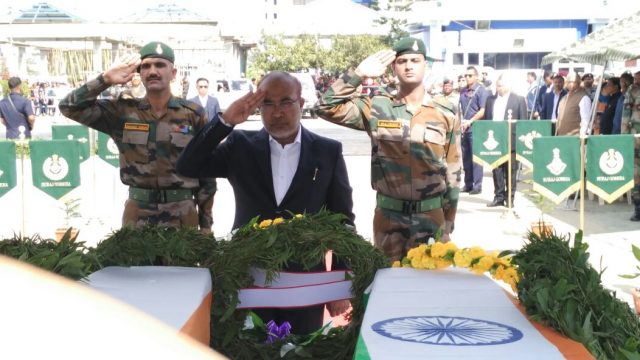 Imphal, November 14, 2017 (DIPR): State paid last respect to the two Assam Rifles jawans who were killed in a bomb blast at Chandel district headquarters yesterday. Chief Minister Shri Nongthombam Biren Singh along with Deputy Chief Minister Shri Yumnam Joykumar Singh led the people in laying wreath to the mortal remains of the two jawans of 18 Assam Rifles at Imphal International Airport today.
After showing last respect to the two jawans,talking to media persons, Chief Minister Shri N. Biren Singh said, the incident that happened all of a sudden yesterday morning shocked us. Terming the incident as unfortunate, Chief Minister said, it isa cowardly act to kill jawans who are here to serve us and we condemned it in the strongest term.Government will not tolerate such acts and appropriate action will be initiated against those who are responsible for the killing and no one will be spared. He said, soon after the blast additional forces including police commandos rushed to the area and large scale combing operations has already begunand if required, reinforcement will also be sent. He said, he has already spoken to the Ministry of Home Affairs and appropriate action will be taken in this regard.
Member of Parliament (Rajya Sabha) Shri Ksh. Bhavananda Singh, Director General of Police Shri L. M. Khaute, Deputy Commissioner of Chandel District, Inspector General Assam Rifles (South) Major General Virendra Singh and other top paramilitary officials also laid wreaths to the mortal remains of the two Assam Rifles jawans namely, Sohan Lal and Inder Singh. The two bodies will be sent to their respective native States for the last rites later today.
It may be mentioned that, besides killing two jawans, six others were injured in the blast suspected to be triggered by militants near Chandel district headquarters yesterday morning at around 6 am. One jawan killed on the spot while the other succumbed to his injuries on the way to hospital. (DIPR)