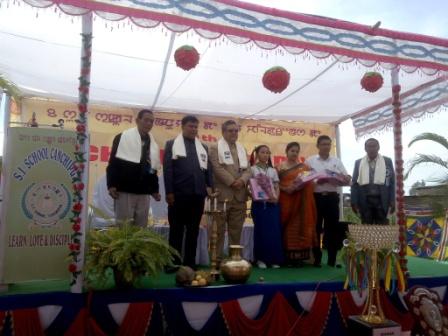 Imphal, November 14, 2017 (DIPR): CAF & PD, Revenue, Relief & Rehabilitation Minister Shri Karam Shyam today distributed prizes to Shri Urikhinbam Chittaranjan Singh & Miss Maibam Babita for the best teachers' award on the occasion of 4th Annual Day cum Children's Day function held at the campus of S.I.School,Canchipur. Sinam Rezia, a class 10 student , bagged the award for the best student of the year.
The best teachers' award comprises of a certificate, gift voucher, bouquet and a cash prize of Rs.2000 while the best student award includes a certificate, gift and a cash prize of Rs.1000.
The role of today's students is not merely to earn degrees   but to learn moral virtues, good manners and discipline from their teachers and environment and indulge in social and extra-curricular activities, Minister Karam Shyam advised the gathering speaking as Chief Guest of the function.
Appreciating the work and tedious efforts of teachers in private schools who are tirelessly producing brilliant students every year inspite of their low salaries as compared with teachers in Government schools , he said that students and teachers should collaborate together in order to exploit the talents, potential  and credibility of the students to the maximum extent. To build a better society, the important ingredients are: being  good, ideal, positive in thoughts and outlook like dress, inculcating good teachings from others and developing friendly relations with guardian & family members, he also stressed.
On the issue of recent incidents of students taking part in non-academic political affairs by forming organisations like Socialist Students' Organisations, he expressed shock over the irresponsible attitude of the parents and their inability to guide their children in the right direction. He reprimanded   that students seems like misguided by political influence instead of focussing on their studies and academic pursuits. He said, "We are living for the future, if such things by the student organisations continue, it would prove detrimental to the society. Students should not indulge in allegations against the elected 60 leaders of the State without any proof or evidence by blindly following some negative political groups."
He also expressed happiness over the selection of  some youths of his Langthabal A/C  in the recently announced Police recruitment result without any corruption.
Minister Karam Shyam donated Rs.20,000 to the S.I. school fund in order to promote the students of the school for a bright future and as a financial aid to the school management for efficient functioning.
Speaking at the occasion, N. Ibohal said that a school should be child-centred and students should value that time is money and avoid unfair means for success in competitive exams.
Secretary, School Managing Committee, Shri Ch.Jotin Singh; Retired Assistant, Head Master, Canchipur High School, Shri N.Ibohal Singh and Principal in-charge, S.I.School, Canchipur,  Shri S. Chaoba Singh also chaired the function as the President, Guest of Honour and Presidium Member respectively.