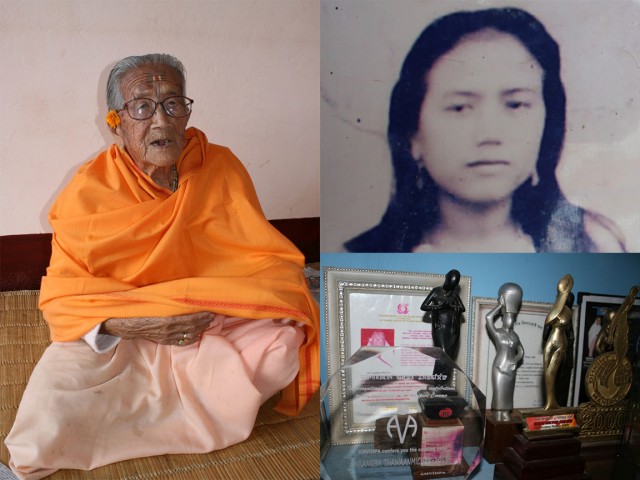 Despite her growing age and weakening body, her passion for acting in films never gets exhausted. How strong for her enthusiasm for the art of acting is that she can even ignore everything including her personal problems or ailments whenever somebody starts talking to her bout film shooting. She is none other than Lourembam Pishak Devi, a 94 years old veteran artiste, the grand old woman who still relentlessly contributes her part in Manipuri feature films.
Popularly known as Abok Pishak, Laishram Ningol Lourembam Ongbi Pisak Devi wife of late Lourembam Ibotombi hailing from Wangkhei Prna Rajbari, Imphal east is one of the living senior most veteran Manipuri film artiste who still contributes her role towards promoting Manipuri films actively despite her growing age. In the journey of Manipuri film, although many artistes have got retired while many others passed way with the swift changing of time, Abok Pishak who is highly acclaimed for her role of a mother or elderly grandmother in film, is relentlessly her role in Manipuris films.
Since my early days, Acting becomes my passion of life. My passion for acting never gets exhausted that I still feel to act in films till my last breath, said the 94 years old veteran artiste, said Abok Pishak while talking to Manipur Times in a recent interview.
Manipuri Celluloid and digital films Abok Pishak acted:-
The 94 years old veteran film artiste had acted in several Manipuri celluloid and digital cinemas . She acted in Manipuri celluloid films including Mayophygi Macha, Aroiba Natte, Thawanmichakna Kenkhrabada, Amambasu Anganbani, Yenning Amasung Likla. Among the digital films in which she acted include Thengmallabar radhamanbi, Reporter, Chang si Chang, Eisu Mini, Ngamloi Eidi Kainaba, Shakthibi Tampha, Star, Praligi Meiri, Ei Amuk Hallakhini, Loktak Patki Thoibi, Panthungi Wangma, Makar, Khongpham Ama soibada, Hiyang Athouba, Nangna Mama Oibiyu etc.
Apart from films, she acted in many documentary films, Dramas and Tele films to her credit. She acted in the documentary films 'Ras Lila', Laibakthibi', Mangsatagi Mang' Changyeng Amada Mamado Angaobido and in the Tele plays of DDK Imphal entitled 'Changyengduda', 'Dakhinagi natte'.
Her Yester-year journey :-
Born to Laishram Julon Singh and Chandani Devi as the youngest among three daughters on November 21, 1923, she started her acting career from her tender age of seven when she for the first time acted the charater of Kusha in a drama 'Lava Kusha' which was exhibited at Keishamthong Moirang Ningthou Leirak regarding the birth anniversary of Manipur King Churachand Maharaj. Her grandfather Laishram Ibungoton was the man behind her acting career in Theatre, Dramas, Music and dance. Being the artiste of Meetei Chanu Lila Party, a party exclusively of female artiste, she also acted in many Shumang Lila plays like Pravas Khand, Manbhajan, Muruli Horon, Kalanka Bhajan, Manipur Phongba etc exhibited in different parts of the state. They played the shumang Lila lays under the guidance of Chongtham Ningthemjao, Kalachand Shastri, Tongbram Khoimu.
After marriage, I had to leave my acting career for many years due to intervention from my husband. I felt so emotional. It is one of the inconveniences most female artistes use to face in their career. The opportunity to come back in my acting career came to me late at my 60 years of age only when my husband relented to the pressures of MK Binodini and Khuraijam Amubisana. Thengmallabara Radhamanbi of Ningthouja Lancha was the first feature film in which I got the chance of acting.
The veteran artiste began her acting career with a full theatre background. The dramas in which she acted include Ramayan whwerein she took the character of Kusha, Bhakta Raja (role of Jamuna), Beigyachandra (role of Kuranga Nayani and Laishrabi), Mainu Pemcha (role of Pemcha), Urirei Madhabi (Madhabi and Thambalsana), Nal Damayanti (role of Damayanti), Shahajahan (supporting actress) and Krishna Lila (Shakhi).
Achievement in Art :-
Abok pishak who is an AIR Imphal Approved dramatist and Monoharsai Singer was awarded special jury Award for her role of a tribal elderly woman in the Manipuri feature film 'Mayophygi Macha', certificate of honour during the celebration of 25 years of Manipuri cinema organized by Manipur Film Development Corporation, Special Jury Mention Award in the Festival of Manipuri Cinema 2007, Mother of Manipuri film title by PAFINLA Foudation, Natya bhusan conferred by Manipuri Sahitya Parishad. Film Academy Manipur also awarded her the prestigious Life Time Achievement Award in recognition of her relentless contribution in the field of Art.
Present Life:-
She now spends her life in the worship of Shri Shri Ramji Prabhu at Wangkhei Ningthem Pukhri Mapal and being the Guru of Sana Pala of Shri Shri Ramji Prabhu at Wangkhei, she is teaching many disciples in the art form.
Lamenting on the deteriorating trend in morality and discipline among the Manipuri woman, she said," Manipuri society have witnessed a great change in morality, discipline and dress among the Meetei woman nowadays with the tune of time. Many girls are seen wearing pants ignoring traditional fabric Phanek while most married woman lacking in discipline and defying the social costume prevailed in Meetei society for decades long. It is a costmary for all the married Meetei women to cover their heads with cloth locally called 'Innaphi' . Those women who were found not covering their heads with Innaphi cloth were punished during the time of King Churachand Maharaj. The changing trend in discipline and costumes in Manipur society we witness today will defile the age old tradition and the beauty of Meetei identity, maintained the veteran artiste.
If an artiste dreams to achieve the goal he or she desires, working with great enthusiasm and dedication is a must. Otherwise, he will not achieve the goal he desires, she observed while appealing the younger artistes to work with full understanding of the value of art and respect for the seniors.