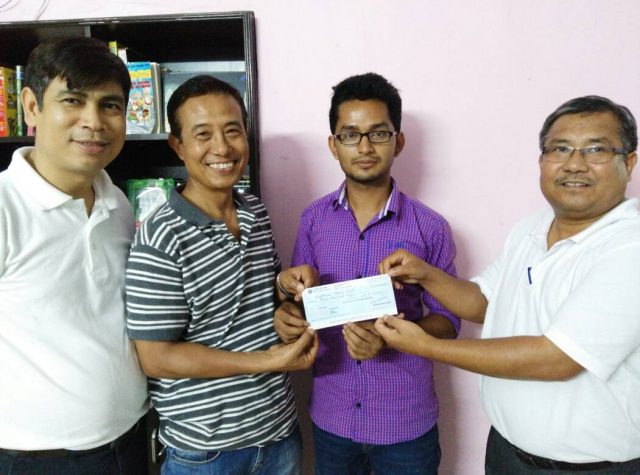 28th June 2017:The Association of Manipuri Diaspora (AMAND) Pune has been constantly trying to reach out to needy and brilliant students of Manipur to give them financial aid for their academic courses,specifically the undergraduate students. Recently,AMAND Pune has initiated a program on'AMAND Education Aid', under which financial aid for secondary education of orphanage girl students in Manipur.On the other hand AMAND also launched platforms for career counseling and guidance for Manipuri students residing in and around Pune, since its inception.
In connection with the above effort, AMAND, Pune has been fortunate enough to come across Mr. Ningthoujam Rapsan Singh S/O N. Manaoyaima Singh of Khangabok Sorok Wangma, who has qualified the IIT-JEE Advance exam 2017 in his first attempt and secured a BTech seat in IIT Kharagpur in Aerospace Engineering. As a JNV Dakshana scholar,Mr.N.Rapsan Singh studied his class XI & XII at the JNV, Pune. AMAND Pune has unanimously decided to give him a small financial help to encourage him in excelling in his future career by looking at the poor financial conditions of his family. The Hon'ble President, AMAND handed over a cheque of Rs. 15000/- to Mr. Rapsan in a simple function organized on 27 June 2017 at Pune. The function was also attended by the General Secretary and Vice President of AMAND among other executives.
AMAND Pune wishes him a very grand success and bright future in all his endeavors.
With best regards,
(Dr. H. Narendra Singh)
Vice President
AMAND, Pune
+91-9423582154
[ecwid widgets="productbrowser search minicart" categories_per_row="3″ grid="10,3″ list="60″ table="60″ default_category_id="21294227″ category_view="grid" search_view="list" minicart_layout="MiniAttachToProductBrowser"]