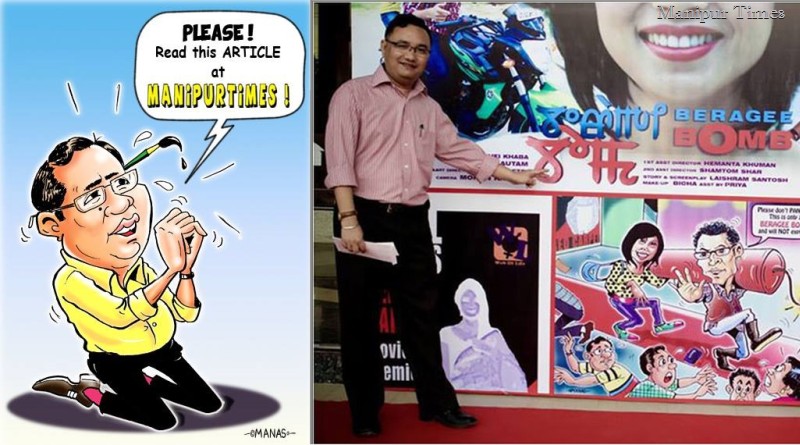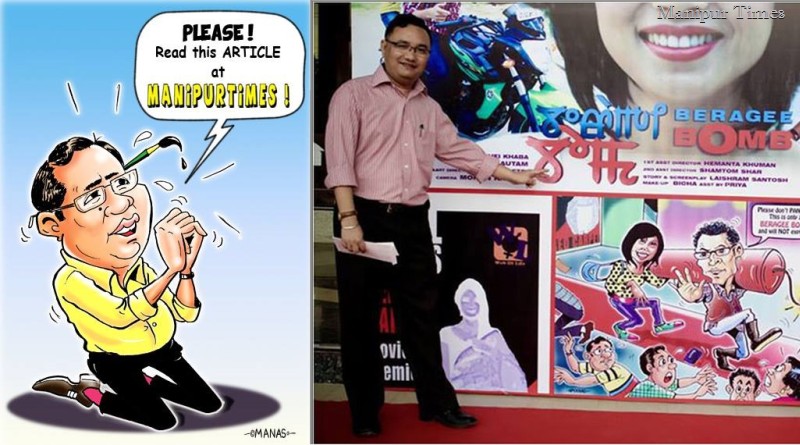 On 1st Anniversary of FindingTheVoices.com
Manas Maisnam is an eminent modern cartoonist hailing from Chingamakha, Imphal born in 1970. His father retired as Chief Engineer, PWD Manipur and mother retired as Assistant Head Mistress of a government high school in Imphal. Manas is eldest among three siblings. He is married and has a 12 years old son. During his childhood, he studied at Adimjati Little English School and Manipur Public School. He did BE in Civil Engineering at Delhi College of Engineering from 1988-1992 and Master of Planning (Transport) at School of Planning and Architecture, New Delhi from 1993-1995.
His Cartoon Themes
Recently, his series of work showing support for Northeast Olympians representing India in London Olympics 2012 was very popular and appreciated by many. Basically most of his drawings are focusing on social issues carrying the message through humors. The current disappointing activities and the lacunas of development activities of the state are projected on his cartoons. His enthusiasm on cartooning is right from his childhood and above to his keen interest, his parents were supporting him and it gave an enormous courage and strength to move forward on drawing. It is more like a family team work as his son too loves drawing and his reading table is piled up with drawing materials. His wife always supports him even endows with suggestions and ideas on appropriate captions of the cartoons.
His Passion since Childhood
Manas said that right from class I or II he used to be handy with drawings but was not an exceptionally good in it and not much more expert than his classmates. He was just an above average. The cinema posters of films like 'Olangthagee Wangmadasu', 'Enter the Dragon', 'Westworld' and 'My Name is Nobody' are few that he still remembers which influenced him to step into the world of art. Even, when he went to theatres, he rather observed the publicity pictures of the films on the walls of the theatre with graph lines drawn over. He was always fascinated by the cinema posters and he recounts those attempts to paint just like the way movie poster were painted, using graph lines, blowing up pictures from magazines, vinyl record covers etc.
What Really Inspired Him
Like any normal child, Manas used to read and see comics like 'Amar Chitra Katha' (ACK) and 'Tinkle' but the difference from other child was his keen interest on drawings. He liked the illustrations of Ram Waerkaar and VB Halbe in ACK and Tinkle. From that he could developed the techniques and knowledge on cartooning. When Manas was 14 years old, his family started subscribing Times of India basically for the cartoons of RK Laxman, and it was and of his most favourite part in the newspaper. The black and white cartoons were at its peak, it dominated over others at that time. Manas had drawn many black & white cartoons during the period of 1990-98, but of late, the trend of cartoons has changed to coloured works with colouring done in photoshop softwares. His extreme interest in this profession was only after reading the features of two great Indian cartoonists – Bal Thackeray (Politician, founder of Shiv Sena, a right wing of Marathi ethnocentric party) and RK Laxman (an Indian cartoonist, illustrator and humorist). He was also greatly influenced by Mario Miranda and Sergio Aragones (MAD magazine).
Life in Delhi
In the year 1988, when Manas was enrolled in Delhi College of Engineering, he started showing his cartoons to his friends and senior fellows. And it was his fortunate moment when he met Pradip Phanjoubam, present group editor of Imphal Free Press. Pradip introduced him to Sun magazine in 1990 and it created a way to expose his talent. He was assigned to draw the caricature of (L) RK Jaichandra Singh, former CM of Manipur and (L) I Tompok Singh, former Deputy CM of Manipur. It was a milestone in the journey of cartooning for media. He did contributing his works in regular basis from that moment. He is a person with cartooning as an extended hobby. His cartoons were published in New Delhi based magazine, SUN & NE-SUN from 1990 and the eveninger of Hindustan Times, viz Evening News (now not published) too carried his cartoons occasionally. He took a break and voluntarily retired from print and other mass media in 1998. But the gifted art which is in his blood can't be apart from his mind and soul, so after a long hiatus, his works are now featured at an online portal www.kanglaonline.com with the byline "On the Skew" since 3 years back. His cartoons are also occasionally published in Imphal Free Press & Raipur based CartoonWatch magazine, mainly based on social issues.
Manas is a left-handed person and writes/ draws with his left hand and he is proud of it. To improve his talent, he enrolled for a corresponding course in cartooning offered by a New Delhi-based school in 1985. Somehow, it was discontinued and he could complete the course only in April, 2013, 28 years after he had enrolled for the course. His projects take nearly 90-120 minutes for a cartoon and he used to draw the black ink works either manually on paper or trace using Wacom Bamboo Tablet. The final touches or colouring is done in photoshop, after scanning. Manas says that the first step in his project is to develop a clear mental picture of what he is going to draw.
His Second Spell
So far he has drawn 300 to 400 cartoons during his second stint. His support for talents from Manipur, North East and other parts of India can been seen from his work.  His series of work showing support for Northeast Olympians representing India in London Olympics 2012, drawn exclusively for Kanglaonline portal was very popular and appreciated by many.
Mary Kom's caricature with five crowns on her head after winning 5th World Boxing Championship in September 2010 is one of the most appreciated cartoons. The cartoon carries the caption, 'Queen Mary' Our pride…!!! Manas recalled a funny incident when the champion boxer was so excited after seeing her cartoon in London in August 2012, a few days after winning the Olympics medal and said, "Oh! My nose is so big!" Manas had drawn other cartoons of Mary Kom, actress Tonthoi, ghazal singer Mehdi Hassan etc. He is also a fan of Mehdi Hassan and Jagjit Singh and he loves music especially the ghazals. He used to listen to Ghazals while he is drawing late in the night.
Special Picks
Among Manas' social awareness based cartoons, he picks few that are considered worthy. He jocularly commented that Manipuri marriage has become a fertile ground for his cartoons! First, a lady in a hospital after attending ten wedding ceremonies in a day, explaining the wedding traffic during the wedding season in Manipur. Second, a man in Dhoti and kurta with a begging bowl begging for alms for Potyeng, a monetary gift. Third was about receiving Potyeng and the caption it carries is "we accept credit or debit card for potyeng". More recently, he took a humorous dig at the trend of shortened marriage rituals by drawing a cartoon where a bride in full bridal costume was following the groom at the airport. The distraught bride was saying to the groom to at least allow her to change her bridal attire before boarding the flight! Another cartoon he drew was about out of order ATMs which shows a man approaching the bank manager to allow him to open a chain of paan-shops in the non-functional ATM booths.
A caricature of our Hon'ble President, drawn by Manas was included in a coffee table book containing 111 caricatures, drawn by cartoonists from all over the country. The book was published by Kerala Cartoon Academy & the Hon'ble President released it on 29.10.2012 at Rastrapati Bhavan Auditorium. The caricatures were also exhibited there.
Manas drew a cartoon captioned "The Balancing Act" in connection with International Women's Day (IWD), 2013 wherein a woman with the aluminum container (used by Manipuri women vendors), signifying 'Economic Struggle' balanced on her head was shown as walking on tight-rope. The rope signified 'societal obligations'. Below her is a water body with crocodiles eagerly waiting her to fall. This cartoon was used by a group who observed IWD 2013 at Imphal. His cartoon was also prominently featured on the main poster of the first 'Red Carpet Event' and premiere of the Manipuri film Beragee Bomb at MFDC auditorium on 31.08.2013.
For one of his cartoons, he received Special Jury Appreciation Award in Maya Kamath Memorial Cartoon Competition, 2011. The cartoon was describing the similarity of petrol pump queue during fuel shortage in Manipur with the Great Wall of China (which is visible from outer space). He also received consolation prize in cartoon competition organized by Cartoon Watch Magazine on the theme "Pollution and Next Generation" for his work which showed a lady in labour room with the unborn child pleading 'Mummy, I don't want to be born. I am scared of your Polluted World!'
"A cartoon should be a combination of a drawing and idea in equilibrium for best impact…" said Manas and he warns that the humorous message in it should be unambiguous and should not ridicule a group or person or community or a religious group.
Original Podcast is available at Finding the Voices by Monica Ingudam Episode 1 and Episode 48