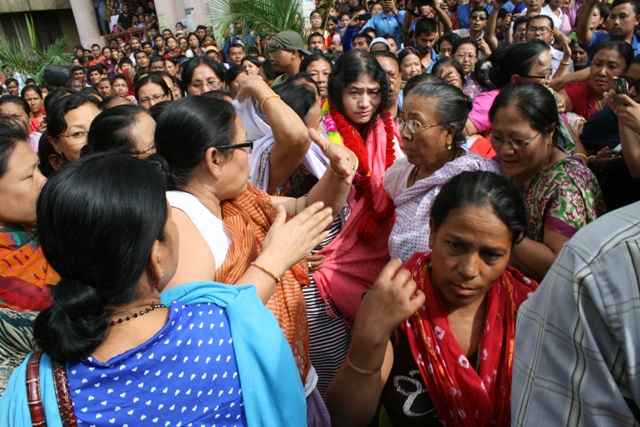 My protest is for peoples' right to life, not for earning fame, says Sharmila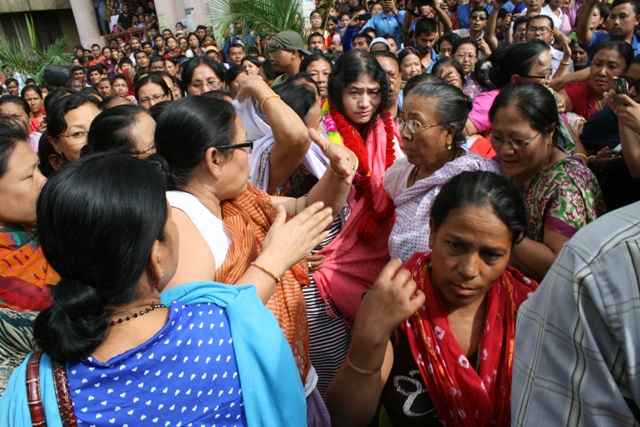 Imphal, August 21:  A day after the state government released her from makeshift jail at JNIMS security ward as District and Sessions Judge, Manipur East dismissed the charge of attempt to commit suicide under IPC 30, the protest of Irom Sharmila, who has been on a fast for nearly 14 years demanding for repealing the draconian AFSPA act, gains momentum in Manipur as the Iron lady thursday made a visit to Imphal Khwairamband Ima Keithel to meet the people and offer prayer to the Keithel Lairembi (Market deity).
Guarded by police, members of Sharmila Kanba Apunba Lup (SAKAL) and human rights activists, Sharmila arrived at Khwairmband bazar on a car at about 2 pm where hundreds of people were waiting to greet her. Vehicular movement at Imphal city was obstructed for a while as hundreds of people who wished to greet and flick a glance of the 42-year old anti-AFSPA crusader and human rights activist thronged the market.
Later on Sharmila moved to Manipur press club to express her feeling through the media.
An emotionally overwhelmed Sharmila, while talking to reporters, said, " I have been agitating for right to life, a fundamental right of the denizens guaranteed by Indian constitution, not for personal interest or earning fame. I want people to support my crusade against AFSPA rather than singing my glory.
Right to life has been violated in Manipur under the draconian law AFSPA which needs to be repealed with collective voice of the people.  I will go on my fast Until and unless my demand to repeal AFSPA is fulfilled, she said and added, "judicial verdict to release me from jail by dismissing the charge of attempt to commit suicide is the beginning of my victory over anti AFSPA campaign".
While appealing the people to support her agitation for the cause of right to life rather than leaving her alone in the fight against AFSPA, the Iron lady said," people in the state, leading a life of uncertainty under the draconian law, have not raised their voice against the act. The Government has wasted huge public money to keep me nose fed so as to suppress my agitation. As this huge money is not private pocket money, government is liable to compensate the money incurred. I have no intention to die, but like to lead a life as normal human beings. what I am protesting against the government is to protect the innocent lives from the draconian law. I like to end up my agitation after repealing AFSPA with public support.
Prime Minister Narendra Modi once assured that AFSPA would be repealed when NDA comes power. But he has done nothing as yet. His words now turned to a mere political speech to overwhelm voters. NDA government is expected to pay heed to my demand, she said.
Deeply hurt by the Malom Massacre on November 1, 2000 wherein 10 civilians were killed by Assam Rifles who resorted to indiscriminate firing at a bus waiting shed at Malom Irom Sharmilla began her fast in November 2, 2000 till now.