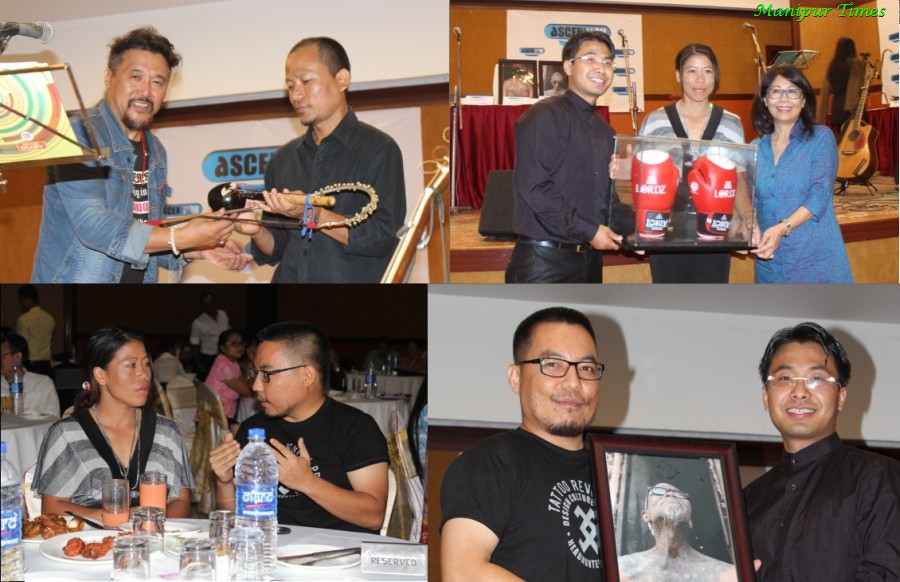 Rs. 6,10,000 raised for education of financially weak students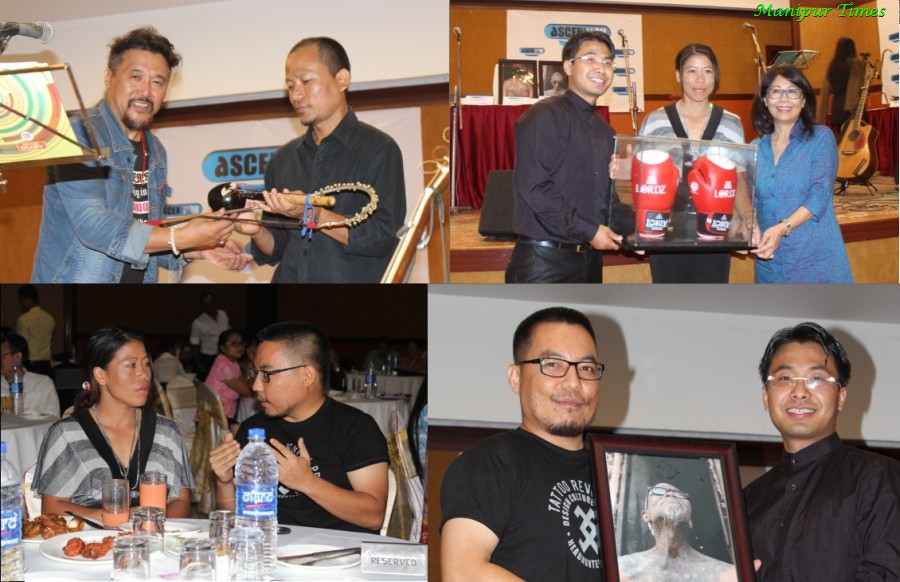 Imphal; May 1, 2014: Ascension Educational Trust, a charitable organization which provides free coaching to students from financially weak backgrounds, recently organized its first fundraising dinner at Hotel Imphal, located at the heart of the city. The event saw the presence of the crème de la crème of the state's dignitaries including five times world champion and Olympic Medallist M.C. Mary Kom, folk musician and singer Guru Rewben Mashangva, celebrity tattoo artist and cultural activist Mo Naga, IAS officer Armstrong Pame, Presidential Awardee Angcha Saka and many more. Various prized possessions of the visiting celebrities were auctioned at the event and the proceeds were donated to Ascension Educational Trust.
Mary Kom, who was the guest of honour at the event, said, "I am trying to help the deserving youths in my own ability. Ascension is doing the same in their own principle. We are on the same track. I did not know them personally, but I have seen them today and I am here to support them. I hope many more helping hands are extended towards them." The Olympic medallist's autographed boxing gloves earned Rs. 30,000 for Ascension Educational Trust.
Renowned folk singer, Guru Rewben Mashangva entertained the distinguished guests of the evening with his musical performance. Later, the musical instrument which he used during this performance was auctioned for AET.
Tattoo Artist and cultural activist Mo Naga donated two of his research photographs for the charity auction. His photographs were the highest bid articles of the event, purchased by renowned IAS officer "The Miracle Man" Armstrong Pame, who caught the national headlines last year by single-handedly taking on the ambitious project of building a 100-km road in Manipur's Tousem sub-division without any state government aid. Besides, Presidential Awardee Angcha Saka put up his bamboo and cane crafts, a Praying Mantis and Scorpions.
Dr. Thyelnai Dawn Khaling, Founder & Managing Trustee of AET, said "Since AET is in its 2nd year of operation, we are not yet eligible for government schemes. We have been running the coaching with the help of donations only. But the trust needs a lot more funds to help improve the infrastructure and meet our monthly expenses. Through our first fundraising dinner, we succeeded in raising a total of Rs. 6,10,000. Out of this, Rs. 1,24,500 has been raised from the auction, and Rs. 4,85,500 through donations. We are extremely grateful to everyone who have kindly supported us in this initiative."
About Ascension Educational Trust
ASCENSION EDUCATIONAL TRUST was formed on 17 April 2013 to provide free and yet quality education to students from financially weak backgrounds.
Various studies found that the cause of most of the unwanted/evil things is 'lack of education'. Poverty, Diseases, crimes, fighting, corruptions, hunger, etc can be dramatically reduced with good education.
Ascension believes that the best and long lasting solution is to produce at least a high ranking officer/ a doctor/ an engineer from each and every village. And they hope that this will bring positive changes in their respective villages/areas through their work and also by inspiring younger generations of their villages.
Presently AET is providing free coaching for MBBS entrance (pre-medical test) which is a tough competitive examination to get admission in a medical college. They select students from economically backward families. They are accommodated in AET's boarding and given free coaching, free food, free study materials, etc.
---
 This press release was submitted by Rooplin <rooplin+a+lifespurple.com>