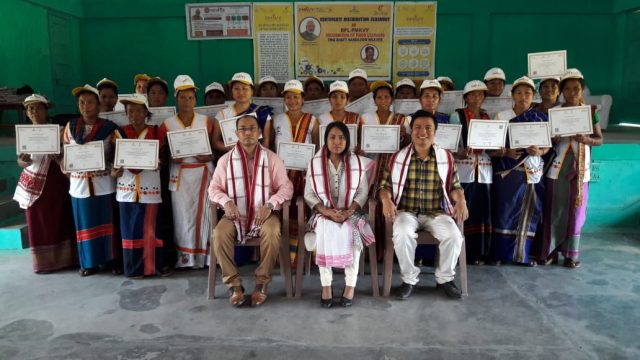 Skills and knowledge are the motivating forces of the financial growth and economic development of any country. India currently faces a severe shortage of skilled workers as compared with other countries, and the accelerated economic growth has only increased the demand for skilled manpower. As India moves progressively towards becoming a global knowledge economy, it must meet the aspirations of youth and aim towards skilling them with the best possible standards. The skill development of the working population is currently one of the top priorities for the country. This is evident by the exceptional progress India has made over the years in the skill development sector; however, there is dire need for a comprehensive ecosystem to impart quality skills to the youth of the country in order to meet global standards.
The Union Cabinet had approved India's largest Skill Certification Scheme, Pradhan Mantri Kaushal Vikas Yojana (PMKVY), on 20 March, 2015. The Scheme was subsequently launched on 15 July, 2015, on the occasion of World Youth Skills Day by Hon'ble Prime Minister, Shri Narendra Modi. PMKVY is implemented by National Skills Development Corporation (NSDC) under the guidance of the Ministry of Skill Development and Entrepreneurship (MSDE). With a vision of a ''Skilled India'', MSDE aims to skill India on a large scale with speed and high standards. PMKVY is the flagship scheme that is driving towards greater realisation of this vision.
Individuals with prior learning experience or skills shall be assessed and certified under the Recognition of Prior Learning (RPL) component of the Scheme. RPL aims to align the competencies of the unregulated workforce of the country to the NSQF. The objective of this Skill Certification Scheme is to enable a large number of Indian youth to take up industry-relevant skill training that will help them in securing a better livelihood.  Project Implementing Agencies (PIAs), such as Sector Skill Councils (SSCs) or any other agencies designated by MSDE/NSDC, shall be incentivised to implement RPL projects in any of the three Project Types (RPL Camps, RPL at Employer's Premises and RPL centres). RPL mainly focuses on the individuals engaged in unregulated sectors.
The objectives of RPL are primarily three-fold: (i) to align the competencies of the un-regulated workforce of the country to the standardized National Skills Qualification Framework (NSQF), (ii) to enhance the career/employability opportunities of an individual as well as provide alternative routes to higher education and (iii) to provide opportunities for reducing inequalities based on privileging certain forms of knowledge over others.
Under this scheme, Chanu Creations, Thangmeiband, Imphal is implementing Recognition of Prior Learning (RPL) training on the Job Role ''Two Shaft Handloom Weaver'' under Pradhan Mantri Kaushal Vikas Yojana (PMKVY) to entire North Eastern States of India as Project Implementing Agency (PIA). Chanu Creations has trained RPL-PMKVY to 937 beneficiaries in Changlang District of Arunachal Pradesh. Today, the 26th July, 2018 the certification ceremony of RPL-PMKVY of Changlang District were held at Circuit Auditorium Hall, Diyun of Changlang District, Arunachal Pradesh. All the beneficiaries/trainees were attend the certification ceremony.
Shri Jacob Tabing E.A.C (Extra Assistant Commissioner, Changlng District), Smt. Chirom Indira (National Awardee 2015, Nari Shakti Puraskar Awardee 2017, DMA All India Women Entrepreneurs Awardee 2018 & Vasundhara Hall of Fame Awardee 2018) Proprietor/CEO of Chanu Creations, Smt. Provawati Deori Ex. Chairperson Anchal Samity, Diyun Block, Shri Puma Sen Chakma Gaon Bura, Jyotsnapur, Diyun, Mr. N.K Deori J.E Diyun, Dept. of Power, Govt. of Arunachal Pradesh and Mr. W. Joyshankar Luwang Project Manager of Chanu Creations were grace the function as Chief Guest, President and Guest of Honours respectively.