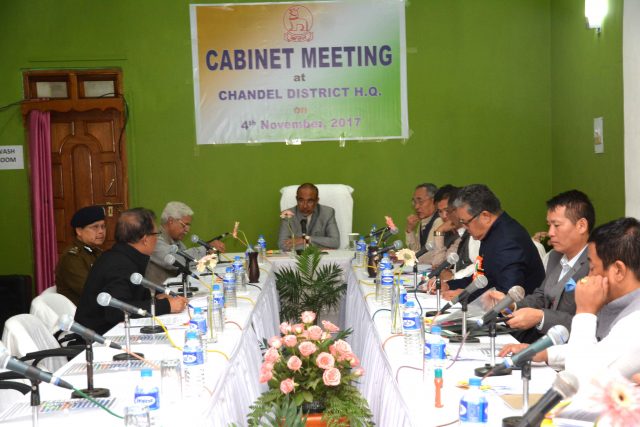 Imphal, November 4, 2017 (DIPR): Chandel District Headquarters has become the second hill district headquarters which has hosted a State Cabinet meeting after Churachandpur.
In another historic meeting held at Mini Secretariat Complex, Chandel with Chief Minister Shri N. Biren Singh in the chair, the State Cabinet approved the Industrial and Investment Policy of Manipur, 2017.
The policy has been formulated to strengthen the State Government's mission to act as facilitator to accelerate industrial development and its allied sectors in the State through development of infrastructure, enhancement of human resource, provision of incentives, garnering of more investments and establishing a strong and committed administrative support network for all round socio-economic development of the people.
The Cabinet also gave its nod to creation of 32 posts of Lecturers/Assistant Professors in Manipur University of Culture. Moreover, it also gave post-facto approval to the engagement/appointment of 30 Lecturers/assistant Professors and nine non-teaching staff on contract basis.
The State Cabinet also granted creation of posts of academic staff and non-academic staff for smooth functioning of Manipur State Film and Television Institute.
The Cabinet also resolved to rename the nomenclature of 'Lungthul-Suangdoh Sub-Division cum TD Block' as 'Suangdoh Sub-Division cum TD Block'.
Later, a review meeting of the development projects of Chandel district was also conducted. Chandel DC Shri Krishna Kumar made PowerPoint presentation at the meeting.
It may be mentioned that the first ever Cabinet meeting in a hill district headquarters outside the State capital was held at Churachandpur on July 14, 2017.