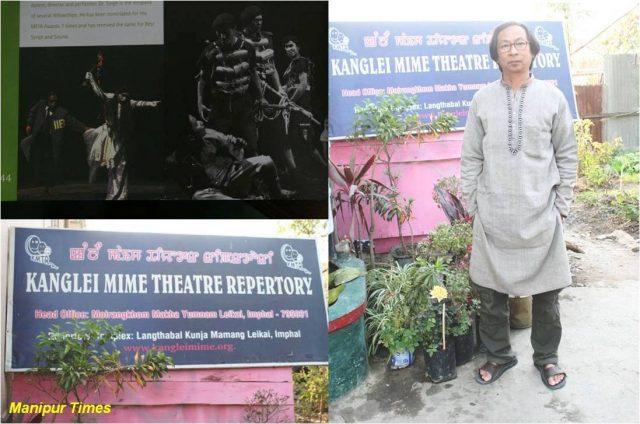 Theatre is a collaborative form of fine art that uses live performers to present the experience of a real or imagined event before a live audience in a specific place. Taking the role of visual media, theatre takes a great role on educating, informing, persuading and motivating the people on a variety of issues apart from entertaining people. In proscenium theatre movement in Manipur, mime theatre is becoming popular among the art forms. A mime or mime artist is someone who uses mime as a theatrical medium or as a performance art, involving miming, or the acting out a story through body motions, without use of speech.
Dr Yumnam Sadananda is among the renowned theatre personalities in the state who has directed several mime theatre/dramas to his credit.  With many achievements in its hand and wide recognition, Dr Yumnam Sadananda, who is the director cum secretary of Kanglei Mime Theatre Repertory, has trained many artistes and is dedicating most of his time towards promoting the art form.
His initial journey in art
With a post graduate degree in English literature from Manipur University in 1989 and Ph. D. degree in 2008, Dr Yumnam Sadananda from Yumnam Leikai Imphal west has been working in the field of mime and physical/non-verbal theatre since 1978. By his sheer and prolonged effort, he could make the Kanglei Mime Theatre Repertory one of the leading mime theatre groups in the country. It is a centre for the art lovers and enthusiasts; creative artistes and the educated youths and was established in the year 1987.
Born on February 1, 1965, Sadananda is the son of Yumnam Kalachand. His artistic career began from Panthoibi Natya Mandir, Yumnam Leikai located nearby his house. Presence of such a theatre group at his locality highly motivated young Sadananda. For the first time of his life in the field of art, Sadananda danced Manipuri folk dance during the Lai Haraoba festival of Yumjao Lairembi, Yumnam Leikai in 1977.
Awards and Honours
In recognition of his contribution in the field of art, Manipur state Kala Academy awarded him Manipur state Kala Academy award in Mime Theatre. Besides, he has also won META Award 2010, scholarships, junior fellowship, sr. fellowship from the Ministry of culture.
His Masterpiece Mirel Mashingkha  
One of his masterpieces in theatre works is Mirel Mashingkha (the will of soul) which presents the chaotic social structure and utter lawlessness that characterize Manipuri society today. The play makes an attempt to raise awareness about the various atrocities and acts of terror that people witness in their daily lives. Dedicated to Irom Sharmila, it is a physical play based on her campaign against terror. The soul of Sharmila emerges from these incorrigible events and the stinking rot, throws light on the people's plight, highlights brutalities like rape, fake encounters, custodial deaths committed by the army and terrorist activities that threaten the delicate socio cultural fabric of Manipur society.
His Mime plays in international festivals
His theatre group participated in the 18th Chuncheon International Mime Festival held in South Korea and presented the mime play "Cheitheng" (Agony) in 2006. Also, in 2007, the Repertory participated in the International Puppet and Mime Festival of Kilkis in Greece and recently in March 2009, the Repertory participated in the 2nd International Festival of Mime and Physical Theatre held at Macedonia, high fest international performing art festival, Yerevan Armenia, 2011 and showcased Mirel Mashingkha.
Sadananda feels that he has witnessed new techniques and tones of mime around the world at the present trend. He now believes in fusion of mime with all other indigenous art forms of Manipur for a more thriving mime performance of International standards.
Regarding the outstanding achievements of the Repertory, mention may be made of its first participation in the 1st National Mime Festival held at New Delhi in the year 1998. The Repertory presented the play "Power's Act", based on a victim woman tortured by the Army.
His participation in Mime training/workshop and its allied art forms
Dr. Yumnam Sadananda had taken classes on mime in many workshops and attended many seminars and conferences across the country and beyond. Also, the Repertory has been implementing many projects on Culture and Education since its establishment.
In 2001, the Repertory participated in the 2nd National Mime Festival held at Kolkata and presented the mime play "Hanuba Hanubi Pan Thaba" based on a Manipuri Folk Tale. In 2003, the Repertory participated in the 2nd and 3rd National Mime Festival held at Delhi and Guwahati respectively. In 2006, the Repertory participated in the National Mime Festival; Shilpgram Festival organized by West Zone Cultural Centre, Udaipur, and participated in the Patliputra Festival, Patna in the same year.
As a Mime Theatre actor and dancer through Manipur state kala academy, he participated in the national cultural camp held at Kolkata from 11st to 25 November 1997 organised by Indian Mime Theatre and sponsored by Department of education.
Various training method like exercises using different movements including Manipuri Martial Art, Yoga, accurate and presentable body movement techniques, rhythmic exercises through Manipuri dance and music; facial and body expressions; improvisation and production are imparted to the trainees.
His Gurus
Sadananda learnt theatre art under the feet of various noted Gurus like theatre Director Padamashree H. Kanhailal, Director of Kalakshetra Manipur, Imphal for two years with the National Theatre Scholarship entitled to him by the Department of Culture, Govt. of India. He also attended in various mime theatre workshops under eminent directors namely Padmashri H. Kanhailal; Jetty Roel, Beljium (Mime Director); Niranjan Goswami, Director Indian Mime Theatre, (SNA Awardee in Mime); John Martin, London; Manavendranath; Padmashri R.K. Singhajit Sana; Provir Guha; Bansi Kaul, (SNA Awardee); Padmashri Sonal Mal Singh; Rustom Barucha; (Late) Kh. Bihari Singh (State Kala Academy Awardee); Y. Rajendra, (SNA awardee); Y. Khogen etc.