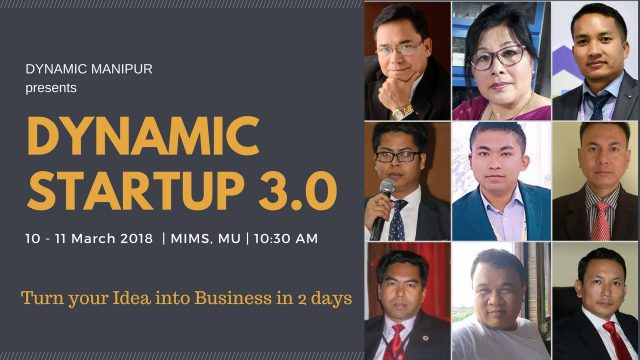 Turn your Idea into Business in 2 days
Dynamic Manipur presents Dynamic Startup 3.0, a 2 days practical oriented program where participants will get to learn how to validate their business idea in 2 days by building Minimum Viable Product (MVP) and pitch their (innovative) business ideas to a panel of Juries. The best 7 ideas will go through the final round and the final top 3 team will get to win cash awards and personal mentorship under our panel experts for 6 months.
Event Registration through online registration form
https://eventshare.wufoo.eu/forms/dynamic-startup-30/
Registration Fee : Rs.500/- (To be paid at the registration desk on the event day)
Date
March 10th-11th, 2018 @ 10:30 AM – 06:00 PM lndian Standard Time
Venue
Auditorium, MIMS, Manipur University
Limited Seat : 25 Only (We are looking for serious participants only)
Note: Lunch packs & refreshment will be served. And participants will be required their own vehicle for field works.
For latest update
Facebook.com/DynamicManipur