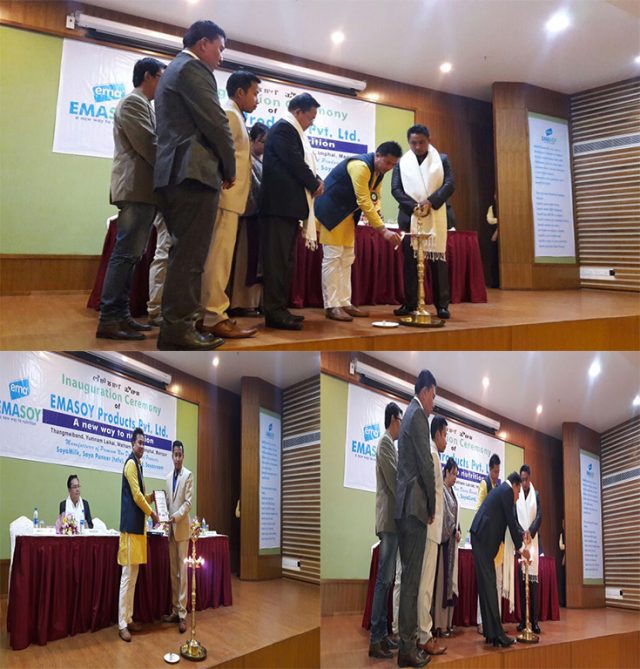 9th December, 2016 : Emasoy Products Pvt. Ltd. is a 1st Manufacturer in Manipur for Non- Dairy Based products as Milk, paneer (tofu), Curd and Ice Cream from Soyabean which is known as best alternative to Dairy Based products.
Company launched the products dated 6th of December, 2016 at Imperial Hall, Classic Grandee, Chingmeirong by Thongju A/c MLA Th. Bishwajit,
The function was also preside by Manipur Chamber of Commerce and industries president Dr. Th. Dhabali, and also attended by Nutritionist of Pediatric centre of Excellence, Jnims Dr. Ng. Bembem Devi and Former 7th Position holder At Mr. Universe 2011, L. Boynao.
Company is producing non dairy based product which is purely vegetarian and an alternative to dairy based products that is Soy milk (Plain and Flavor), Soy Paneer (Tofu), Soy Curd, Soy Ice Cream
Managing Director of the Company M. Shanker Sharma is focusing on health and nutrition diet. As he understand Protein is needed by everyone and as the state has limited production of dairy based product company has produced wide range of soy products as affordable prices.
Company has set the prices as 250 ML Flavored milk at Rs. 15.00 and 500 ML Plain Milk at Rs. 20. As Maximum retails price.
And Tofu (Soypaneer) at Rs. 70 for 250 Grams and Rs. 150 for 500 Grams As MRP
And Soy Curd at Rs. 55 for 400 Grams (MRP) and Company will start Ice Cream from February end or March.
Products will be available soon in the market through local retails outlets and small Milk Vendor.
Company has started its trial pack and full fledge delivery of product in the market will be done within mid of this month.
Managing Director of the also said that company is taking raw material (Soyabean) from local market but it is also thinking for contacting local farmer for the farming of Soyabean so it can help both company as well as farmer as per increase in Demand of products in the market.