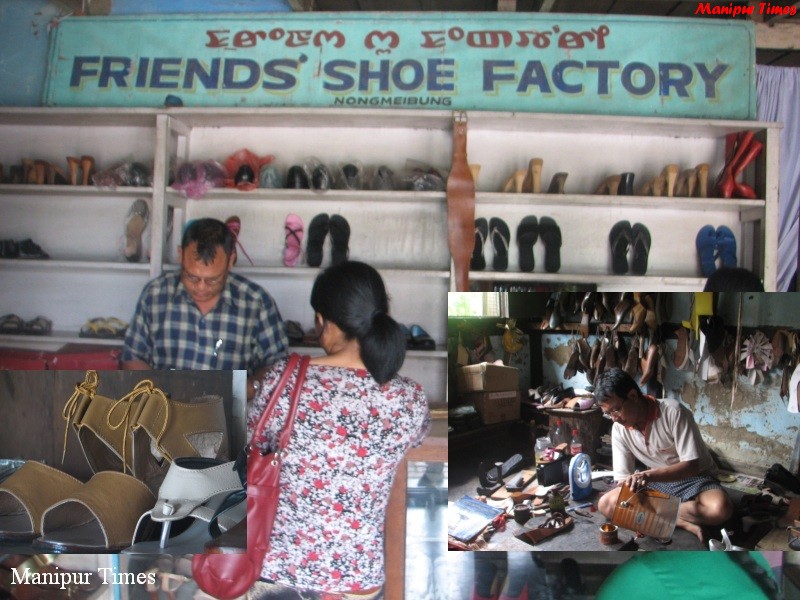 "More than 1000 persons have already been trained on making shoes since the inception of my factory. Except a few, almost all the skilled shoe makers trained in our factory have failed to reap benefit in a professional way although they are skillful. They have wasted their skill. This indicates complete lack of work culture among our people. At present, our factory is unable to meet the public demand of shoes as we are having less manpower. Shoe making has become a thriving business now due to ever increasing demand." 
In a recent interaction with Manipur Times, Wangkheirakpam Modhuchandra, Proprietor of Friends Shoe Factory, expressed his deep concern over the lack of work culture in Manipur.
Friends shoe factory located at Nongmeibung, Imphal East is among the pioneer shoe making factories in Manipur. The factory actually started the trade in 1975. But it got officially registered with the Commerce and Industries Department, Manipur in 1980. The factory has been designing shoes for 38 years now. 
55-year-old Modhuchandra passed matriculation from Moirang Multi Purpose Higher Secondary School in 1986 and PUC from Biramangol College, Sawombung. He could not continue his studies because of his family problems. Moreover, he had no time for study as he was occupied mainly in shoe making.
"As a child, I used to see shoe making works of one Doren from Keishamthong Elangbam Leikai at his home. It impressed me so much that I wished to become a good shoe maker. I got training on shoe making from TATA Shoes located at Thangal Bazar.  Under CB Kora Institute, Mumbai, I learnt a course on artistic leather works. I am planning to send a few of my workers to Central Footwear Training Institute, Mumbai for undergoing training", said Modhuchandra. 
Modhuchandra is a proud father of two sons and two daughters. He trains his sons and daughters the art of shoe making. One of his sons has completed MBA while another daughter is undergoing MBA at Manipur Institute of Management Studies (MIMS) of Manipur University. 
"I have trained more than 1000 persons on shoe making and designing. Fifty per cent of the trainees went out from this factory with good shoe making skills after training. However, no one come out with the determination of becoming a professional shoe maker so far due to lack of work culture. The products of shoes manufactured by my factory are exported to some cities of North East States like Kohima, Guwahati, Shillong and even Delhi, Kolkata. Our factory now receives heavy supply orders of shoes from other states especially, Delhi and Kolkata because of its attractive design and good quality, but we do not accept supply orders much as we can't cater the demand because of low production rate in the factory. If some skilled shoe makers are brought in to my factory, the demands can be met. But no skilled shoe maker has turned up to work with me. They only like white collar jobs. As a result of this fact, I am planning to hire some non-Manipuri skilled shoe makers on contract basis to increase production", said Modhuchandra. 
He said that that setting up of a big shoe factory has always been a dream since his early days of life. To realise it, he set up Friends Shoe Factory with the hope of making it the biggest shoe factory in Manipur. 
Friend's Shoe Factory Gallery
"Although, its name is Friends' Shoe Factory, the work-shed is yet to achieve the status of a factory. All possible efforts are being made to achieve the status of a factory by inducting more workers and increasing production. Presently we are making maximum 60 pair of shoes a day. With this production capacity, it is not possible to compete with other shoe making industries. I like to work together with some like-minded shoe makers of the state so that my shoe factory can be a big industry of the state. When it turns to a big industry, employment can be provided to many jobless youths", Modhuchandra said. 
"Manipuris always look for white collar jobs.  Until and unless this notion is deleted from our mindset, unemployment problem will be there in Manipur. We need to look for other career options beyond white collar jobs. There is no dearth of jobs for those who adopt work culture. Shoe making is a thriving and high income generating trade. The door of my factory is always open for those who wish to work with me and make their career in shoe making. A shoe making training course will be organised soon for those interested individuals", he added.