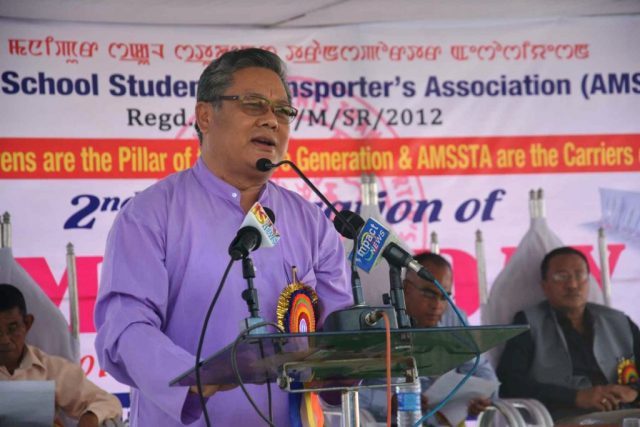 Imphal, October 14, 2017 (DIPR): Consumer Affairs, Food & Public Distribution and Revenue Minister Shri Karam Shyam today said the State Government will not neglect demands of the people which are in the interest of the society. He was speaking as the Chief Guest of the 2nd Observation of AMSSTA Day (All Manipur School Students Transporters' Association) at Naharol Sintha Kanglup Community Hall, Wangkei Keithel Ashangbi, Imphal East.
Addressing the gathering, the Minister said that, policies and programmes are approved and implemented keeping the welfare of the people as the primary focus. He asked the association to submit names for recommendation to be included in the Social Security Scheme, Chief Minister gi Sottharabasingi Tengbang (CMST) which was recently passed by the State Cabinet. He advised the school van drivers to take pride in their profession and be aware of the huge contribution they have in the society. Calling them responsible citizens, Karam Shyam said all members must always keep in mind the motto of the association 'Children are the pillars of the future generation and AMSSTA are the carriers of the pillars'.
Minister Karam Shyam also said school van drivers can impart moral lessons as they are privy to the conversations of the students inside the vehicle. Stating that after teachers, school van drivers have maximum interaction with the students, the Minister urged them to guide the students to become a good citizen.
Acknowledging the role of school van drivers in a student's life, the Minister said that, respecting the profession as a responsible member of the society will immensely help in taking our society into a better future. He also advised them to inculcate the habit of saving money and not fall prey to bad habits. School van drivers have great influence in the lives of students as much as the teachers, he added.
Speaking as Guest of Honour, Shri B.K. Sharma, OSD cum Joint Director, Transport Department said the department is re-examining the Transport Policy passed by the Cabinet in 2015. He urged the association to send in with their proposals which can be included if feasible.
Also attending the function were Shri Wangkhemcha Shamjai, President of All Manipur Working Journalists Union, Shri Maibam Kennedy Singh, President AMSSTA and others. Floral tributes were paid by the dignitaries and members of the association to the departed members of AMSSTA as part of the observation. (DIPR)