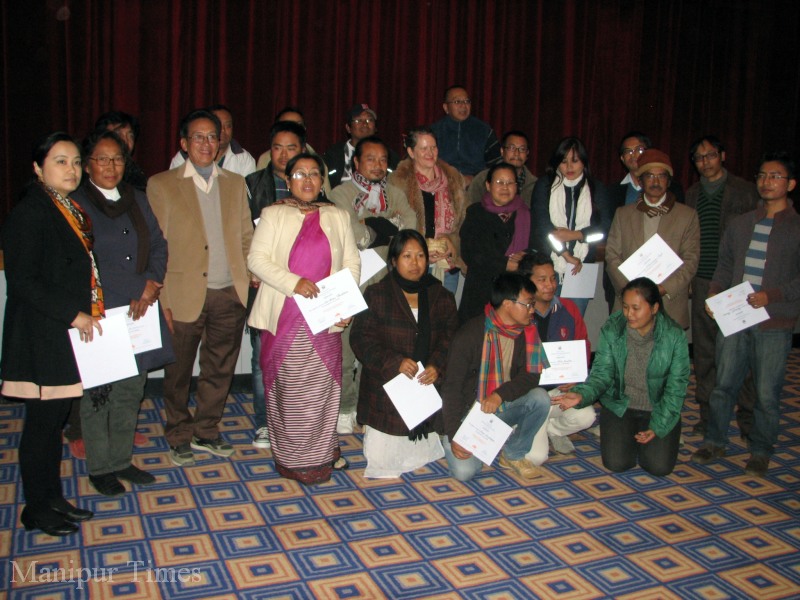 "This time it is good. I gain knowledge on Character, Plot making, Scene technique. The instant scene development practice after watching a film and discussing on it gives me immense thought. There was clarity and better technique learning during the workshop.
There is no screen writing without a story, idea or any plot of a scene.  Everything seems scattered when one tries to do screen writing without proper technique. It seems like I discover the easy ways that saves time and labour by practicing the methodology from the experts in the workshop ", says O. Gautam, Director of National award winning film Phijee Gi Mani.
Altogether 10 films were shown during the ten days International Film Workshop "Replay International" at the Manipur Film Development Corporation, MFDC hall that concluded on 16 January 2013.
The event was organised by Manipur Film Development Corporation, MFDC and the founder sponsor of the event was the Governor of Manipur, Gurbachan Jagat.
As a part of the workshop one film is being shown per day. This is to study how to apply or convert the lessons that the experts taught in the morning into films. The films which are shown as a case study during the workshop were also screened to the public at MFDC Auditorium.
Since I am working in the field of film festival the Governor of Manipur asked me to organise such an event. In response to that I am organising this event says Somi Roy.
The objective of the event was to produce and see good films. We lack in terms of seeing good films. We are bringing films which are not seen even in India. When we see good films we will come to know the film culture. Besides that Manipuri culture will reflect its aesthetic value when we compare it with others. Our own culture and other's culture are interdependent.
After comparing our culture with others we can judge the things that can be done or not in the film medium. We can also see how they shoot their dance and what can we learn from them. At that point of time we can decide which things are suitable with us and which things are not suitable with us and critically decide about the culture of film.
Three experts from the USA conducted the sessions during the workshop. They are Deirdre Towers, Alexandra Viets and Iben Trino-Mollenkamp.
It has been three years Deirdre Towers has chosen the dance film. When we planned the event our motive was to focus on dance and sports. Such kind of event which is a combination of dance and sports is first in the world.  We have chosen it because it is the most suitable one in Manipur. You cannot score a goal without a tune expressed Somi Roy.
Lot of motions are involved in our culture. So we need to know how to capture motion picture. Thus this is a specialised event for Manipur. We want to organise events which are suitable with Manipur. Manipur is a small state that is why we want to organise small events. This is not Bombay and we don't need to organised events which are organised in Bombay continued Somi Roy. 
Alexandra Viets who has written various scripts for Ismail Merchant Library Production Company was brought up in India till the age of nine. Her father was a diplomat in India. She is an author and a teacher by profession. She came to Manipur last year too. Due to the good experience she had last year and to give an advanced course of screenplay she has come this year as well says Somi Roy.
Iben Trino-Mollonkamp, an American originated from Holland is an expert of documentary film especially activist documentary. She spoke on capturing environmental films, civil rights, and women related issues etc. She also talked about the right of a person when we turn a camera to others. One  need to seek a permission to capture from the person whom the cameraman is going to capture and ethics of Journalism and ethics of Film Making etc. Under this she covers responsibility of the Film Maker like planning a film, what is the relation between the Film Maker and the subject and how to choose a suitable documentary based on the subject from number of documentary films.
"I feel that I have learnt a lot this time. The venue is much better, better organised, the duration is also much better than last year. Last year it was shorter we got to do a lot more this time. There is one to one contact with our resource person. I think we need to continue, we learnt a lot. Anybody who is interested in film and writing whatever I think they will learn a lot and I like everyone to participate in such workshop.
I was in advance screen writing if I do this one more time I will have a screen play ready. You are really motivated and you watch such good films that it inspires you to think about all our cultural resources that we have and I keep feeling every time I watch a good film that why do not we have this type of thing in Manipur. Why we do not have such a film because our culture is so rich but it has to be shown worldwide through films and I think this is one kind of workshop that makes people realise this kind of thing and makes me wanna go out there and just make a good film" says Natasha Elangbam , HOD Mass Communication MU, who attended the film workshop 2013.