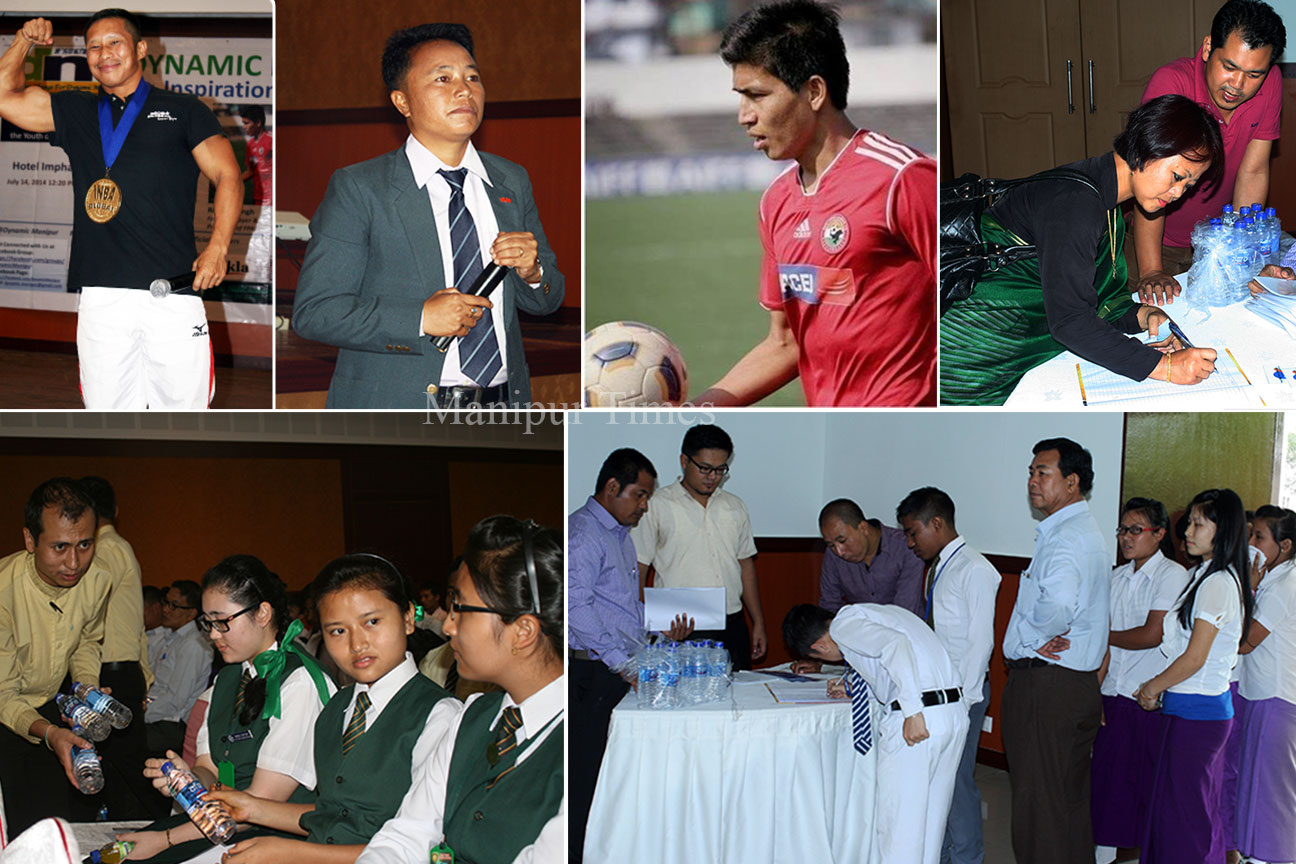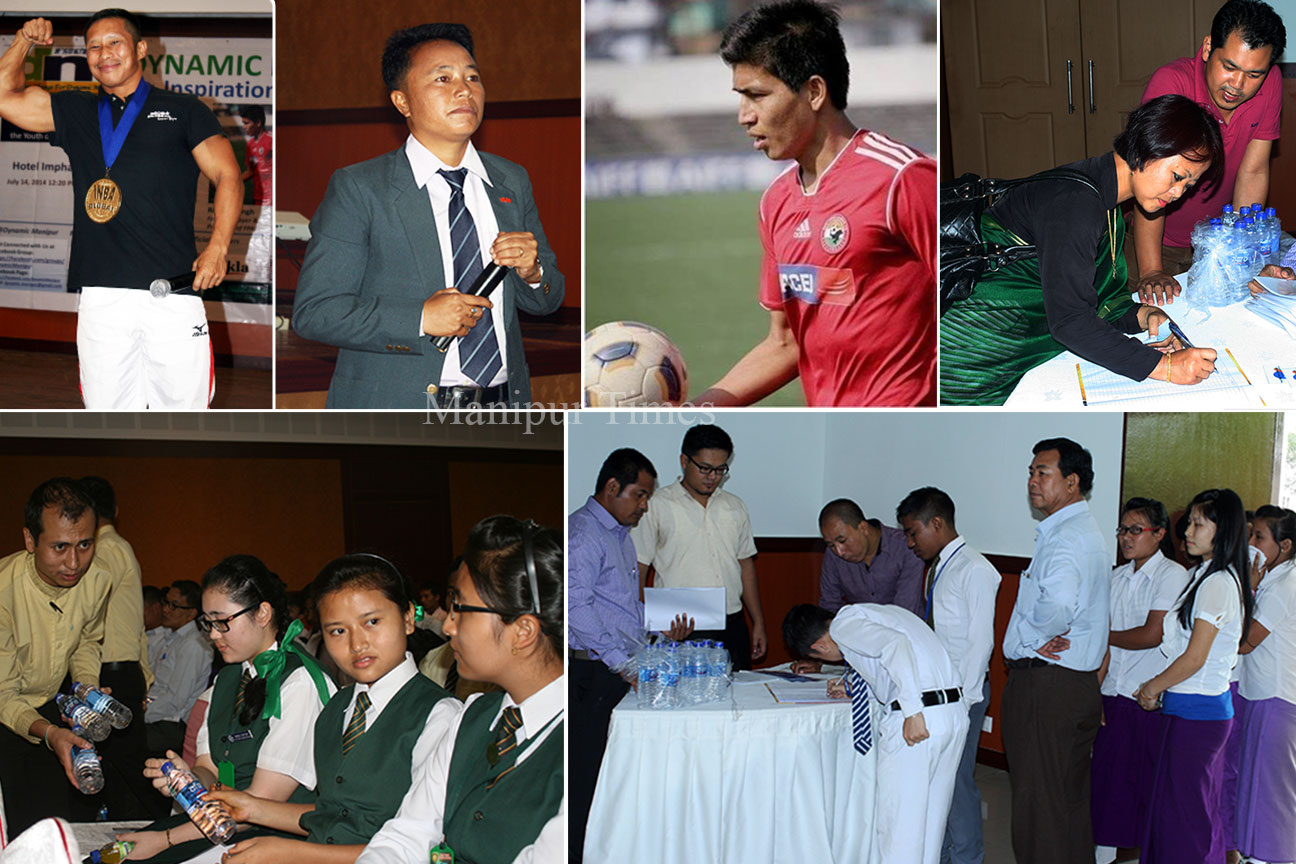 "Always dream big and attempt to visualize the better things beyond your humble life status. To climb the ladder of success, what matters most is one's firm determination and will power not humble background or environment. Considering my poor family background, my illiterate landless peasant parents, my childhood growing up as family cowherd in a small village, to earn a doctorate degree were not an easy task. It was a tough task for my poor parents who have not even a single inch of agricultural land to afford both meals for us. However, we survived eating OOTY, a Manipuri cuisine without rice sometimes. We were brought up with the rice collected by our mother from her daylong work 'Phudit Khappa' in the field. Despite all this family background, I always dreamt big and tried to visualize the better things beyond my humble life status.
Dr. Ngangbam Shantikumar Meetei, Mr. World 2013 title holder, motivates the young minds who gathered at Sangai Hall, Hotel Imphal to interact with the eminent Manipuri sports stars during the third episode of Dynamic Manipur's Inspiration talk event on July 14.
Success stories that are motivating and idea-focused delivered by the eminent sports personalities of the soil gripped the hearts of audience, the young students from different school, colleges in particular gathered during Dynamic Manipur's Inspiration Episode-3 talk event.
Talking to the gathering, Dr. Shantikumar Meetei further maintained that every success in his life achieved in a tough way. With a view to achieve Mr. World title, he had to toil several defeats in many competitions and hard trainings initially. Those defeats he faced became the springboard towards his success.
"I had two dreams in life- one was to win Mr. World title while another was to be a doctorate degree holder. All these dreams have realized but these are not the end of my life", he said and added "many things are lying ahead to accomplish before I sleep".
Recalling his life, he said while he was studying at DM College, he even managed to sell his blood to a district hospital to afford his requirements like books, dress and shoes. He was disappointed when his blood sample was found to be AB+ group which is not fit for sale. During his life in Delhi University, he could not pay hostel fees in time that his name often came in the top list of students who failed to clear hostel fees. Despite all this fact, he could achieve Mr. Delhi two times.
Chaoba Devi, first AFC-A license holder women coach in NE States, said that Manipur although a tiny hilly state has been credited for producing many talented National and international players. Many Manipuri players are playing in many big clubs of India. The fact that Manipur becomes the powerhouse of sports in India can be attributed to that willpower and spirit in Manipuri blood.
In my football career, I faced social stigma and my parents often reprimanded me for playing football, a game considered only for boys, not for girls. Girls playing football with sports pants were considered unacceptable to the then social norms.  Now, such social notion has changed, she said and added that this is a sign of good development.
Stating that physical structure is one of the most important factors in football career, she observed that Manipuri players are not able to play in the international level because of their short height in body structure. While the height of those European players are above seven feet, Manipuri players are of five to six feet height which is not favorable to football discipline.
Football clubs in Manipur are facing severe financial constraints with less people sponsoring to develop the game even as there are many big companies, Industrialists and moneyed people, she said while appealing the people to promote the game in the state with both financial and moral support as done in other parts of the world.
Despite his being out of station, Footballer P. Renedy Singh, President of FPAI, shared his life experience via Google Hangout (recorded video).  The gathering at the Inspiration episode 3 watched the recorded video of Rennedy's interview.
Mentored by his father and one Malem from his locality, a footballer of Tata football Academy, he started his career in football right from his young age of 12, said football star Potshangbam Rennedy.
Rennedy hailing from Sekmai is the third son among four siblings. His father is also a football player. He joined Muhon Bagan in 1996.
On a query as to why Manipur fails to bag Santosh Trophy after 2002 and other Indian Leagues, he said, Manipur became a football powerhouse a decade way back. In Indian team there were seven Manipuri players in Indian team in 2006- 2007. The main reason behind why we fail in pinching Santosh Trophy is due to lack of Backup plan in Manipur. With all the Manipuri players engaged in other outside Clubs play in Santosh Trophy all the time without giving opportunity to local players  to play in such national level tournament, number of talented football players are less. For Santosh trophy, more priority or focus must be given to local players. We need to train the upcoming players from grassroots level. To bring out good football player, training should be given to a player from his 6 years old. Local players need to be trained at par with the International players.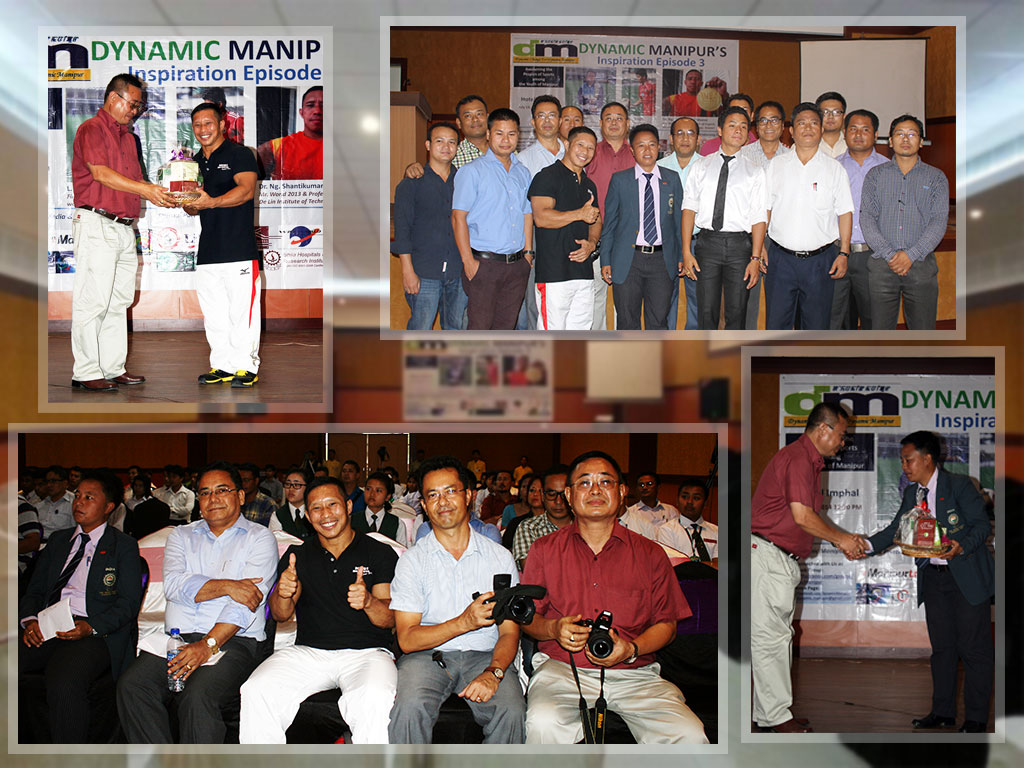 He opined that Indian coaches needs high training to strengthen Indian football.
"Although my father was a fan of football, he discouraged me playing the game in view of less opportunity in the game. He liked me to be an army officer after passing class XII from Manipur public school.  Now Football has been a good option from which a player can earn much money.
Responding to a query raised by one Karan Kshetrimayum through face book, he said that after retiring from football, he would encourage upcoming local players by visiting to various remote rural areas of Manipur and imparting in-field training. Without working from grass root level, no good players are expected from the state, said he.
Renedy who played for Mohun Bagan, East Bengal club, EveReady SA and JCT FC, is one of the best midfielders in the country.
The Talk event was organized under the aegis of Dynamic Manipur with Manipur Times, the Peoples' Chronicle daily, Impact TV and  Siroi Offset Printers, Thoubal  as the media and Printing partners while  Babina Diagnostics, Hotel Classic, CC Tea – The Sui Genersis , Shija Hospitals & Research Institute, WiseWorld Immigration and Education Consultants and Likla – Thangjam Agro Industries as official Partners and MIMS, Manipur University, Korea Manipuri Association (KMA), North American Manipur Association (NAMA), Manipuri Association of Canada (MAC) and Malaysian Manipuri Association (MMA) as endorsing partners.
Naorem Brajendra, while giving welcome address, said that the event is held with the mission to inspire and foster learning among the youths of the state through the motivating and idea-focused talks from various distinguished personalities 
 
 Stating that Dynamic Manipur is a non-profit organization with a Motto of "Dynamic Change for Dynamic Manipur and vision of "Inspire and Empower the Youths and Create a Prosperous Manipur he said that the society aims to promote and nurture the concept of dynamic change by inspiring the youths, stirring the minds of thinkers and spurring the actions of the entire population toward uplifting of Manipur.