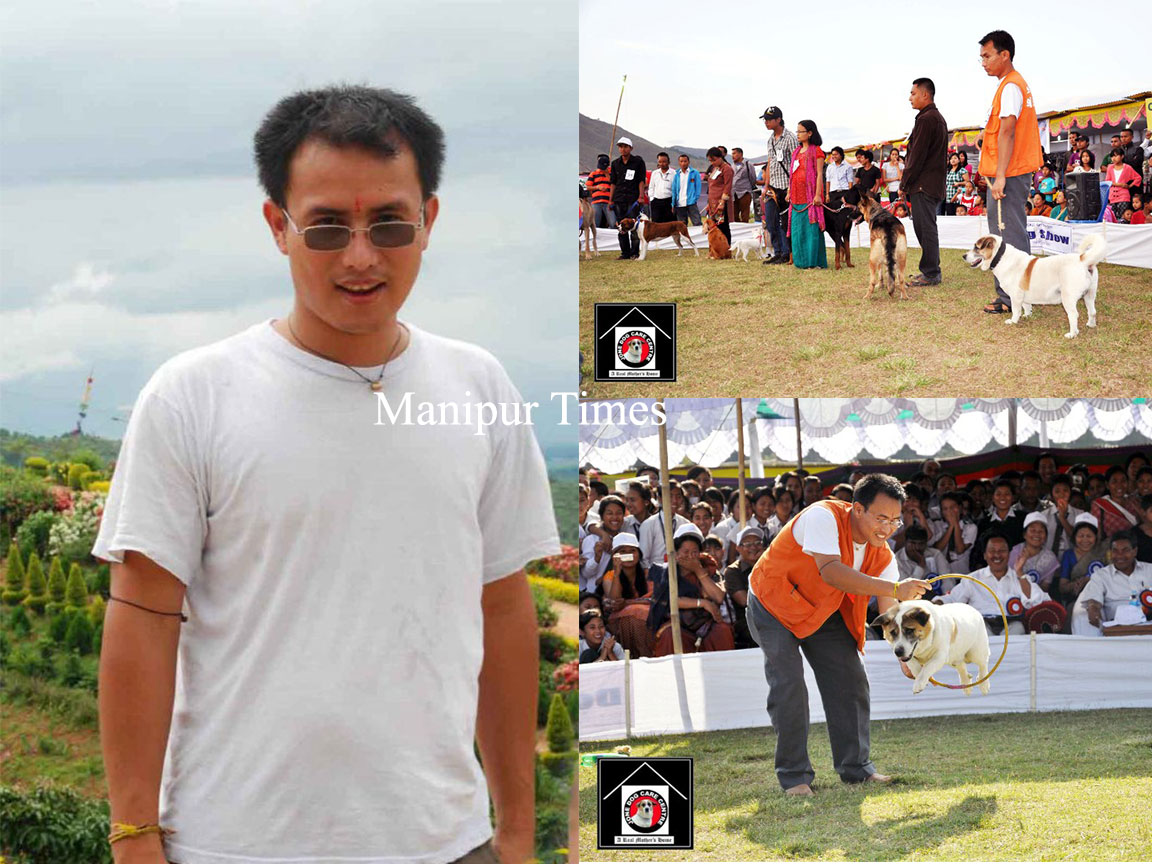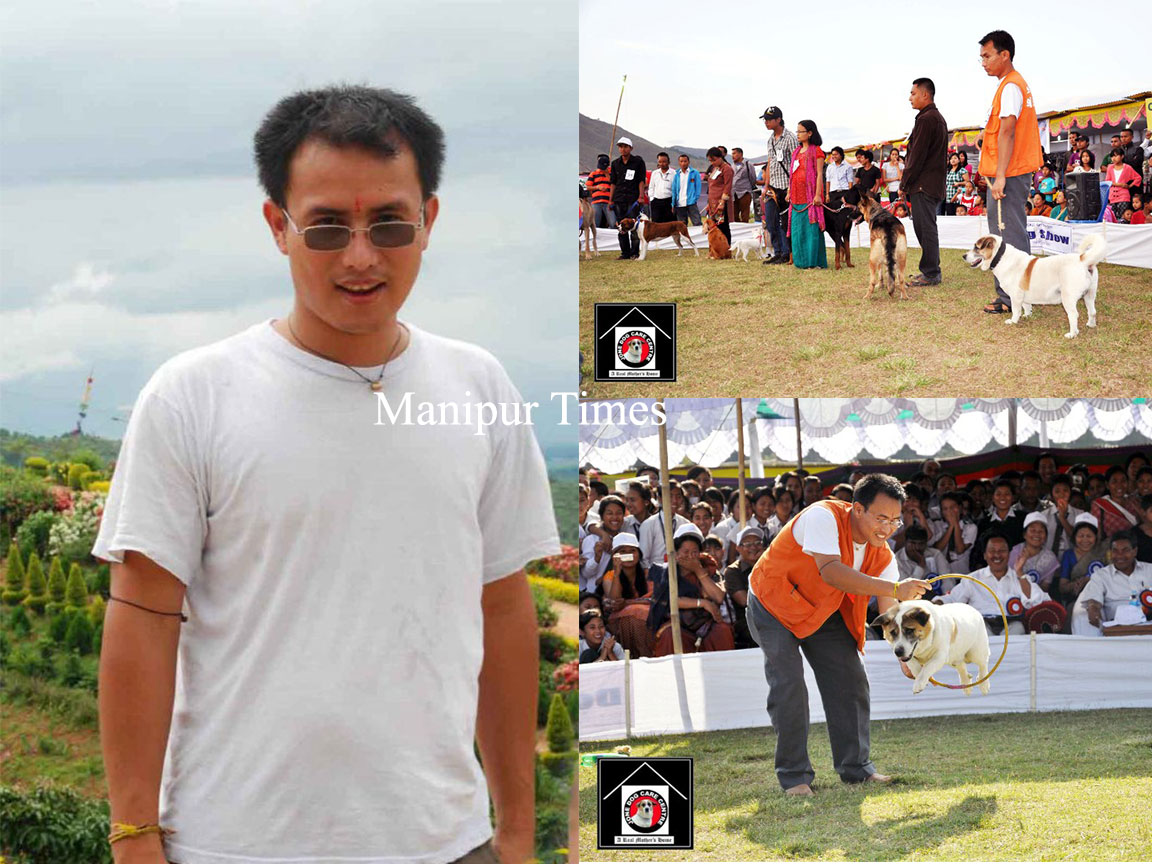 Pet dogs are considered as men's best friends. If they are properly trained, they can effectively guard our house and protect our property. Many dog lovers in the state are investing thousands of Rupees in keeping canines of foreign breed like German Shepherd, Rottweiler, Spaniels, Doberman, Great Danes, Dalmatians, Pugs, and Boxers etc. as pets, which are considered as intelligent breeds. People think that indigenous breeds take more time in giving training and they are not suitable for being trained like foreign breeds. However, it is just a myth. Dog trainer Nongmeikapam Jotin said that Meitei Hui and Tangkhul Hui are more intelligent and have stronger will power in comparison to foreign breeds.
Jotin has been persistently working in the field of preserving and training local dogs in his dog training centre – Jone Dog Care Centre. The centre, which was named after his late dog, was established in 1999 at Thongju Part-II. Nongmeikapam Jotin, popularly known as Huei Jotin, in his locality has so far trained more than 50 local dogs. He trains the dogs according to owners' wish. Dog owners line up at his centre for training their pet dogs to follow different commands like house guard, walking with dog, companionship and so on. He trains them every morning from 5 am to 7 am.
For dog lovers, Jotin's dog training centre at Thongju is a point of attraction, where dog owners visit his training centre daily. Jotin, sometimes, gives training to a dog by way of domiciliary visit according to demand of the dog owner.
INDIGENOUS TALENT
While other formal dog training centres charge Rs4000 to Rs5000 for training a dog, Jotin's dog training centre doesn't specify any fixed training charges. He takes whatever the amount a dog owner pays him after completion of the training. Dog training has been a thriving business for him as he can earn good well. "I do not train dogs just for earning. My mission is to popularize the hidden talents in indigenous dogs that are generally neglected. Our indigenous dogs, despite their talent, are like the neglected students of government schools. They need to be exposed globally, said Jotin.
A NATURAL PET LOVER
A lover of pet dogs and other animals by nature, Jotin unlike any other dog trainers, never beats dogs while training them. Instead of this, he always trains them by making a close emotional relationship between the dog and the trainer. During his childhood he reared a parrot and trained it to speak human language. Even he reared a cat that never eats fish but milk, banana and rice as the latter was brought up with only milk, banana and rice by his grandfather, an ardent follower of Vaishnavism.
Sharing his professional experience, Jotin said, "A dog is also able to read the emotion of his master through his eyes, facial expression or gesture. An emotional understanding or relationship needs to be built up first between a dog and man while training them to follow various commands. Training them with physical punishment using a stick creates a mental tension and betrayal in their mindset. I always train dogs with making them emotionally happy and free from any tension under the maxim – Lack of reward is my punishment. Instead of beating, I punish the dogs making myself unfriendly to and aloof from him. Physical exercise to keep the dogs mentally fit is also an important part of dog training".
OTHER WAYS OF EARNING
Apart from dog training, Jotin works as a Technical Assistant in Manipur University's Economics Department. He also has a photo studio at Singjamei namely, JK Enterprises. He is now a father of two daughters. Grew up in a humble family, Jotin has faced hardships in his journey of life as his poor father could not maintain the family with his meager income, earned from his small business. Amidst the hard struggles, he could atleast complete his BSc (Honours) from Imphal College and PGDCA. After completion of his studies, he worked at Eastern Motors and some other private companies. He left the job when he was selected as a Technical Assistant at Manipur University.
SAVE INDIGENOUS DOGS
According to him, he did not learn the skill of dog training from any formal training institutes. It is self learning. He has produced a documentary film based on dog training entitled 'Dog: man's best friend 'TOMTHIN'-I which is being telecast on Impact TV. Second production of the same documentary is on the pipeline. Apart from this, he plans to hold a massive poster campaign under the theme, "Save Indigenous Dogs" with a view to impart awareness to the people about indigenous dogs, which are currently on the verge of extinction.
Stating that the most tragic incident he ever faced in his life was when his pet dog named Mera, an intelligent and well trained dog, was shot dead by some unknown persons in the midnight of 1997, he said and added that death of the dog sent a shock wave to his family members. He later started rearing and training a dog of the same breed. With passing of time, the puppy grew up and he lovingly calls it Jone.
NAMING OF HIS CENTRE
His indigenous dog 'Jone' could grab the opportunity to prove that the talent in the indigenous dogs is no less than that of the other foreign breeds for the first time during the Dog Show organized by Kennel Club of Manipur in 2004 at Pologround. In the show, his dog could bag twin awards "Best Companion" and "Best of the Breed". The then Governor of Manipur, Arvind Dave appreciated his dog for his unique talent and skill. The same awards could be achieved by his dog in the second dog show too. Jone who could bring laurels for his master during his young and energetic days is now 15 years old and weak. He is still alive. What indigenous dogs make the difference is that the life span of foreign breeds is 7 to 8 years while indigenous dogs can live up to 15 years because local dogs adapt better to the local climatic and environmental conditions.
With his dog Jone growing old and weak, he is giving training a local breed 'Tangkhul Huei', a courageous, talented and skillful in hunting. With the help of this talented local dog, he plans to showcase the talent of the indigenous dogs, which are generally neglected.