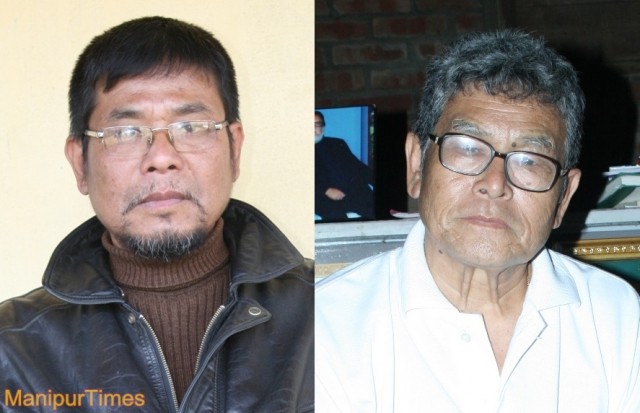 IMPHAL, June 1: Renown Manipur Shumang Leela Actor Ningthoujam Rajen (Keirao Rajen) and theatre director Naba Wareppa have been conferred with international excellent Award and Life Time Achievement award by the Samata Sahitya Akademy during the international Award Conference 2015 held at Maulana Abdul Kalam Azad Samarak Koregaori Park, Pune on May 23 this year.
Ningthoujam Rajen hailing from Keirao Litan Makhong is a noted actor highly acclaimed for his versatile roles in many  Shumang Leela plays. Started his shumang leela career in the year 1972-73, Rajen has contributed a lot for Shumang Leela.  'Dewan Shaheb' was his first Shumang Leela play wherein he appeared on the stage in a supporting role. Then he took the role of the main protagonist in the play 'Loukhatpa' written by Y. Ibomcha. From that play, Rajen started earning Rs 5 per show
It can be well said that Rajen was born as an artiste; nothing could distract him from becoming an actor. Despite his father's wish to make his son a Government officer, Rajen joined Shumang Leela groups and started taking part in leela shows. For this, his father often scolded him when he returned home. At one point of time, he had to manage hard with shumang leela shows and preparation for B.A examination.
Shia, Dhapti! is a popular dialogue uttered by Keirao Rajen for which People still remember him.
Wareppa Naba is an eminent actor, play-wright and Theatre Director of Theatre Mirror Manipur. His contribution for the promotion of Manipur Art and Culture, in particular the proscenium theatre as a theatre director is commendable.
He has been organizing for the promotion and protection of Shumang Leela, the only Traditional theatre form in Manipur for the last 26 years since 1980 as a protector, organizer, well wisher, director and as well s Chairman of the Academic Sub-Committee of the Manipur State Shumang Leela Council.
Moreover, he has been working for the promotion and protection of the narrative art forms which are now under languishing nature as a president of the Theatre Centre Manipur by organizing Festival of Narrative Arts every year since the year 2000.
Born to late W. Cheitanya a prominent Nata Sankirtana performing Artiste on October 16, 1941 at Haobam Marak Thingel, Imphal-795001, Naba Wareppa took his Degree in Art Stream and Degree in Education under Guwahati University and Utkal University etc.