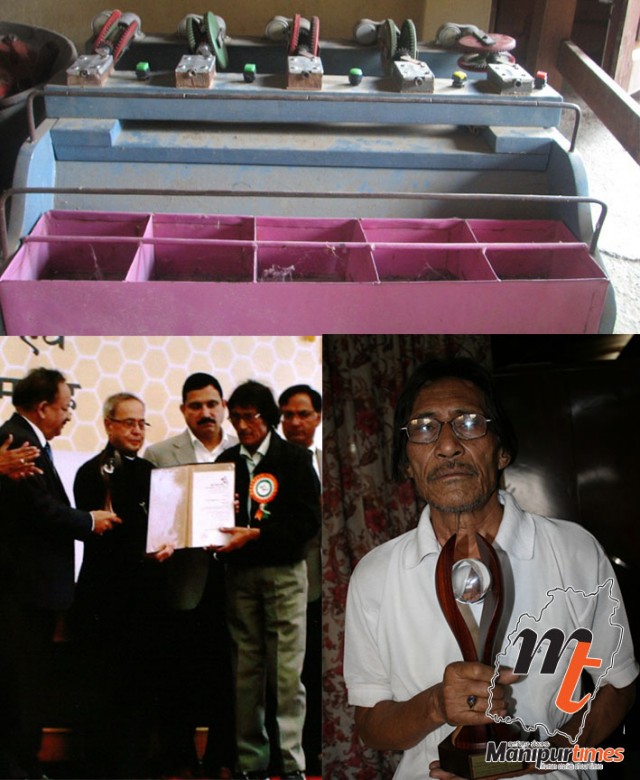 Manoharmayum Manihar Sharma (69), hailing from Nongbeibung, Imphal east is a mechanic and a serial innovator who has come up with a number of useful innovations like handy incense stick making machine, an innovative drier, Automatic Pump Operator for overhead tanks. To simplify the tedious task of reeling silk traditionally, the innovator has come up with a solar operated machine 'Muga reeling cum spinning machine', which can simultaneously perform reeling and spinning of different types silk.
The new innovative gadget has been acknowledged by National Innovation Foundation India by conferring national grassroots technological innovations & traditional knowledge award 2015 to Manihar Sharma recently for his innovative persuits.
President of India Shri Pranab Mukherjee handed over the award to Manihar Sharma during the eight national biennial award function of grassroots innovators and outstanding traditional knowledge holders organized by National Innovation Foundation India held at Rastrapati Bhavan on March 7 this year. The award carries a cash award of Rs 5 lakhs, a citation and memento.
Working of Multi-Muga Reeling cum Spinning Machine
Multi-Muga Reeling cum Spinning Machine designed by Manihar Sharma is a portable user friendly machine which can simultaneously carry out the reeling as well as spinning for different varieties of silk like Muberry, Muga, Eri and Tasar without any ardous human effect.
Slightly bigger than a harmonium (musival instrument), the machine has five reeling heads with an electric switch each. This enables one or more reeling heads to operate even if the switch of remaining heads is off. The reeling is automated once the filaments from the cocoons are fed to the reeling end. The machine speed can also be regulated with the help of reeling pipes attached along the thread lines. The reeling speed adjustment mechanism ensures silk production of desired quality.
The silent features of these machines are its compactness, easy portability and strong durability. The machine can use both solar energy and electricity. Solar energy makes its environment friendly and appropriate for rural inferiors where electricity is not available or is erratic. It performs effectively even in cloudy weather and a night through a DC battery, the use of which reduces the chances of accidents considerably. The machine can operate 24 hours thereby increasing productivity and reducing manpower. Compared to the existing local or traditional methods of reeling this machine produces superior quality of threads in less time and with reduced labor. The machine is a boon for those woman striving to manage household activities along with silk reeling process.
Genesis of the Gadget
Regarding how he innovated the machine, Manihar told Manipur Times that conventionally, in Imphal, mostly women are involved in silk reeling. He realized how difficult it was for the women to judiciously balance the available time between household activities and silk reeling. His desire to help reduce the drudgery involved in the work motivated him to develop an automated reeling system which did not require constant monitoring this would help the women to simultaneously carry out the household work and silk reeling task with optimum output. Since electric power is so erratic in Manipur, he thought about using solar energy to operate the machine. 
Life in the early beginning
After working as an auto rikshaw driver, running a small restaurant, serving as an assistant to his doctor friend, Manihar began his journey in innovating many gadgets. Economic hardship and lack of support did not deter or hamper his innate creativity. For his lack of practicality, the society and even his own family mockingly branded him as 'Numit kagadaba' (the man who woud go to sun).
Manihar lost his mother when he was just eight years old. His aunt brought him up. After matriculation, he abandoned his studies because of financial problems and started working as a mechanic in a small local workshop. Giving shap to his imagination, he made tiys and other small gadgets from the left over parts in the workshop. With his perserverence, he soon mastered all the nuances of repair and maintenance of sma light vehicles and other engines. His constant source of inspiration has been his late mechanic teacher who used to repair or modify complicated machines without needing any sophisticated tools and equipment.
While he tinkered day and night, the availability of mechanical and electrical parts needed him in the local market became a problem. They coud not be brought in buk, either from Kokata or Guwahati. The inability to buy expensive parts from the markets outside the state forced him to manufacture those plasric parts himself. So this frugal innovator enrolled for three months course on plastic mplding techniques at Central Institute of Plastci engineering and technology (CIPET) at his 50 age.
The untiring mind
Manihar is not touched by complacency and drudger. He does not let his mind and hands rest until he has developed every part of different innovative machines to a finish to his choice. his mind is continuously buzzing with new ideas and his eyes are always on the lookout for problems which can engage his mind with. He was highly acclaimed for his innovative devices – Automatic Pump Operator, Incense stick making machine and Innovative dryer. Earlier, the then president of India Pratibha Patil conferred him national grassroots technological innovations & traditional knowledge award 2011 for his first innovation 'Automatic Pump Operator' which facilitates in minimizing the wastage of water and manpower.
Manihar has three daughters and one son.  One of his daughters is physically challenged. Recently, his one and only son died. Such terrible stories have given the 69 years old innovator a mental and psychological trauma.
[ecwid widgets="productbrowser search minicart" categories_per_row="3″ grid="10,3″ list="60″ table="60″ default_category_id="21294227″ category_view="grid" search_view="list" minicart_layout="MiniAttachToProductBrowser"]