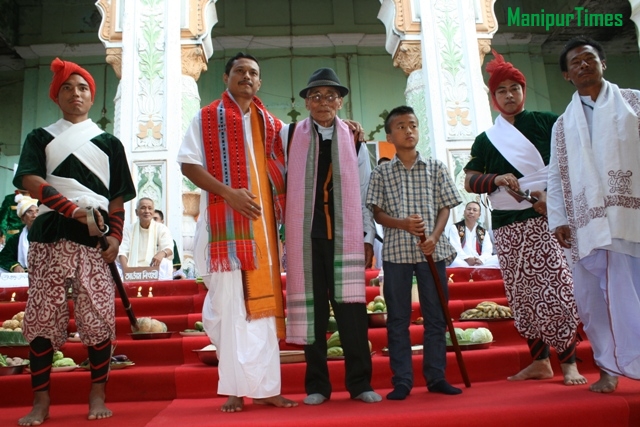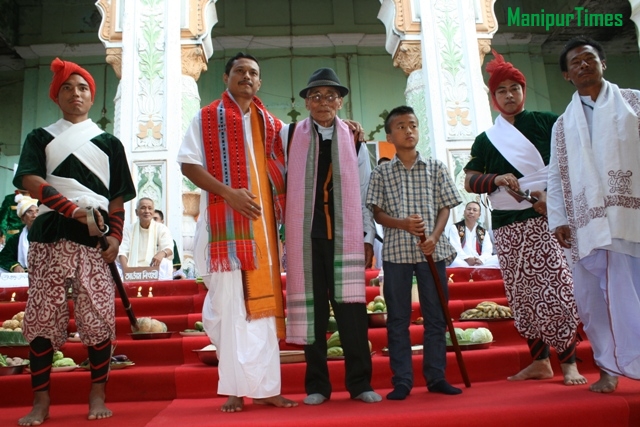 Titular Manipur king calls for strengthening unity between hill and valley people 
IMPHAL, October 8: "Mera Houchongba" a traditional festival which endeavors to build up brotherhood and unity among the indigenous people settling in hill and valley of Manipur and was celebrated today at Manipur Royal palace (Sana Konung) Imphal with titular Manipur King Leishemba Sanajaoba as the main host.
The royal  palace (Sana Konung) which use to  give a deserted look all the times was filled with a riot of colours as hundreds of people both from the hills and the valley attired in their respective traditional colourful dresses thronged the Royal palace where the festival of Hill and valley was held with much pomp and gaiety.
Organised by the Mera Hou chongba Thoushil Lup, Sana Konung, exchange of gifts such as traditional fabrics, vegetables and fruits among the hill  and valley people settling in the state, cultural dances marked the festival.
Village Chiefs from various tribal communities – Mao, Maram, Maring, Tangkhul, Kabui, Zeme, Liangmei, Tarao, Chiru, Kom, Kharam, Haokip, Gangte and Paite and officials of the Manipur Royal palace (Sana Konung) adorned the dais during the festival observance. .
 Exchange of gifts and among the Chief of Hundung Tangkhul YL Vongam and Manipur King Leishemba Sanajaoba, Angom Ningthou and Marm village chief Kalang, Maisnam Apabi, Sana Konung Maichou Purel and LN Ngaironglan of Aimol Village Chandel recalled the gathering of the aged old unity and emotional ties between the hill and valley preserved through the aged old traditional Mera Hou chongba festival. Manipur King embraced all the tribal chiefs in token of love and brotherhood.
Speaking to the gathering, Titular Manipur  king Leisemba Sanajaoba said that Mera Hou Chongba festival has been in the state celebrated since time immemorial. The festival is observed with the presence of hill and valley people to strengthen emotional ties and unity between the two indigenous ethnic groups settling in the soil of Manipur.
With many outside forces trying to divide the unity among the hill and valley, the state brims with many issues and problems. The bond of love and understanding between the hill and valley needs to be strengthened with a view to defeat the ill fostered challenges ahead of the state. The strength of hill and valley could defend the sovereignty of the state. It is the need of the hour to bury the hatchet and revive hill-valley unity to bring the state forward, said the titular king.
Many civil society organizations also celebrated the day at various places across the valley areas of Manipur.