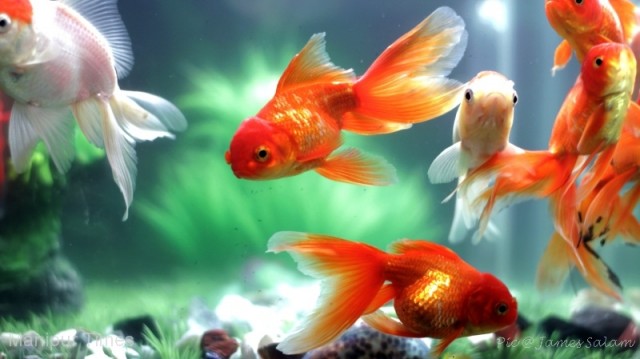 Nowadays, aquarium buffs all over the world have started adorning their aquariums with local fishes.
"Varieties of indigenous fishes are found in Manipur and these fishes possess characteristics of ornamental fishes. Meitei Ngamu is a fine example of such kind of fishes. We can take this opportunity and make use of our resources to enhance the economy of Manipur," said Laishram Nilkumar.
Manipur Times got an opportunity to interact with Laishram Nilkumar, Fishery Officer, Manipur Science Aquarium during a 12 day aquarium exhibition cum sale which was organised by Manipur Science Aquarium under the aegis of Manipur Science and Technology Council from 26th October, 2012 at its premises at D.M. College Campus, Imphal.
During the interaction, he said that the exhibition was organised with the objectives of producing new entrepreneurs of aquarium in Manipur and promotion of Manipur Science Aquarium.
Manipur Science Aquarium was established by Manipur Science and Technology Council, Imphal with the support from Department of University and Higher Education, Government of Manipur. 
Its main objectives are to study the behaviour of different types of fishes, conserve the fishes of Manipur, make aware of the indigenous fishes of Manipur to the public and create a place of recreation for the public.
At present there are 38 aquarium tanks in Manipur Science Aquarium. Out of these, 18 tanks are RCC tanks measuring 5'X3'X4' each. 
The centre is open 6 days a week from 10.30 a.m to 4 p.m. and close on Sundays. Visitors can see different varieties of indigenous or exotic fishes in this aquarium.
Pengba, Meitei Ngamu, Ngamu Bogra Ngashang, Nylon-nga, Phabou-nga, Ngakha Meingangbi, Nga-tunghanbi, Ngaton, Ngaril, Ngapemma, Phetin, Ngakrijou, Ngatup, Ukabi, Ngaprum, Ngamhai,Ngaril Leina and Thengu are some of the fishes collected locally.
Other fishes collected from outside Manipur are Guppies, Gold Fish, Fan Tail, Telescopium, Fighter Fish, Pearl Angel, Black Vale Angel, Albino Gourami, Crocodile Fish, Albino Red Cap, Tetras, Tiger Shark, Albino Shark, Zebra Fish etc.
Nilkumar said that any fish which possess aesthetic value in its look and character can be classified as an ornamental fish. Earlier people wanted to decorate their aquariums with fishes like Gold Fish, Guppies, and Marble Molli etc. Now the trend has changed. Now the ornamental fish market has started demanding indigenous fishes.
The North East region is the leading source of ornamental fish in India. This region contributes 85 per cent of the ornamental fish export from India. Among the North Eastern States, Manipur has a vast potential of fishery resources.
The largest source of fish is Loktak Lake. Varieties of ornamental fishes are available in the State especially in the hill streams.
"Out of these varieties, a lot of species are yet to identify. If we want to breed them for export purposes we need to know the source, environment, food habit and population of the fish species. If so it will be very helpful while breeding the fish. If we breed and export these fishes it will help in bringing solution of unemployment in Manipur at the same time the economic condition of the State will become better", he said.
He further said that the youth can give employment to themselves by making aquariums as well.
The materials required for making an aquarium are glass, silicon gel, aerator, bed filter, power filter etc. Making an aquarium doesn't consume much time. 
Photo Credit: James Salam
"After making an aquarium we need to take at least one week to treat the water. The fish will die if we nurture it without knowing the physicochemical and biological parameters of the water. An aquarium cost between the ranges starting from Rs 5,000 to Rs 30,000 in local market", Nilkumar said.