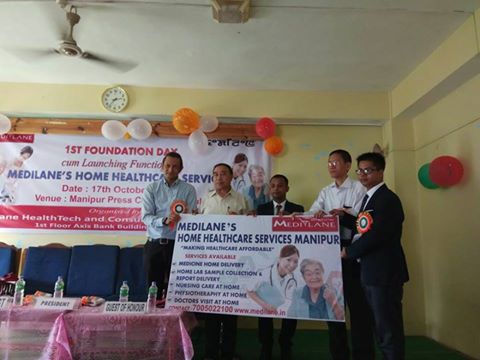 Medilane, the most trusted healthcare and consultancy services in the state, with an aim towards making affordable and accessible healthcare to the public has launched 'MEDILANE'S HOME HEALTHCARE SERVICES MANIPUR at Manipur Press Club today on its 1st Foundation Day .
Luminaries of the function are
1. Dr. M. Nara Ex Minister Art and Culture Govt. Manipur as chief Guest
2.  Asst. General Manager Rajesh Sinha, as President
3.  Medical Superintendent SHIJA hospitals and research institute, Dr Jugindra S as Guest of Honors
4. Uttam Kumar Chhetry Branch Head Religar Health Insurance Company Imphal as guest of honor
Medilane's Home Healthcare Services Manipur will provide following services
1 Medicine and Medical Instrument Home Delivery
2. Lab sample Collection from Home , office, workplace etc
3. Nursing care at Home
4 General Duty attendants at home
5. Physiotherapy at home
6. Doctors visit at home
Now people can order medicine, from home,office, hospitals, they need not to go and search medicine from pharmacy to pharmacy . The prescription have to sent to medilane Whatsapp number 7005022100, once order is confirmed medicine will be deliver on same day or next day.
Similarly any person can book a lab sample collection at home, office, workplace with the same price of respective labs. We are now authorized collection center of Babina Diagnostic , SRL, Escent Diagnostic, Aadhars Laboratory,and many more, people can chose the diagnostic centers of their choice. The prescription have to sent to medilane Whatsapp number 7005022100 Onece order is confirmed we will send a trained phlebotomist to collect the blood and test report will be deliver on the same day or next day. This service will help to reduce long waiting at laboratories and transport of elder and bed ridden patient.
Nursing care at home will be available for services like post operative care, post delivery care for both the mother and child, wound dressing, IV insertion, catheterization, and many more.
These Services are available for Imphal east ,Imphal west Thoubal and Bisnupur
Physiotherapy and Doctor visit at home will be available for Greater Imphal area only and will be made available for other district very soon.
With that vision of making  affordable and accessible healthcare Medilane, healthcare was founded in 17th October 2016 and now becomes a full fledged Privat Limited Company under the name of Medilane HealthTech and Consultancy Services Private Limited and having CIN NOU74999MN2017PTC013539 Registered under Minstry of Corporate Affairs Government of India
Medilane have completed ONE YEAR of successful service.  We have more than 11,000  Medilane  Healthcare Benefit card holders in different parts of  Manipur. More than 5000 card holders got the benefits from different healthcare service providers namely Hospitals , Diagnostic Centers, Optical stores, Dental Clinic, ,Physiotherapy clinics, Pharmacies stores Salon and spas . We are also planning to distribute more than 20,000 cards in this coming year 2018-19 .
We have also launched dedicated helpline numbers 7085244123 OR 8732004849  or 011305022100 one can enquire about doctor's schedule information, doctor's appointment, hospitals information, diagnostics information, healthcare service providers information, ambulance, home lab, sample collection, doorstep medicine delivery, home care for patients and any other information related to healthcare.
More than 6000 people got benefited through this helpline number.
In the next 5 years we are planning to create 1000 plus jobs for home healthcare sectos.
For more details of Medilane Healthcare please call us at 8732004849 or 7005022100 or visit our website www.medilane.in