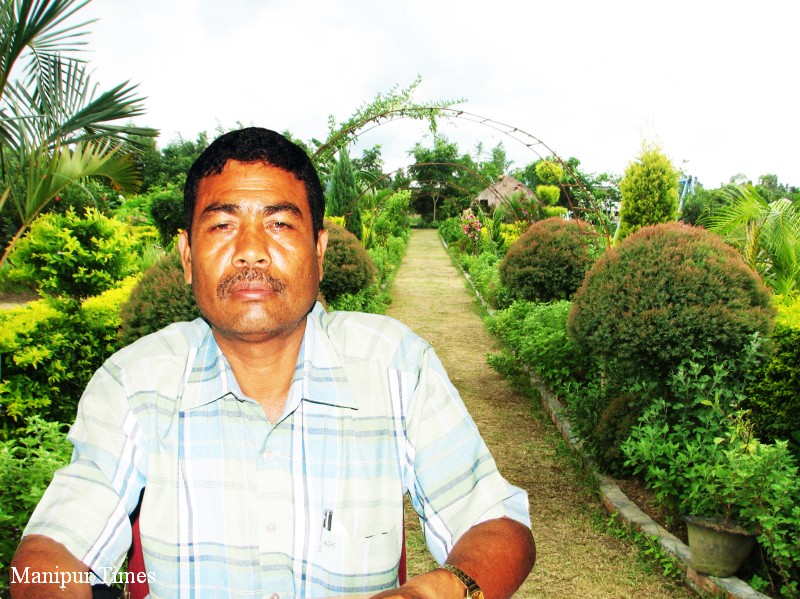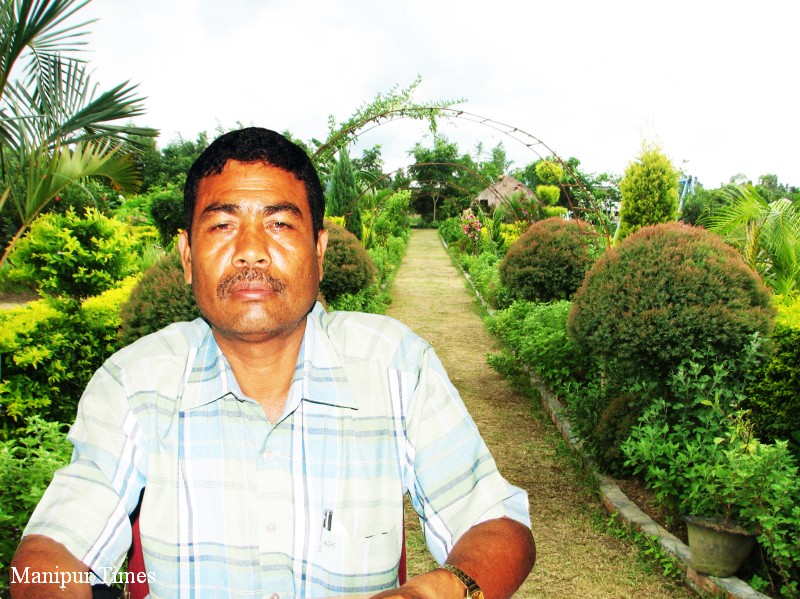 "I slept only four hours a day during my struggle to achieve the present feat. Strategic planning, hard effort and perseverance are required to achieve a goal in life. Initially, people used to mock at me about my plan to set up a school and Multi-farm considering my family background. Even my father told me to look for a suitable Government job instead of setting up a private firm. I got the job of Sub Inspector in Manipur Police Department and Customs Officer. However, I left the job because it was not my dream profession."
Khundrakpam Menjor Singh, in an interaction with Manipur Times, shared some of the hardships he experienced in his journey to set up the KM Blooming School and the Multi-farm located at Khangabok in Thoubal district.
In recognition to his contribution in the field of education sector, Sanati Sahitya Academy National Award 2013 was conferred on him by Damodar Natyagruh, Mumbai on 26th April, 2013.
"I used to earn money by working many manual works like digging of pond, drainage, masonry, paddy harvesting and cultivation and many others and slept only four hours a day to realise my dream. I still remember the day of July 11, 1988 on which I first started earth work in my agriculture land to set up my school. The school commenced classes with only 100 students in Nursery and KG. The journey of the school from 100 students to the present student strength of 5600 was not easy at all. The Multi-farm cum garden was designed with the idea of 'Self-Reliance'. For daily essential commodities of my school boarding, the Multi- farm supplies every possible materials right from vegetables to fish and meat. We do not depend on others", Menjor said.
"I was very weak in English and even failed in this subject in the Matriculation examination. This incident discouraged me a lot. Since then, I tried to study hard to become one of the best students of my class. After passing Matriculation examination, I got admitted in Thoubal College and could be a topper in my college in Pre-University (PU) examination. After completing graduation, I set up a coaching centre for the students of Khangabok area. The coaching centre was gradually upgraded to a school. In my opinion, students should have flair of English to learn higher knowledge because almost all the good books are written in English. Considering the importance of English, I was inspired to set up an English medium school in my locality", Menjor said.
Menjor's farm, which is located at Khangabok, occupies an extensive area of about ten acre. His farm mainly comprises piggery, poultry, fishery and vegetable farming. Varieties of vegetables, which are produced from the farm include Yendem, Maroi Nakuppi, potato, tomato, cabbage, pumpkin, banana trees etc. A large number of workers are engaged for this farm. About 250 pigs are also being reared in the farm. Seven big ponds are dug up in different locations of the farm for rearing fish. A long pig shed is built up inside the farm to accommodate the pigs of about 250 numbers. Responsibility to look after the vegetable farm, piggery, and fishery are entrusted to different care takers on monthly remuneration basis.
Since almost daily essential commodities such as vegetable items, fish and meat are supplied by the Multi-farm located near the school, the catering service of the school boarding is not generally affected by bandhs and prolonged economic blockades imposed along national highways.
"For catering service, we depend on markets only for rice, edible oil and salt as these items are not produced by our farm. For the rest, we are self-reliant", Menjor said.
The products of this farm are utilised for catering service of the students staying in the school boarding as well as sold out in the market. Different varieties of vegetables, fish and pigs are traded at Khwairamband Bazar, Thoubal Bazar, Kakching Bazar and others. The left-over food of school boarding is used in feeding pigs in the farm. The farm has also a biogas plant. In this way, the school boarding does not depend on others for its daily essential commodities since all requirements are supplied by the farm.
His multi farm, besides growing different varieties of vegetables, fruits, has a well decorated garden too which many visitors thronged here everyday to enjoy the beauty of the garden. The visitors who visit the garden are not charged any fee. The garden has increased the beauty of the farm to a great extent.
Menjor is the second son of Khundrakpam Matum Singh from Khangabok Awang Leikai, Thoubal District among five siblings.
"I was not born with a silver spoon in my mouth. Basically, my life started with zero. My father late Khundrakpam Matum, an illiterate farmer by profession used to ask me to earn instead of learning. He told me so, because he liked his children to help him and did not know the significance of education. But I loved learning so much. Despite all odds, I could complete my graduation. Many obstacles or hindrances were faced in the journey towards the present achievement. It's true that the way to success is not always smooth but rough and has full of thorns. One has to risk the challenges if he intends to achieve something in life", he observed.
Courtesy: Manipurtimes.com / facebook.com/manipurtimes