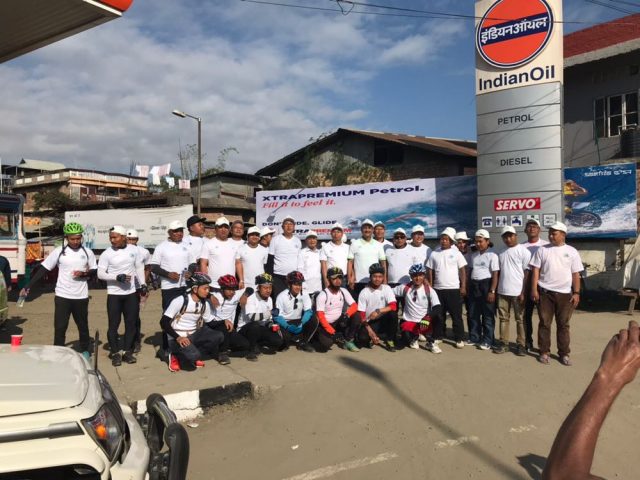 Imphal, November 26, 2017 (DIPR): Consumer Affairs, Food and Public Distribution Minister Shri Karam Shyam will ride bicycle to office for work every Thursday. He made the announcement at the flagging off ceremony of 'Cyclothon' from Malom Depot IOCL, Malom.
The Minister said riding cycle is a message to all the citizens about the importance of fuel conservation. As a political leader and as a citizen of the State, we must encourage and promote cycling, he added.
Minister Karam Shyam also appealed to parents and guardians to promote using bicycle among students and youths instead of two wheeler vehicle and cars. Since oil is non-renewable source of energy we must use alternative sources for conservation.
Appreciating Prime Minster Shri Narendra Modi as a visionary, Minister Karam Shyam said we must follow his advice not to use petrol or diesel once a week. The Minister also said it is the collective responsibility to use fuel judiciously and make fuel conservation an integral part of our lifestyle.
Minister Karam Shyam also said if cycling becomes popular among the citizens the Government can consider providing special lanes for cyclists. He said 80% of crude oil requirement of India is imported and remaining 20% (37.46 million metric tonnes) is produced in India.
The Minister, Guest of Honour Prof. H. Tombi Singh, Former VC, Manipur University, IOC officials and around 100 cyclist enthusiasts rode bicycle from Malom till Keishampat Oil Pump. The Cyclothon is being held across the country from November 12 till December 31, 2017.
The Cyclothon is organised by Public Sector Oil Companies in the State of Manipur in association with Petroleum Conservation Research Association under the aegis of Ministry of Petroleum & Natural Gas, Government of India. (DIPR)