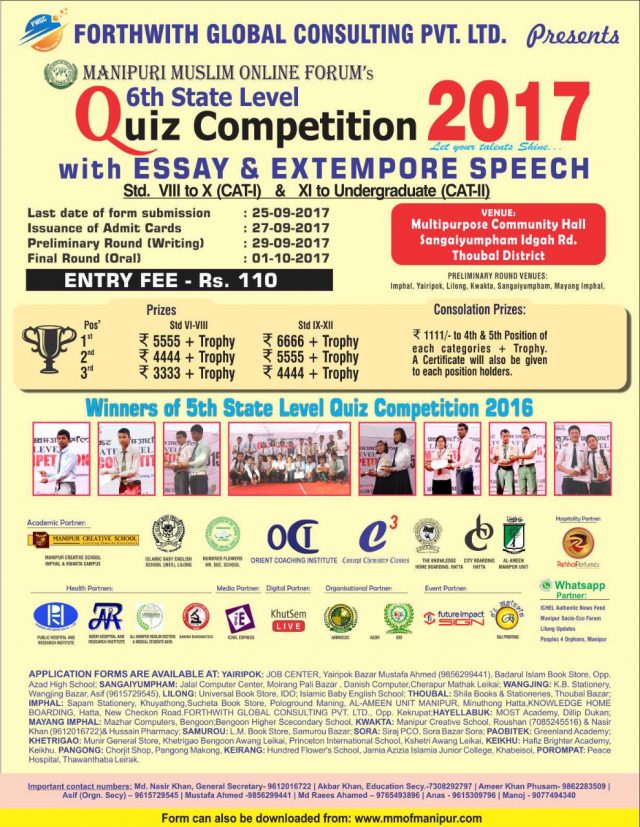 Manipuri Muslim Online Forum (MMOF) is set to organize the 6th State Level Quiz competition at the Multipurpose Community Hall, Sangaiyumpham, Thoubal District, Manipur. Last date of form submission is on 25-09-2017.
Application form of the Quiz competition can be downloaded here MMOF Quiz form2017 or from www.mmofmanipur.org
Manipuri Muslim Online Forum (MMOF) is an organization formed by Manipuri Muslim Students and professionals who are driven by ideas and thrust to serve and uplift the backward community by making every individual self-driven and self-support through education and following basic tenets of humanity. Quiz programme is such an initiative to instil confidence to succeed in life. We find General Knowledge, General Awareness Questions in almost exams conducted by UPSC, SSC, in Banking Exams etc. The Forum emphasizes on empowering people economically through education. It will be an endeavour of the Forum to harness all available resources to give maximum benefit to the community in particular and Manipur in general. In last 04 years MMOF had organised many academic related events and some of the important events are as follows. Complete information can be checked from our website www.mmofmanipur.org
Manipuri Muslim Online Forum (MMOF), a registered Society of like-minded Manipuri speaking individuals Professionals and Students who have desire for a high standard change in the field of education.
[ecwid widgets="productbrowser search minicart" categories_per_row="3″ grid="10,3″ list="60″ table="60″ default_category_id="21294227″ category_view="table" search_view="list" minicart_layout="MiniAttachToProductBrowser"]