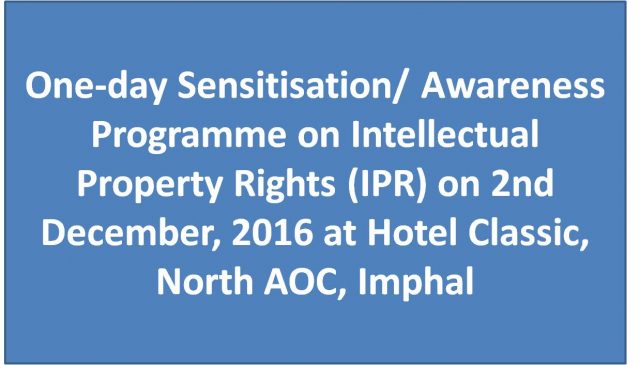 The Intellectual Property Facilitation Centre (IPFC) of Manipur
Science & Technology Council (MASTEC), Imphal is being organised a One-day
Sensitisation/ Awareness Programme on Intellectual Property Rights (IPR) on 2nd December, 2016 at Hotel Classic, North AOC, Imphal. The main objective is to sensitise Micro, Small and Medium Enterprises of the state on the needs and importance of IPR as a business tool. The total number of participants would be 30 nos. This programme will benefit our entrepreneurs and innovators in the areas of basic knowledge of IPRs, especially, Patents, Design, Trade Mark, Geographical Indication (GI) etc.
Interested individuals, entrepreneurs and innovators etc. are invited to attend the programme. They are requested to submit the application on or before 30th November, 2016 to the undersigned during office hour on all working days. Only the first 30 (thirty) applications will be accepted.
Sd/-
(Th. Surendranath Singh)
DIRECTOR
MANIPUR SCIENCE & TECHNOLOGY COUNCIL
CENTRAL JAIL ROAD, IMPHAL – 795 001
Phone: 0385-2443451; TeleFax: 0385-2460037; Email: [email protected]