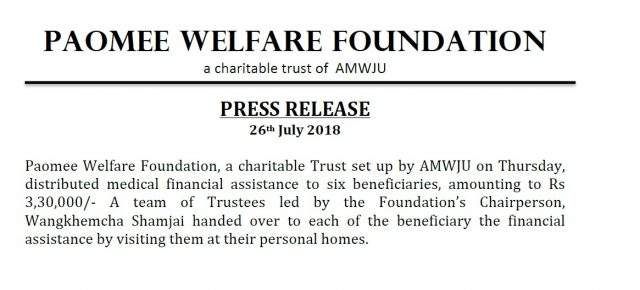 Paomee Welfare Foundation, a charitable Trust set up by AMWJU on Thursday, distributed medical financial assistance to six beneficiaries, amounting to Rs 3,30,000/- A team of Trustees led by the Foundation's Chairperson, Wangkhemcha Shamjai handed over to each of the beneficiary the financial assistance by visiting them at their personal homes.
The distribution of the financial assistance was carried out following recommendations of the high-powered Medical Board of the Foundation. The Medical Board with representatives from reputed hospitals like RIMS, JNIMS and Shija made the recommendation after thorough deliberation upon the applications for medical assistance received from the beneficiaries, keeping in mind the financial status of the Foundation for such medical assistance.
The other trustees who were present were Pradip Phanjoujam, Vice Chairperson, Sunzu Bachaspatimayum, Secretary, Sukham Nanda, Joint Secretary, Oinam Ibochouba, Assistant Treasurer, Ningthoukhongjam Tombiraj, AMWJU Advisor and Trustee, Asem Bhakta, Trustee and Shamurailatpam Guatam Sharma, Trustee.
AK Sanaton, former President, AMWJU and current advisor, who is recuperating for a critical medical condition at his Singjamei, Kshetri Leikai home received a cheque of Rs 75,000/- towards his treatment. AK Sanaton thanked AMWJU for setting up the Paomee Welfare Foundation to undertake such welfare scheme for members of the Union and expressed his heartfelt gratitude for the financial assistance extended to him.
Ailing PTI Senior Photojournalist, Phanjoubam Santosh, who received Rs 50,000/- from the Trust, while expressing his gratitude said he is overwhelmed by the camaraderie shown by AMWJU through the Paomee Welfare Foundation and thanked the Trustees and other fellow journalists who came to his Wangkhei home to hand over the cheque personally. Jit Ningombam who received Rs 70,000/- for his wife's treatment broke down in tears while appreciating the gesture and said that 'nobody had offered such kind of assistance in the 10 years of sustained battle with his wife's medical condition.' He further said that the assistance extended by Paomee Welfare Foundation will be of great help and hoped that the Foundation will be in a position to give such assistance to all other journalists who become seriously ill. 43 year old Chanam Netraj, a reporter of Echal Express is a recovering stroke patient. The Trustee team was thoroughly shaken when they saw Netraj's fragile condition. Unable to walk without aid, unable to use his hands and unable to modulate his voice after the 'attack', Netraj is but slowly recovery. However his medical condition has punched a massive hole in his family's financial management. PWF's medical assistance amount to Netraj was Rs 75,000/- His young wife thanked AMWJU and even asked the Trustees to bless Netraj so that he recovers quickly. Netraj was visibly overwhelmed by the Trust's action and blessing.
Monthly News Magazine, Liklam, editor, Akoijom Rajen Meitei, was another critical ill journalist, who was awarded Rs 50,000/- as assistance for his unfortunate medical condition. Kshetrimayumd Meghajit Meitei, Naharong Thoudang reporter who received Rs 10,000/- towards his daughter's health condition also appreciated AMWJU for coming up with Paomee Welfare Foundation to oversees awarding financial assistance to ailing Journalists and their family.
Paomee Welfare Foundation came into being to carry out welfare programs of AMWJU, particularly in terms of medical assistance for its retired and present members and one of their immediate family members. The Foundation envisage to run its welfare schemes out of the interest earned from the corpus fund kept as fixed deposit with State Bank of India. The corpus Funds of over Rs 85 lakhs was raised by AMWJU by way of a Mega Lottery, organized in 2017 under the leadership of Wangkhemcha Shamjai, former AMWJU President.