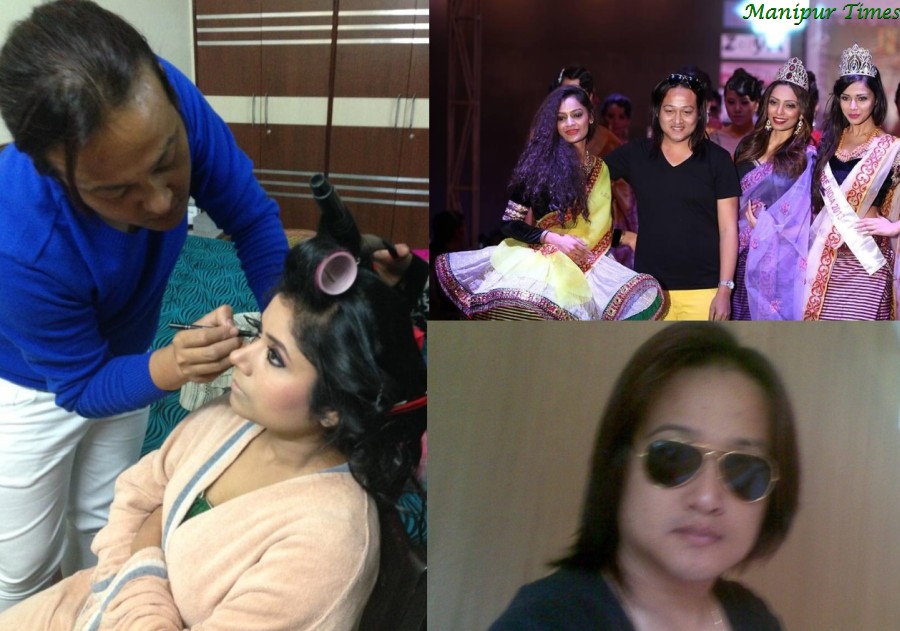 Source : Finding The Voices
The never ending social stigma that blew away the tender life which turned to be a well known fashion designer is the repercussion of persistent hardship he struggle for almost two decades.
This is the story about Robert Naorem, a Fashion Designer, Makeup Artist and Stylist from Manipur. He is traditional based stylist who created unique Manipuri Fashion identity into higher level to the rest of the world. Right now he is running Robert Academy, a beauty salon, pursuing Ph.D in Clinical Psychology and also a guest lecturer in NIFT, Bangalore.
His childhood
Robert was born to Th. Dijamani and Th. Rekha Devi hailing from Singjamei Mathak Thokchom Leikai in Imphal. The Hindu family is having three siblings; Robert is the only son with two sisters. Since childhood, he was very religious, used to keep on listening and understanding the practices that observed in the family regarding Hindu rituals. He never hesitates to clarify any doubt if it was a matter of our rich culture and tradition and it was obvious for him to ask to elders. He was always spun out to understand what exactly the religion is to him. It might be a reason why he did not mingle with his friends and kept busy on family and household matters. He was fond of home making, decorating and cleansing home. Sharing almost all his childhood time with his sister, he was little adapted from them, his friends were his sister at most.
Schooling and higher studies
He studied at Don Bosco School, Chingmeirong up to X Class. Caution to his future life he went to Bangalore and got admission in Surana college, Bangalore, staying with his sister for further study. He joined dance competition, theatre and other co-related activities. His name began to be known to friends and teachers. He even stood first position in XI Class in which he had taken up Psychology, his most desire subject, and it was his passion to study it. And then in his degree too, Psychology was his specialization subject. He did Master in Clinical Psychology and then M.Phil  in Bangalore. Life at Bangalore was a new inning in his disgraced life, it could bring happiness and satisfaction and certainly the city was a dream city accordingly. He is quite overwhelming with his subject as he has keen interest to move towards human behavior, self-realization, human manner and character. Those instincts could bring happiness and could overcome his depression and dazzle intervals in his journey of life at the beginning.
Stigma that had never let him free
Being a part of his family, he used to follow what his ancestors did. He is quite religious in this regard. He even completed reading the holy book, Gita in his VII standard and it could give him a lot of implications. He was reasonably pleased to take care of doing religious things when he does not have much friend circles, he was always alone in the school too. He worship Lord Krishna and regard him as his best friend. Truly speaking, his loneliness and homeliness is the answer of being feminine in nature. He loved girls' things and his parent did not have any regret to it while he was child, even though he is the only boy child in the family. But on the world outside, the society react as if they do not deserve and do make a room for transgender.
It really lets down him and it makes him depress mostly. The feminine in him was not perceived intentionally, but was natural not only to him but to a large section of our society. He tried restlessly to mingle up with friends and change his character but he could not make it out. He was well adapted to his sisters since II Standard, he played with them and began to like the activities a girl do or wear. Making garland, decorating and simple caring things and home odd jobs that a girl generally do were what Robert liked. Actually Robert is good in his academic that his name was always in the top list of exam results.
When he grew up, the story of Robert made a twist. His family could not bear the social stigma that happened to be a breaker in his father's reputation. He cried a lot of being him; he could not stand firmly even before his father and he cannot look himself. Friends used to tease him, called him by different slang terms and mocking him in his unisex nature. Robert was helpless and nothing can help him to overcome this stigma. He sometime feels that he was born for nothing. At the later part of 1990s he turned to be a victim of unconsciousness and so he was hospitalized many times.  He could not decide what to do; the dilemmas and the uncertainties that are waving around him all the way eventually brought at the extreme decision of suicide as if there was no meaning for survive. For these reasons his family consulted to a Psychiatrist and it did happen when he was in VII Standard only. He was depressed with anxiety, fear of people and social- phobia. It is very hard to think about it and what would be the condition to the mind of a tender young boy.
The root of his career
Since childhood, he was fond of dancing- the traditional and classical dances. The bad image of his family according to his father was that, he was dancing as female artiste. He did started learning classical dances but had to leave it because he realized himself that it cannot be the best part of his life. Actually he loved doing make-up. So, in the year 1999, he admits to Manipur Dramatic Union to learn make-up. He even cheats his parent that he was going for tuition and thus makes the fees of the one year course. But before completion the course, his family caught him and stop from further attending make-up course.
While he was at Surana college, he had to spend a day with Rs. 30 only. It was a precaution imposed by his family not to entertain with a luxury life. So to save his pocket money, he walked to College on foot which is about seven kms away from his rent. And thus his saving bought cheap make-up materials and put his hand on it at College Fashion show. He even honored with best make-up artist in that.
Photo Credit : Courtesy of Robert Naorem
Life at Bangalore
Life out there at Bangalore was a chance of exploring the latent in him. The teacher support and encouraged him a lot. They even defend him from untoward of his family. From his graduation he stayed alone and it was a great time for him, he attend many conference, seminars and short term courses on make-up. With some money from home and friend started a make-up salon in his rent room with few brushes, mirror and cheap make-up materials. God favor him this time and could expand his business gradually with few transgender out there. He became a renowned person in the college, nearby locality and friends, his demand increases in market too.
One best moment during his college was when he met a group of Miss India Contest and designers and it was a turning point of what he is today. One thing is that he never did a professional make-up course and it is all because of his enthusiasm that absorbed himself in his career.
Promoting Manipuri traditional Handloom Clothing
Robert has arranged several fashion shows in and outside of Manipur to popularize the traditional Handloom clothing of Manipur to the National and International levels . Some of the notable fashion shows in the recent past are
1.  Manipur Fashion Extravaganza on January 6, 2013 at Hotel Imphal, Imphal
2. Fashion show with the theme of "MANIPURI EYONG GI SAYOL" (Incarnation of Manipuri Handloom Fabrics) on June 15, 2013 at Bangalore
3. 'Project Bhutan Season 2 – Manipuri Eyong' held at the Terma Linca Resort, Thimpu, the capital of Himalayan kingdom of Bhutan on August 7, 2013.
4. Manipur Fashion Extravaganza on January 11, 2014 at 1st Manipur Rifles Ground, Imphal
Original Podcast is available at FindingTheVoices.com by MONICA INGUDAM  (Episode-50)