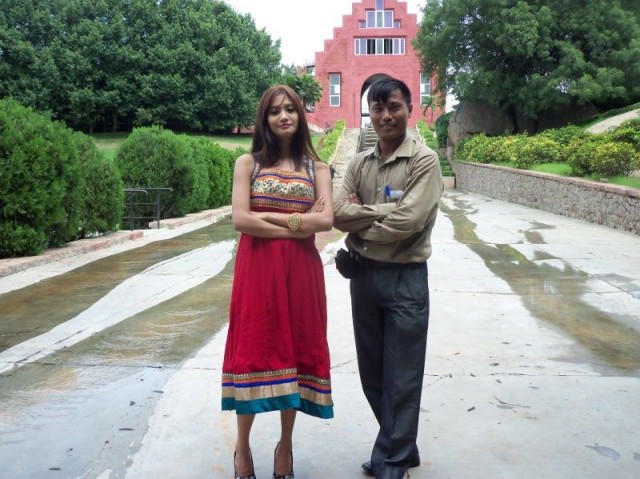 His life was full of hardships and he used to struggle hard for survival. At the very young age, he began earning for his family and education by working as a day labourer in the field. However, Rakesh Naorem has not only braved all those odds in life but also mould himself into a promising writer-film producer.
33-year-old Rakesh Naorem, hailing from Tentha Khongbal, Thoubal district, is the youngest son among his five siblings.  Since his father could not look after the family properly, they were mainly brought up by their mother Naorem Ongbi Borni with her meagre income earned from selling fish. His mother used to catch fish from Ikop Lake and sold it at Wangjing Bazar.
When he was young, their family had enough property and a vast paddy field. However, almost all their family estate was sold out due to extreme poverty. Now, the family does not possess even a piece of paddy field, Rakesh revealed while talking to Manipur Times.
Rakesh's Films
In the journey of his film career, Rakesh Naorem has so far produced four non-feature films under the banner of Ipak Films – Kathokpagi Shaklon(documentary film released on 20 January, 2009), Sageigi Sanarei (short film released on June 6, 2009), Tollabashingi Tollen (documentary film released on June 6, 2009), Numit Mana Tadringei (short Film released on September 27, 2009) and three feature films – Shakhenbi Iteima (released on June 5, 2012), Phongdoknadringei (released on  January 7, 2013), Ngaina Ngaina (released on May 13, 2013).
At present, three Manipuri feature films – Leiyisigi Wangmada, Thamoida Kiramba Kishi and Eegi Khongul are under process for release before January, 2014.
Rakesh's Past Life
Sharing the hardship days of his past life, he said, "There were two staff namely Iche Premila from Khurai and Iche Abe from Singjamei. The duo used to collect bulk quantities of fruits like Heikru (Amla) and Heitup from Pallel and Chandel town. They prepared packaged pickles from the fruits and sold them to me at Rs8 per dozen. Afterwards, the said packaged pickles are sold to the shops of Kakching Keithel, Wabagai Lamkhai, Langmeidong, Sekmaijin Thongkhong, Uchiwa Lamkhai, Mayang Imphal and Shamurou Bazar by riding a bicycle. In fact, it was big struggle for me for survival. I have never told these hardships of life even to my family".
Moreover, he along with his friend Milan from Kakching, on every Sundays, went to various nook and corner of Bamon Leikai, Singjamei areas to sell household items such as pan, gas lighter, belt, spoon as company salesmen.
He worked as a collector of a private bank, Manipur Financial Institute, for some time as well. The bank paid him Rs350 a month. In 1999, he went here and there as a private tutor by staying at Kakching.
Narrating a tragic story of his life, Rakesh said, "We lived in a thatched house. A tall Yongchak tree was there at the backside of our house. One day, a violent cyclone uprooted the tree and fell on our house. My brothers and sisters escaped unhurt luckily. The incident took place when my mother went to market and father was out of station for earning. My family, being unable to build a new house, had to take shelter at the Mamang Sanggoi (extended outhouse) of Pabung  Iboyai. Now all my sisters and brothers have got married. I am also married and blessed with two daughters namely, Sinthoi and Athoibi".
How Rakesh Started Writing
Before entering into filmmaking, Rakesh began his career as a writer. One day some organisers of Loktak Festival visited the private bank in which he was working for donation bringing some pamphlets. After reading the pamphlets, he wrote an article about the degrading condition of Loktak Lake. The article under the caption "Chaba Thaklaga Phee Mulliba Loktak Project" was sent to Sangai Express. The said newspaper published it widely which encouraged me more to write more and more articles afterwards. In course of time, Rakesh met many writers of Kakching such as Naorem Kalimohon, Pukhrambam Rajen, and Naorem, Gunadhar.
He joined Kakching based Chingkheihunba Khorjei Lup and Macha Chanu etc. After meeting with the members of these organisations, he was inspired to write more and more. Oja Shri Lekhak, who was the Advisor of the two organisations, guided the young writers.
Rakesh also learnt theatre under Kha Manipur Dramatic Union, Kakching under Theatre Gurus like Kalimohon and Utamkumar. In a play entitled Lakpa, he essayed the role of Biren. From 1999 to 2003, he did many works by staying at Kakching. He started contributing articles, short stories, poems etc for newspapers like Hueiyen Lanpao, Ireibak, Iramdam etc. He also presented many short stories and poems on Naharolgi Khonjel programme of All India Radio, Imphal. Basically, Kakching is the second home of Rakesh as his life has a close relation with the environment of Kakching.
Turning Point
Rakesh said, "A big turning point came in my life right from the month of March, 2003. This is the period during which all my brothers got married and began searching for better opportunities for their lives. I started earning as a private security guard under New Generation Career Consultant located at Canchipur, opposite to Manipur University main gate".
Rakesh worked as a security guard at Sika Higher Secondary School and special regular English School, Nambol. He got Rs1,500 only as monthly salary from the job.
"Sitting on the chair at the school gate, I wrote many articles, short stories. In 2004, under the guidance of OC Meira from Lamlai, I joined Kangleipak Loinsillon Apunba Marup (KLAM), a writers' group in Manipur. For the first time in my life, a short story book entitled Washaktugi Cheina was published under the guidance of K Sanahongba Mangang, president of KLAM. After this, Ekhenglakta Kangleipak (Sumang Kumei) was published in 2008", recalled Rakesh.
Under the aegis of Patriotic Writers Forum, Manipur, Inamma (Radio play, 2009), The Shining Star (Biography of Laishram Nabakishore, 2009), Ningshinglubada Tripuragi Khongchat (2011) were published.
In 2008, he left the job of security guard as film director OC Meira suggested him to produce some films. He was afraid of the suggestion in view of his poor family background. After a deliberate discussion, a documentary film entitled Kathokpagi Shaklon based on the life of Padamashri Laishram Nabakishore was released on January 20, 2009 at MDU hall. For producing a Manipuri feature film, a producer normally invests Rs5 lakh to Rs10 lakh, Rakesh said.
Manipuri Film Industry
Regarding present trend of Manipuri film industry, Rakesh said, "The market of Manipuri film is limited that almost all the producers hardly get profit. With the number of cine goers in cinema halls is decreasing day by day and production of less number of quality films, the fate of Manipuri films is uncertain. While the fate of Manipuri films is uncertain, piracy culture has started making havoc to film production as well. The present revenue collection of Manipuri film producers is so less that the total expenditure of hiring charges of cinema halls and government taxes is higher than that of the revenue collected from screening a film in the cinema halls of Imphal. So far, film activists in Manipur hardly get facilities from Manipur Film Development Corporation (MFDC). When a producer releases a film in MFDC auditorium, the corporation charges a producer Rs35,000. For other programmes, it charges Rs17,000. MFDC does not permit a producer to use its equipment outside Manipur for shooting as well. Until and unless a film policy is implemented by the government, Manipuri film industry will not enjoy its due promotion. The growth of Manipuri film industry is slow due to the present market condition".
"I dream to be one of the successful producers so that I can contribute more towards the development of Manipuri film industry.  We need to respect each other and work for building up a society of equals. Support from our people is a must for future survival of Manipuri cinema", observed Rakesh.