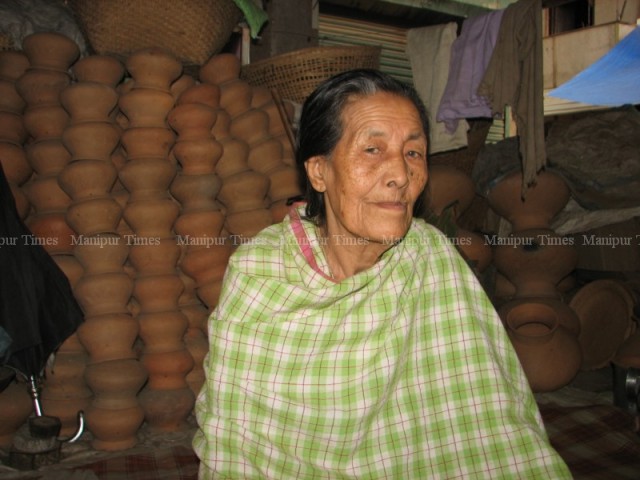 Among the earthen wares displayed for sale at the stall of Athokpam Ruhini, it includes Chengfu (a traditional Meetei pot to stock rice), god Chafu (a pot used during worshipping of Meetei dieties), Ishaifu( water container used especially in Meetei rituals), Pun Achouba( big water container), Kambi Apakpa (Dish), Kegang,  Arti, Nganthak  and many others.  The pottery items displayed for sale at her stall are mainly procured from Sekmai and Thongjao villages where various designs of pots are made. She purchased the pottery items at whole sale rate from these villages. The items are transported by potters to her stall. She sells a Kambi Apakpa at the rate of Rs.50. The various items of earthen pot range from Rs.20 to Rs.100 according to its sizes and designs. She sells a flower pot at Rs.300 or Rs.400. She sells varieties of earthen pots worth Rs.3000 to 5000 a day. 
Athokpam Ruhini Devi, 84 years and wife of Athokpam Lukhoi Singh hailing from Kongba Kshetri Leikai has been dealing with varieties of earthen wares for the last 54 years at her stall opened at Kongba Keithel. She is the mother of four sons and two daughters and maintains the family with the income received from her business.
"I do not sleep at home. The market shed has been my home for years. For looking after the pottery items installed at my vendor shed, I have been sleeping here in my vendor shed located at Kongba Bazar for the last 54 years. Although a woman, I am not afraid to sleep here alone in this Keithel shed at night. Keithel Lairembi (a diety worshipped at market site) always cares for me. So far nothing wrong happened to me", Pot trader, Ruhini Devi who has been 84 years old told Manipur Times in an interaction.
The pottery business was inherited from her late mother- in- law. She used to help her mother in law dealing with pottery items. After the death of her mother- in- law, she has been taking up the business till date since there was no one to look after it.
Her husband Lukhoi was a Government assistant teacher working in Madan Mohan Girls High School. The family did not face much financial problems while he was alive as almost expenses on family maintenance was made up with her husband's monthly salary and the income earned from her pottery business. Demise of her husband, the sole bread earner, gave her a serious blow in terms of family maintenance and education of her children.
"I had to look after my children alone without my husband. It was a tough struggle to maintain family with my small earning from pottery business", recalled she.
She did not study during her young age. In early Manipur society, women were not free in their movement. Such a social system has made her an illiterate. Because of illiteracy, she is blind in everything now, she observed, while adding that education is the light of life, one must learn it by hook or by crook, she said.
Pottery is used for ritualistic and domestic purpose. During the birth of a baby, the placenta of a newly born baby is cut off and kept inside a small earthen pot which signifies purity and sancity. Different types of pots such as Chaphu, Uyan, Pun, HentakChaphu (a container for keeping pounded fish mixture), Ishaifu, chinichafu ,Chengfu, Khum are commonly used pots in Manipur since time immemorial. Pottery culture is an old one in Manipur .Most of the pots are handmade and of different colors.  The areas in Manipur where large numbers of Pots are made are Thongjao, Andro, Sekmai, Chairel, Nungbi, Ukhrul and Senapati district. Potteri in Manipur is closely related with social, cultural and religious life.
In earlier days, pottery was in great demand as it was commonly used for domestic, ritualistic purpose by every family. As a result of this, potters as well as the pottery item sellers could get good returns from this profession. Pottery industry has now declined with the advent of utensils made of metal nowadays. People hardly come to market for buying earthen pots. All the pottery items in every Manipuri household have been replaced by metal made utensils. Nobody have tasted the delicious rice cooked in earthen pot popularly known as Chaobi Chaphu. With passing of time, even the word "Chaobichaphu" have been forgotten and has become a mere folklore now in Manipur society. The rice cooked in Chaobi Chaphu is so delicious, said Ruhini.
Although earthen pottery items are neglected in modern days, these items are still used as a part and parcel of the religious and cultural life of our society. Even a man suffering from a serious disease is fed with the food cooked in earthen pot. Earthen pot is compulsorily used during the time of death and birth of man. Although metal made utensils have dominated nowadays, it cannot be used during the religious rituals of Meetei society  in replacement of the earthen pottery.