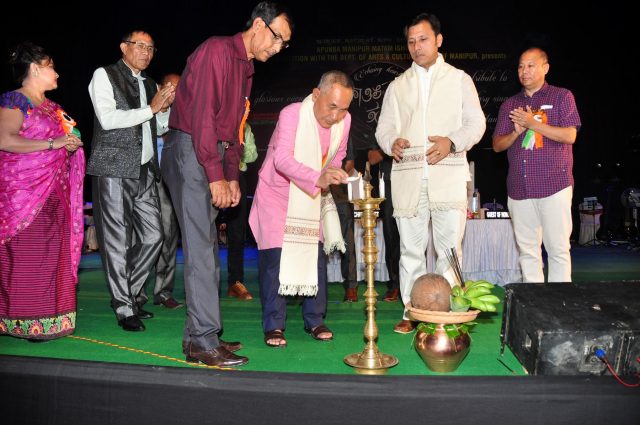 IMPHAL,9th July, 2017(DIPR): Deputy Chief Minister Shri Yumnam Joykumar Singh said, songs have a unique character to build better human relationship. He was speaking at the closing function of the two days musical festival and a tribute to legendary Singers of Manipur "Kaongamdraba Ishei" at Maharaja Chandrakirti Auditorium, Palace Compound in Imphal, today.
Deputy Chief Minister said, every society has a distinct characteristic and therefore remembering the valuable and profound songs would also be needful to our society. He said, as human beings have supreme character of remembering the past comparing with other creations of God, we should remember the old but valuable human natures in our life. Songs have a different role in bringing and bridging the gap between human beings, we should remember the old songs which can give us the taste of better human relationship.
He further said that, even education also evolved from human memory, it is the way that we should remember the old songs which has become more relevant in our life. It can give us peace and joy. In the present day society, Artists also need to remember the old numbers and traditions of singing, he added.
Education Minister Shri Th. Radheshyam Singh while speaking at the function said, song has the uniqueness to identify a society and it can make us happy. It can give us mental contentment for long. Therefore, artists and musicians have an important role in giving good taste to the listeners.
Expressing concern over the imitation and copying tactics even in music, Shri Th. Radheshyam Singh urged the budding talents to act in a different way. He said, copying from some other music to Manipuri, will deprive its significance.
Renowned Musicologist, Shri Laishram Birendrakumar Singh, President, Apunba Manipur Matam Ishei Kanglup (AMMIK), S.Tijendra, Artists of Manipur also attended the closing function. The two days festival was organised by AMMIK in collaboration with Department of Art & Culture, Government of Manipur.
Earlier today, Deputy Chief Minister attended 7th Meritorious Award Ceremony, 2017 held at United Clubs, Uripok where he distributed awards to the outstanding students in IMC Ward No. 4 area in the High School Leaving Certificate Examination & Higher Secondary School Leaving Certificate Examination, 2017. (DIPR)
[ecwid widgets="productbrowser search minicart" categories_per_row="3″ grid="10,3″ list="60″ table="60″ default_category_id="21294227″ category_view="table" search_view="list" minicart_layout="MiniAttachToProductBrowser"]