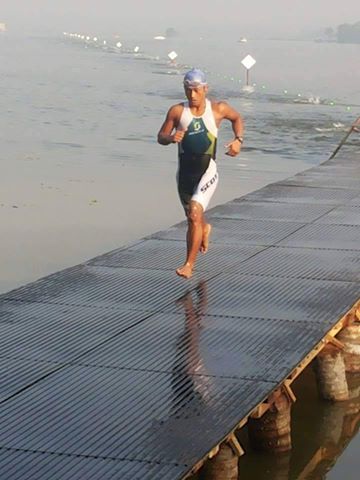 Kshetrimayum Minachandra (Abocha) Singh, son of Ksh. Tomba Singh and Radhamani Devi, Kakching Tural Wangma Ningthou Pareng won two gold medals for individual and team events of Triathlon at National Games 2015 Karala.
Triathlon is sport event combination of three sports – first is swimimming (1.5 km) followed by cycling (40 km) and lastly running (10 km) all together a race of 51.5 km. He represents Army Service team and his team members are Dilip kumar and Gurudatt.
Abocha participated world military games at Brazil in 2011 and Asian championship held at Phillipines in 2012. He has already received 5 golds and 2 silver medals at National level.
His childhood coach P. Sobhachandra Singh from Wairi Ningthoujam was first gold medalist in Triathlon Narional Games 1999 held in Manipur. Amocha is the second Manipuri who won a gold medal in Triathlon at National Games.
His two elder brothers were also participated at National Games as triathletes, but they discontinued it because of financial constraints and they are eventually instrumental in encouraging Abocha to continue career in Triathlon.
Photo News submitted by Rojeet Singh