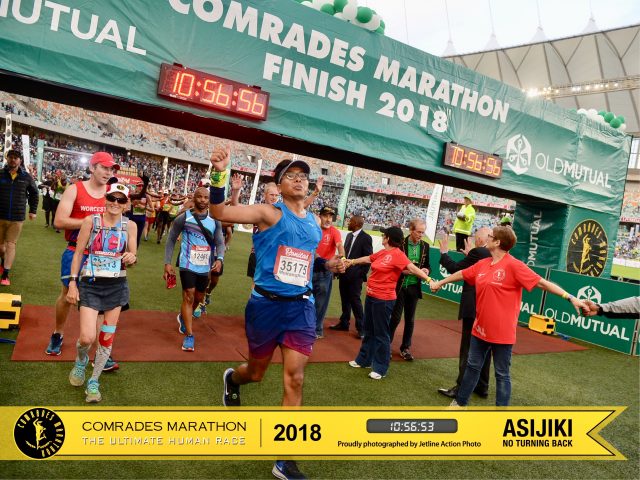 Moirangthem Arup Singh, S/O Moirangthem Ibomcha Singh of Kongba Kshetri Leikai Imphal-East recently completed the 93rd edition of Comrades Marathon 2018 in South Africa on 10th June 2018.
Comrades marathon is the oldest, greatest and the largest ultra-marathon with a total distance of around 90 km and the run takes place annually between Durban and Pietermaritzburg, and the start point alternates between the two cities each year with 6 cut-offs in between and has to be completed within the time limit of 12 hours and that's why it is known as 'The Ultimate Human Race.'
This year it was the 'Down' run of 90.184 km from Pietermaritzburg to Durban and participants had to cross five hills and the theme of the race was 'No Turning Back – Asijiki'. Out of 21,273 registered participants, 159 were Indians. 19058 athletes started the foot race and 16477 finished within the 12-hour cut-off of which 133 were Indians. Arup completed the race in 10 hours & 56 minutes and secured a Bronze medal for completing within 11 hours. Arup is among the first one from North-East India to have completed the back-to-back 'Up' and 'Down' Comrades run consecutively in 2017 & 2018 and first one from Manipur. He was training for last 4 months covering around 280kms every month.
Arup is currently residing in Pune and working as an IT professional. Arup took up running in January 2014 and has been actively participating in marathons since end of 2014. Till now he has completed 23 marathons across 4 countries.
Arup can be reached out at [email protected] for any running queries or his blog https://aruprunning.wordpress.com/
More information on Comrades Marathon can be found at http://comrades.com/
Moirangthem Arup Singh: BIB number: 35175
The detailed result can be seen at below Comrades marathon website
http://live.ultimate.dk/desktop/front/index.php?eventid=3820&language=us