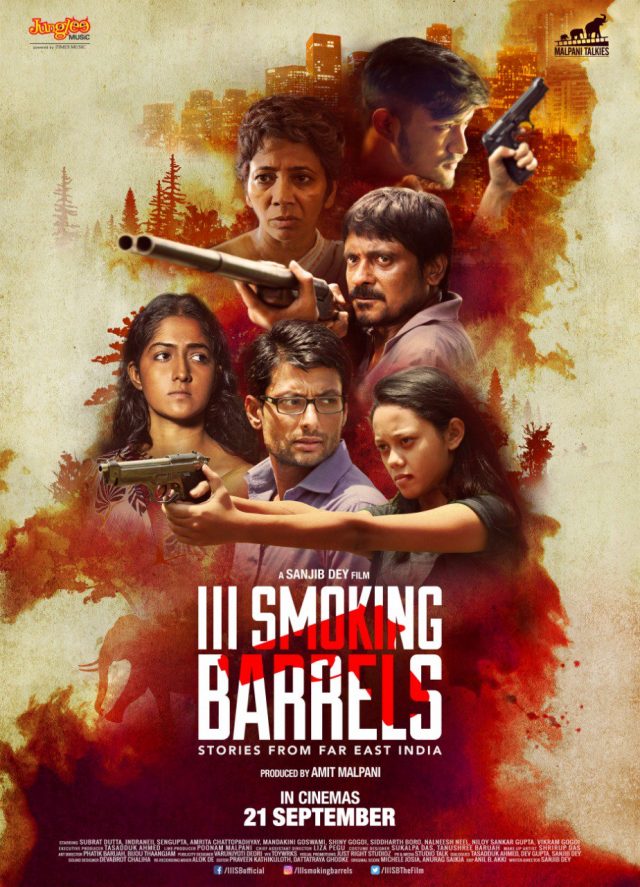 "III SMOKING BARRELS is a film exclusively about North East India. It is an anthology of three stories each exploring a different stage of human life. A CHILD involved in armed conflicts, a BOY in drug peddling and a MAN entangled in elephant poaching. The film is inspired by true events and it seamlessly uses multiple languages, viz – English, Hindi, Manipur, Assamese, Bengali & Nagamese.
The film is Directed by Assamese Director Sanjib Dey and Produced by Amit Malpani under 'Malpani Talkies'. The film stars well known actors like Indraneil Sengupta, Subrat Dutta, Amrita Chattopadhyay and Nalneesh Neel; as well as gifted actors from the North East like Bijou Thaangjam, Mandakini Goswami, Rajni Basumatary, Shiny Gogoi, Siddharth Boro and Vikram Gogoi among others. 
In III Smoking Barrels, beside acting, our own Manipuri Actor Bijou Thaangjam is also debuting as an Art Director. He worked as an Art Director along with Phatik Barua. 
III Smoking Barrels is releasing on 21st September on the occasion of International day of Peace. "