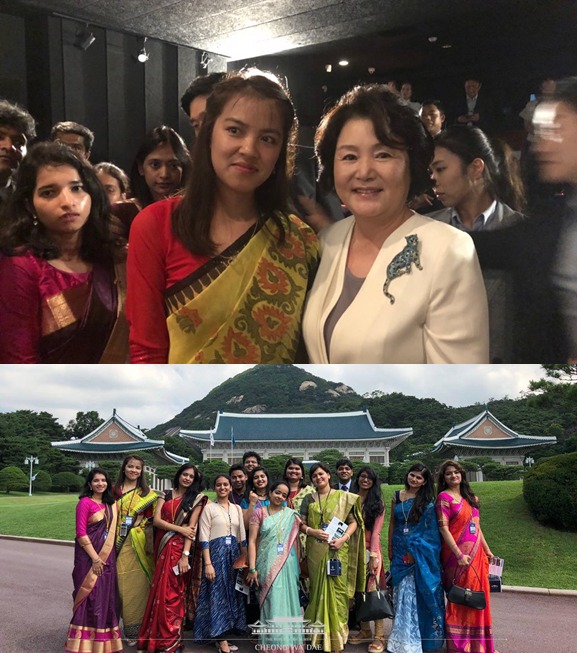 South Korean first lady Kim Jung-sook met a group of Indian students studying in Korea at the Eivom Theatre at Gangnam, Seoul on Wednesday for a movie-screening of "Dangal. Among the students, Terirama Thingujam, daughter of Th. Tomba and Samjetdabam Indubala from Kongba Makha Nandeibam Leikai got the opportunity to be part of the meeting. Presently, she is undergoing her Ph. D. program in electronics at Kyungpook National University, Daegu, South Korea. She did her schooling from Catholic School, Canchipur and Herbert School, Changangei. She did B. Tech from MIT, Manipur and M. Tech from NIT, Manipur.
After meeting the first lady of South Korea, Terirama Thingujam expressed, "It was a rare opportunity to visit The Blue house and an honour to meet the first lady. I feel blessed to get a chance to showcase our culture and dress in this faraway land. They loved our phanek/phi and media/people are interested to learn about our Manipur/NE when I mentioned a bit about the similarities and Korean wave (Hallyu) in the region. We have a lot to learn from Korean society and I hope the program will contribute to the benefits of the presidential visit to India and future aspects of what we can get help in terms of investment, technology/medical exchange with South Korea."
The meeting was arranged ahead of South Korean President Moon Jae-in and first lady's state visit to India from July 8 to 11 2018.
The day started with a tour of the Blue House grounds for the group of 15 students who are enrolled with different universities in the country. Most of these students are pursuing their postgraduate master's degrees or Ph. D. in various fields, including computer science, mechanical engineering, agricultural chemistry and international relations.
The movie 'Dangal' was chosen as Aamir Khan's films are quite famous in South Korea. After watching the movie, the first lady spoke to the students and assured them for her support to make studying and living in Korea easier for International students. She said, "Korea and India have a very special relationship, which is based on close historical ties. I hope the students act as a solid bridge between the two countries and will contribute to the strengthening of the bilateral ties once they complete their education."
---
News report submitted by Korea Manipuri Association