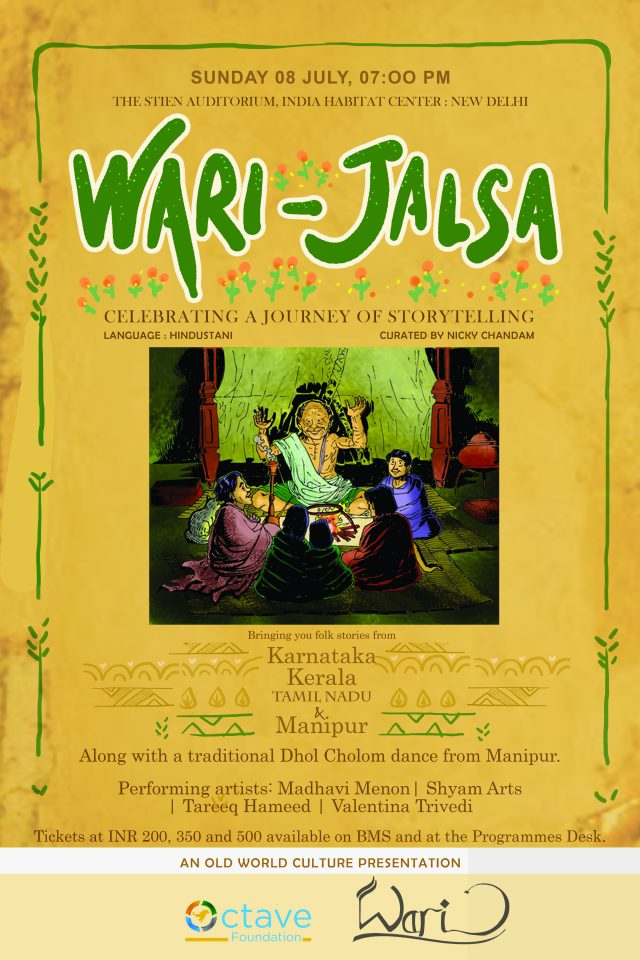 With Wari Jalsa we are inviting you to a grand celebration of two years of storytelling journey titled Wari by Octave Foundation. It is a celebration of an initiative which aims to provide a platform to the lost art form of live narration of folk stories, translated into Hindustani from across India and the world, as a tool to promote cultural insights and unity amongst diverse communities.
Wari is the curated storytelling creative face of Octave Foundation which is reintroducing the art of storytelling for adults and for children. A one of its kind curated show of fascinating stories translated and adapted from different time zones and cultures performed by various artists. The word Wari means story in Manipuri language.
At Wari Jalsa we bring on the stage folk stories from Manipur, Tamil Nadu, Karnataka and Kerala  presented in different formats along with Dhol Cholom – a Manipuri  percussion dance performance. 
About the stories and performance:
1. Poubi Lai – Adapted from an ancient folklore of Manipur about a giant python which inhabits the Loktak Lake.
Duration: 15 minutes
Adapted by Nicky Chandam. Performed by Tarique Hameed and Rochna More.
2. Dhol Cholom – Dynamic drum dances of Manipur, performed by men and characterized by energetic drumming, accompanied by complex rhythms and cross-rhythms, jumps and aerial leaps.
Performed by Shyam Arts, Manipur.
Duration: 10 minutes
3. Manipuri Folk Music by Vikram Chongtham 
Duration: 5 minutes
4. Kaalchakra – A curious and humorous tale of the unpredictable path trodden by the wheel of time; of priorities, of fortune and misfortune and a refreshing new perspective on both.
Duration: 15 minutes
Adapted and performed by Valentina Trivedi and Madhavi Menon
5. Neelkanth – This popular folk tale set in the picturesque land of Kerala talks of the love and warmth between an elephant and his mahout.
Their experiences together bring forth the value of faith, hope and unconditional love.
Duration: 15 minutes
Adapted and performed by Madhavi Menon.
6. Bhaagya se Takkar – In this folktale from Tamil Nadu, divine will comes face to face with a man's sharp intellect and is defeated.
In a humorous vein, the narrative progresses with a nod towards some societal norms.
Duration: 20 minutes.
Adapted by Valentina Trivedi
Performed by Valentina Trivedi and Himanshu Singh.
Show curated by: Nicky Chandam.
Language: Hindustani I Duration: 90 mins
Day and date: Sunday, July 8, 2018, 7:00 pm 
Facebook event page
For updates, please follow us at:
Warm regards,
Team Octave